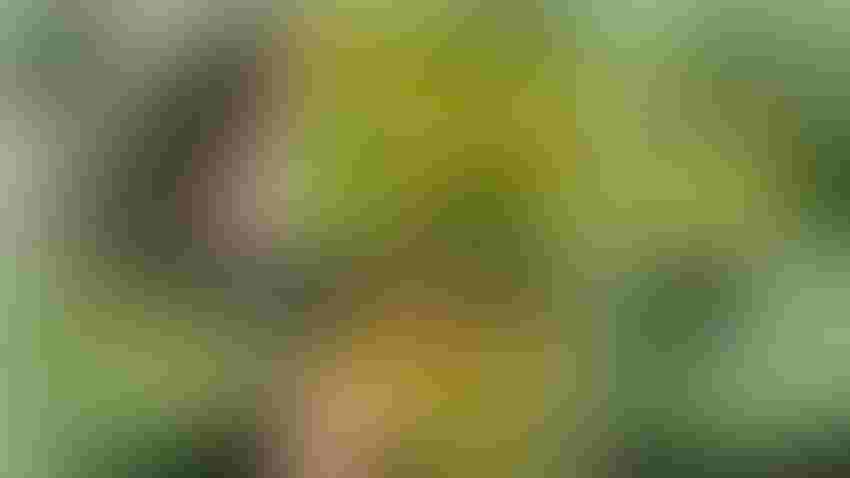 YIELD-SHRINKING DISEASES: Late-season soybean diseases can cause yield problems. Scout fields for these diseases, including: white mold (clockwise from upper left), cercospora leaf blight, brown stem rot, frogeye leaf spot, sudden death syndrome and septoria brown spot.
Adam Sisson
by Adam Sisson and Daren Mueller
There are lots of creatures that work to prevent combine wear and tear and limit the hours accrued on the tractor that pulls your grain cart, including fungi, bacteria, nematodes and viruses. These plant pathogens make their living in your soybean field, often reducing plant health and ultimately decreasing the number of bushels harvested.
Some diseases like septoria brown spot are easy to find in most fields during the summer but rarely cause meaningful yield loss. Diseases like this are not usually severe enough to warrant an in-season management action, such as foliar fungicide application. By the time you see symptoms of diseases like sudden death syndrome (SDS), there is nothing that can be done during the current growing season.
As the season progresses, the symptoms and signs of many diseases can become more severe if the conditions are right. Late-season soybean diseases can also go unseen, stealing yield through the roots, like soybean cyst nematode. Different diseases may appear like one another unless you take a closer look at plants, as is the case with SDS and brown stem rot. This makes late-season crop scouting and good record-keeping important strategies for informing action (or non-action) for soybean disease management in fields this year — and in years to come.
Diseases
Here are a few later-season soybean diseases to look out for and basic management tools:
SDS. Symptoms typically appear in late July or early August. The first signs are often scattered yellow spots on the leaves; as the disease progresses, the spots enlarge and turn brown. The fungus that causes SDS can infect soybean roots in cool, wet soils early in the season. It produces toxins that damage the plant's vascular system later in the season. This can lead to the symptoms described above. There is no cure for SDS, but there are several management practices that can help to reduce the risk of infection. These include planting disease-resistant varieties and using a seed treatment labeled for this disease.
White mold. The pathogen that causes white mold survives in soil and infects soybean during flowering. Infected plants begin to show leaf yellowing as stems turn brown or appear bleached. White fungal growth can be seen on stems, and small, black sclerotia form in plant tissue. Practice crop rotation and plant soybean varieties less susceptible to white mold to help manage this disease. Foliar pesticide application can be used to manage white mold, but the timing must be right for good control.
Frogeye leaf spot. This disease is caused by the fungus Cercospora sojina, which overwinters in soybean residue and can be spread by splashing rain or wind. The disease is most severe in wet, humid weather. Symptoms are gray lesions with reddish borders on leaves. Fungicide can be used to manage frogeye leaf spot, but fungicide resistance has been found across Iowa. Rotation and variety resistance are also methods of management for this disease.
Viral diseases. Many viral diseases cause symptoms on soybean leaves, seeds and stems. Leaves show odd patterns of yellow and green tissue or have yellow and brown necrosis starting at leaf veins. Stems can remain green after pods have matured or may not have fully developed pods at all. Virus control includes planting quality seed, managing insects that spread viruses and elimination of weeds that harbor viruses.
Bacterial diseases. Multiple bacterial diseases exist on soybean, including bacterial blight and bacterial pustule. Small brown spots surrounded by yellow tissue form on leaves. Older bacterial blight infections can cause a tattered leaf appearance, and bacterial pustule lesions may have a small bump on the underside (hence the pustule name). The best way to manage bacterial diseases of soybeans is to use a combination of cultural practices such as rotation and tillage — and in the case of bacterial pustule, avoiding susceptible varieties. 
Soybean cyst nematode. SCN is a microscopic roundworm that lives in the soil and feeds on soybean roots. As the nematodes feed, they damage the roots, which can lead to stunted growth, yellowing leaves and reduced yields. Fields can lose yield to SCN and display no visible symptoms. Crop rotation and resistant varieties are important strategies, but SCN can also survive a long time in the soil, and populations are not reduced as effectively by common resistance sources as they once were. For details on how to reduce losses from SCN, check out thescncoalition.com. 
Like people, pathogens can remain connected to the land. They shelter through the winter in soil and crop residue until warmer temperatures and host crops arrive. Some drop in unexpectedly, literally from out of the blue, with spores that travel a long way to end up in your soil. But scouting helps you to know what you are dealing with and how to make the field a better place for crops. In summary: Get out in the fields now to ensure your grain cart driver stays as busy as possible in the future.
Sisson and Mueller are agronomists for Iowa State University Extension and Outreach.
Subscribe to receive top agriculture news
Be informed daily with these free e-newsletters
You May Also Like
---