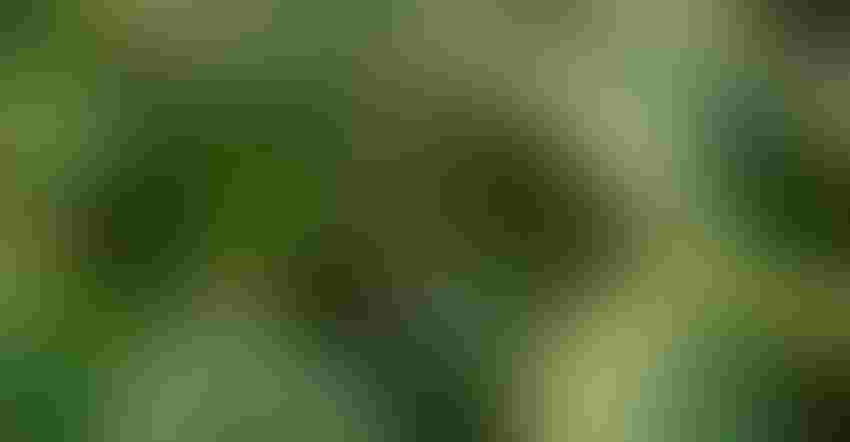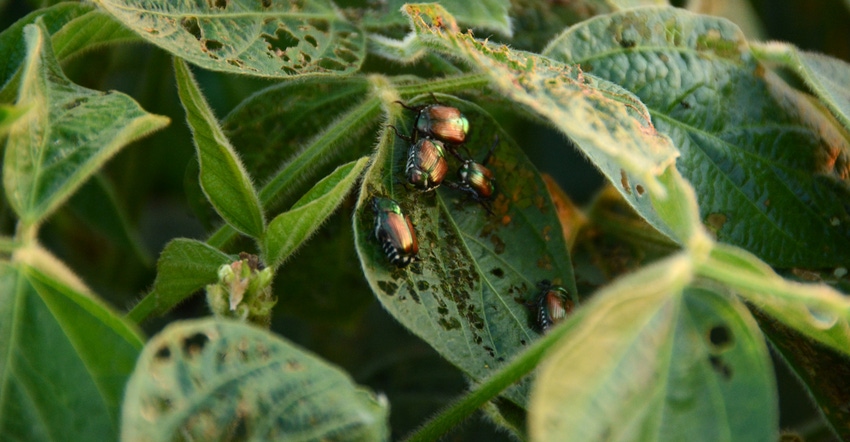 RETREAT: Japanese beetles showed up again in western Illinois in 2019, but in much smaller numbers. Per 100 sweeps, 26 beetles were found, compared to 150 beetles in 2018.
Insect pressure generally declined in the 2019 growing season in Illinois when compared to the year prior, according to the annual University of Illinois pest survey.
The statewide survey falls during the same window between late July and early August every year, with multiple stops in each county to generate scientifically relevant data for farmers. While planting in a year like 2018 largely went according to plan — resulting in stands of crops that were uniform when surveyors swept for insects — rain-delayed planting into June and July made 2019 a different story.
"When we got to some of these counties on the east side in that Vermilion, Iroquois, Kankakee area, we were seeing V2, V3 corn in July, along with barren fields," says survey coordinator Kelly Estes.
"The question became: Do we need to hold off another week or two? But to make the survey comparable year after year, we want to make sure we do it in the same time frame. Insects were out there, so I do feel good about the results still," she adds.
She's not the only one feeling good about survey results. With in-season scouting, Pioneer agronomist Matt Montgomery confirmed what the survey found: a decline in Japanese beetles in soybean fields in the western part of the state, where there were 130 and 150 beetles per 100 sweeps in 2017 and 2018, respectively. In 2019, soybean fields in the nine-county area extending from Adams to Knox fell to 26 beetles per 100 sweeps.
Related:Pests to keep an eye on
"I don't know if we have a good explanation for why this year was down," Montgomery says. "It may just be it was a natural trough moving through, or maybe it was the incredible amount of moisture we had this year." He notes that flare-ups of the insect in other areas of the state in the past subsided after a few years, possibly due to diseases that get established once Japanese beetles settle into a new area.
He says it may take a few years to find out which scenario was at play; if it was the moisture only, the survey would pick up an increase in population once more in a few years' time.
"Moisture could be the culprit," Montgomery says. "It certainly drowned out other insects, like grape colaspis in some parts of central Illinois. I dug in soils trying to look for colaspis, and you could tell they were heading toward the grave when you saw them. There were probably some Japanese beetle grubs that were in the same boat."
The defoliating Japanese beetle is known for clipping corn silks and eating the leaves of soybeans. Montgomery says insecticide isn't recommended on soybeans until 15% to 20% of the leaf area in a field is eaten; for corn, he says beetle pressure often sticks to the outside of a field until ears have been established. Japanese beetles usually go into the heart of a field after kernels develop. He doesn't usually recommend spraying the edges of cornfields, because that could send the insect inward early.
Other insects
Corn earworms were attracted to later-planted fields in 2019, so there was a constant flight of the insect throughout the season. In 2018, the flight came in a few large flushes.
The dectes stem borer also showed up in soybean fields during the survey. This was the first year Estes says the stem borer had official counts. The up-and-coming insect has been around throughout Illinois for years but began to impact yields noticeably in southern Illinois over the past few years. They bored to the stem of soybean plants, burrowed out and caused lodging problems.

SOUTHERN PEST: This up-and-comer, the dectes stem borer, is found throughout Illinois. It's causing lodging problems in soybean fields, particularly in the southernmost regions covered by the Illinois pest survey.
"We saw them more in 2018. We're finding them in 2019, and as we go into 2020, it's definitely something we keep an eye out for, especially in southern Illinois where it seems to be a developing problem," Estes says, noting the survey found 1 to 2.7 stem borers per 100 sweeps in 2019 in the two southernmost regions.
Grasshopper populations started to pick up in July and August during the survey because of dry heat, which contrasted with 2018's "southern summer" conditions that were wetter. In the driest areas of the state, Estes also fielded spider mite reports.
The survey didn't find much of a bean leaf beetle presence in 2019, and while cloverworm and loopers had high populations last summer, they didn't this year. That's not the case for every field though, Estes cautions.
"While we do have good numbers for statewide averages, it's really important for growers to know what's going on in their own field," she concludes.
About the Author(s) Associate Editor, Prairie Farmer
Austin Keating is the newest addition to the Farm Progress editorial team working as an associate editor for Prairie Farmer magazine. Austin was born and raised in Mattoon and graduated from the University of Illinois at Urbana-Champaign with a degree in journalism. Following graduation in 2016, he worked as a science writer and videographer for the university's supercomputing center. In June 2018, Austin obtained a master's degree from the Medill School of Journalism at Northwestern University, where he was the campus correspondent for Planet Forward and a Comer scholar.
Austin is passionate about distilling agricultural science as a service for readers and creating engaging content for viewers. During his time at UI, he won two best feature story awards from the student organization JAMS — Journalism Advertising and Media Students — as well as a best news story award.
Austin lives in Charleston. He can sometimes be found at his family's restaurant the Alamo Steakhouse and Saloon in Mattoon, or on the Embarrass River kayaking. Austin is also a 3D printing and modeling hobbyist.
Subscribe to receive top agriculture news
Be informed daily with these free e-newsletters
You May Also Like
---