INPUTS: Input costs have been pushed higher by inflation, higher land values and increased commodity prices to make tighter margins for Iowa farmers.
Photos by Jennifer Carrico
Many factors play a part in farm economics. Even with higher commodity prices, the increase in input costs over the past few years has led to tighter margins for Iowa farmers.
"The trends have been clear on increasing costs all across the board, from nitrogen and other fertilizers to weed management chemicals, land rents and machinery costs," says Alejandro Plastina, Iowa State University Extension economist. "We have larger, more expensive machinery and also higher diesel and gas prices, so there has been tremendous inflation on the input side."
So far, corn and soybean prices have helped support these increases, but ISU Extension economist Chad Hart says the most recent USDA crop report shows a decrease in demand for corn and soybeans, with shrinking production numbers. "Prices look strong right now for both corn and soybeans, but those could wear down with demand. Production costs have risen, and we will see a squeeze on profits," Hart says.
Increase specifics
Differences will be seen across Iowa due to size of farm, variations in soil potentials, quantity of inputs used and other factors such as cash rent and labor costs.
"In the short run, cash income must be sufficient to pay cash costs, including seed, fertilizer, chemicals, insurance, cash rent and hired labor, as well as machinery fuel and repairs and interest on operating capital," Plastina says. "In the long run, income should be sufficient to pay all costs of production for resources to be used in their most profitable alternative."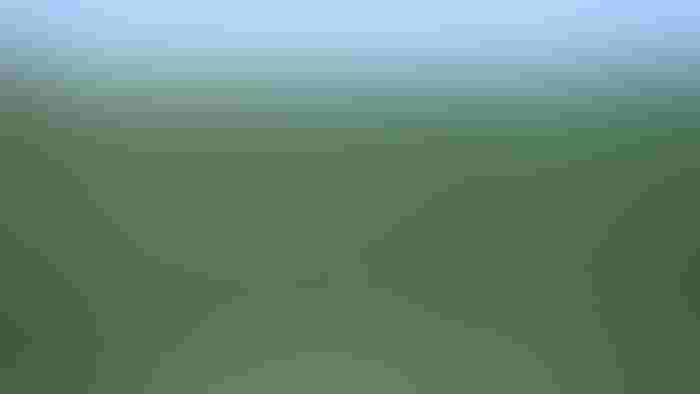 COMMODITY PRICES: Soybeans and corn prices have been strong over the past year, but are expected to come down some for 2023, which will affect the farmer's bottom line.
The jump in land prices has had a large effect on farm production. The Iowa State University Land Value Survey released in December shows the average value of an acre of farmland increased 17% to $11,411 per acre. This is the largest increase and highest value since the survey began in 1941. An adjustment for inflation makes the 2022 average value surpass the previous inflation-adjusted record value set in 2013 for the first time. Inflation was a factor in rising land prices, but they were also affected by commodity prices, limited land supply and low interest rates through summer 2022.
Cash rent has seen an increase as well, although Plastina points out it's important to realize the statewide average of $256 per acre based on the Iowa State University survey will be variable depending on the type of ground rented, and could also change as inflation, yields, land improvements and other factors push the price up or down.
Despite the weather challenges seen in parts of Iowa over the past couple years, yields have been good across the rest of the state and commodity prices have supported paying more for land. Hart expects old crop corn to drop some from summer prices with prices $6.30 to $6.40 per bushel. The corn futures are expected around $6 per bushel and long range, at $5.70 per bushel. He says soybean margins will likely be slower, with short-term futures at $14.13 per bushel and longer-range futures at $13.50 per bushel.
Production numbers are expected to show more corn acres than 2022, with many acres coming out of prevented planting and back into production. Expectations are for 92 million acres of corn to be planted, up from 88.6 million acres in 2022. U.S. soybean acres will likely be 89 million acres, up 1.5 million acres from 2022. Cotton acres are expected to be down in several southern states, which opens of the area for soybean production.
"Even during drought time, yields have continued to be strong and supporting production," Hart says. "The challenge for 2023 is we may be starting off drier than ideal in important grain-producing areas."
Profits by projections
Current crop production margins will be tighter with the expected projected prices and costs, but Plastina says profits could be seen in the right kinds of production.
"Prices at $5.85 for corn and 195 bushels per acre, the profit should be around $170 or so per acre," he says. "Soybeans at $13.50 per bushel should show a profit of $70 per acre. If we would see a 50-cent drop in corn prices, then margins become a lot tighter and could even turn negative. The situation in 2023 is different than 2022, where margins were much higher and more comfortable for farmers."
Plastina says if inflation continues ramping up costs, then there's a slight possibility that margins could turn negative for corn and that's even more likely for soybeans since the margins are smaller to start. If the margins do move closer, he says farmers should look at how they can gain some money back. Volume discounts have likely already passed for input purchases, but he does suggest looking at revising crop insurance decisions if not as much coverage is needed or adding some endorsements like supplemental coverage options.
"Working closely with an agronomist can help with cutting production costs. Soil samples can help determine what amount of nitrogen needs to be applied to the ground," he adds. "Knowing how shifts in nitrogen or fertilizers or a whole range of management decisions can change yields is important. These decisions are farm and field specific."
Plastina also suggests looking at all farm expenses and what could be cut or shifted to help the overall bottom line. These are dependent on each farm: what purchases can be delayed, or if extra income could be brought to the farm to add money and liquidity to the farm.
"Another thought is, farmers could look at extending a repayment schedule with lenders. Sometimes we would say refinancing — but with higher interest rates, that isn't a good option for saving money," he says. "Farmers should also be aware of government payments available to help in cases of drought or other emergency situations."
If you want to control costs, talk to an agronomist. If you want to control interests and expenses and manage credit, talk to a lender. Plastina also suggests this year it's a good idea to talk to a tax adviser on how to project tax management over the next few years. These are all specific to each farm and each farmer.
Marketing is a bit part of the profit-loss column, and once farmers know what their breakeven prices are, then it's easier to design a marketing plan. Whenever there is a margin to be profitable, positive margin to be made or to lock in, Plastina says a good strategy can be made. Shifts can be made in spending when needed, but being aware of the overall costs is very important for staying in business.
Subscribe to receive top agriculture news
Be informed daily with these free e-newsletters
You May Also Like
---