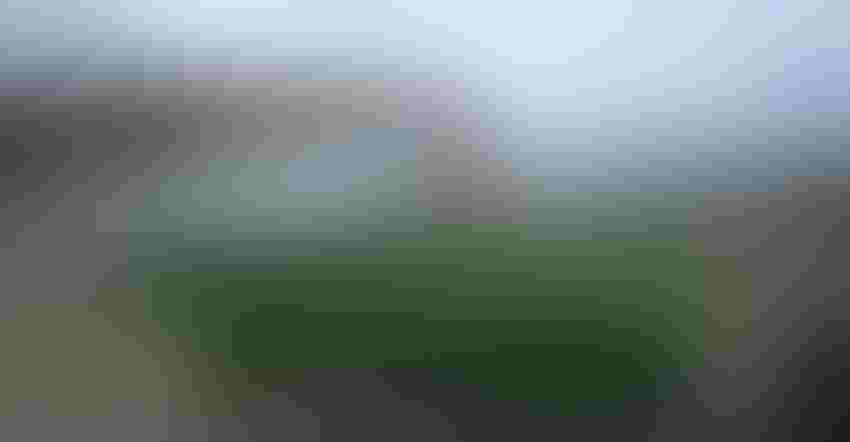 TRUST REPORTS: Trying to forecast what combines will reveal up to two months in advance is difficult. After witnessing it firsthand, Indiana farmer Steve Phares gives USDA credit for taking the process seriously.
You've heard the USDA August crop report estimates by now. Steve Phares, Albion, Ind., was among a group of farmers from the Indiana Soybean Alliance who witnessed the release of the report live. It was his first time to be in the USDA lockdown in Washington, D.C., on the morning when the August crop report for corn and soybeans is finalized and released.
"The thing that probably impressed me the most was how serious they were about security," Phares says. It reminded him of going through security at a large airport.
"They took our cellphones, and they were adamant about not sharing any information before the report was released publicly," he adds. Phares and his family raise corn, soybeans and wheat and manage a beef cow herd in Noble County, Ind.
"This is important information not only for farmers, but for processors and others who buy and use corn, soybeans and wheat," Phares says. "I got the impression that they really try hard to get this right. They have a process to come up with realistic estimates, and they follow the process.
"Other things besides crop yield go into market prices, such as exports and the potential for exports. Yet U.S. crop yields are a big part of what will affect crop prices."
What numbers say
The USDA August crop report pegged average corn yield at 175.4 bushels per acre nationally, down from the near trend line yield forecast of 177 bushels. The average national soybean yield was estimated at 51.9 bushels per acre, up from the 51.5-bushel trend yield.
Phares found the Indiana yield estimates in the August crop report even more interesting. USDA pegged the 2022 Indiana average corn yield at 189 bushels per acre, compared to 190 bushels in Ohio, 203 bushels in Illinois and 205 bushels in Iowa. The projected Indiana average soybean yield at 60 bushels per acre would be a record. The estimates for Ohio, Illinois and Iowa were 57, 66 and 58 bushels, respectively.
"I was somewhat surprised that the crop yield estimates for Indiana were that high," Phares says. "We were very dry in June, but then we got rain in early July in my area. Our crops are looking pretty good.
"The thing is that I know other areas haven't been as lucky. Summer rainfall has been so inconsistent. For me, the bottom line is that while these may be good estimates for now, the season isn't over yet. Especially for soybeans, what happens the rest of August and into September during the reproductive period for soybeans will be important."
Jim Mintert, a Purdue University Extension ag economist and director of the Purdue Center for Commercial Agriculture, sounded very much in agreement with Phares' assessment during a podcast on the same day the August crop report and World Agricultural Supply and Demand Estimates report were issued.
"The September crop report will be very interesting too, because we've got a long way to go with these crops — especially soybeans," Mintert said. "Farmers talking to us underscore the variability in this summer's weather across Indiana. It's likely the true impacts of tough July weather on corn aren't all in yet."
Subscribe to receive top agriculture news
Be informed daily with these free e-newsletters
You May Also Like
---