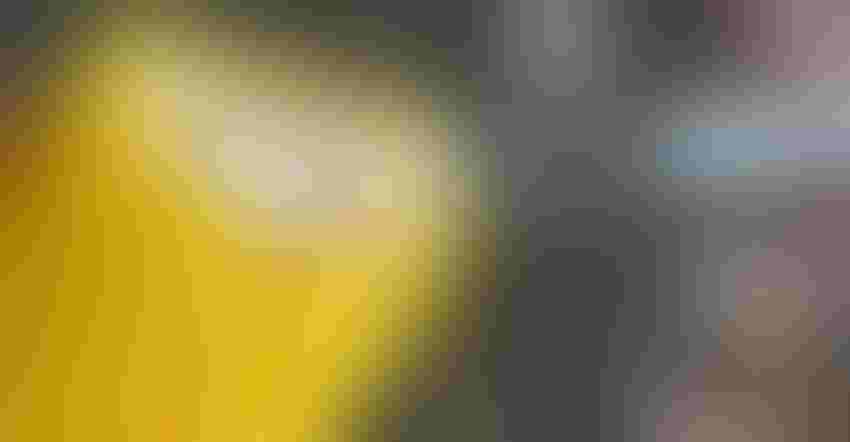 WAITING FOR BLACK LAYER: While a good percentage of corn has been harvested in southwest Indiana, some fields are just approaching black layer in north-central and northeast Indiana.
Variability is the name of the game at harvest in 2019. "I'm seeing more variability from field to field, and even within the same pass within a field, than I've ever experienced in my career," says Matt Parmer, technical agronomist for Dekalb/Asgrow in southwest Indiana. He's based at Haubstadt.
His counterpart Dave Colbert, an agronomist for Dekalb/Asgrow covering north-central and northeast Indiana, based near Tipton, also reports a great deal of variability, but for different reasons. Conditions are quite different from extreme southern Indiana to the far reaches of northern Indiana. Yet both agronomists agree that this season is unique and is producing variability no matter where you farm.
Hot and dry down south
For a year that started off super-wet with extreme planting delays, a hot, dry finish is capping off a season many farmers in southern Indiana likely will want to forget. "I've seen excellent corn and corn as bad or worse than we saw in 2012 — in the same pass!" Parmer says.
"In our area, variability within fields and within passes is tied more to changes in elevation than soil type," he explains. "We were extremely wet early, and some parts of fields lost a lot of nutrients, especially nitrogen. Poor drainage within spots was absolutely a big deal here this year."
Despite so much water early on, August turned dry and stayed dry, Parmer says. "I was telling guys in early August that they should be ready to handle wet corn," he notes. "But we had so much heat and dry weather that many of them were harvesting corn testing below 15% by early October. Corn harvest was not quite half over at the end of the first week in October. Yields were in the 180-bushels-to-200-bushels-per-acre range in counties along the Ohio River, but fall off as you moved north from there."
Parmer notes that physoderma affected many fields. Growers who applied a fungicide at the V4 to V6 stage and came back with an application at tasseling saw a big benefit in controlling that disease, he says.
"We also saw southern rust, but it wasn't nearly as severe as in 2016 — when it came in late, but it was warm and wet, not hot and dry," he adds. Parmer notes that Dekalb's Disease Shield hybrids with a good disease resistance package held up well in his area.
"Soybeans were planted later for the most part, and really suffered when we didn't get rain in late August and September," he says. "Most people aren't running beans yet, but I'm expecting small bean size will be an issue due to the lack of rain. We're seeing some stinkbugs. Some people sprayed for insects, but usually they added it with a fungicide. Sometimes that's too early to control stinkbugs for the rest of the season."
Late planting up north
"Most of the areas I cover had a challenging spring, too," Colbert begins. "Most of the corn didn't go in until early June, and soybeans were planted in late June into July. Many of our cornfields either just reached black layer or are reaching it now.
"Guys were concerned early about whether corn would mature before frost. It looks like it's going to mature, but there won't be much time left for drying. When corn doesn't reach black layer until October, you don't have the potential to lose nearly as much moisture per day as when it matures by late August or early September."  
Colbert assisted in harvesting one earlier-planted plot near South Bend. The 99-day hybrid was around 18% to 19% moisture, but fuller-season hybrids were still 28% moisture.
"Many areas up here turned dry as well during key times," Colbert says. "I'm afraid some people will be disappointed on corn yields. The kernels are there, but they're not going to be as big as usual. Up to one-third of your yield depends on what happens during grain fill. When it's too dry, it's hard to make it up."
Areas north of a line from Lafayette to Angola did receive rain — sometimes too much rain — during the last week of September. "It will likely be too little too late for many, and too much too late for some," Colbert says. At his location in Tipton County, they received a half-inch or less.
Lack of rain will also impact soybeans. "The last third of soybean yield comes from bean size," he explains. "When the dry weather stretched into mid- to late September when beans were filling pods, it likely really hurt bean size."
Colbert's other big concern for corn in his area is the potential for stalk rot. "Plants cannibalized stalks to fill kernels as much as possible," he says. "Those stalks will be more subject to infection by stalk rots. We've also had rooting issues all year.
"The challenge will be deciding how long you can leave corn in the field to dry without risking too much lodging and yield loss due to stalk rot. Guys will likely harvest some pretty high-moisture corn."
Subscribe to receive top agriculture news
Be informed daily with these free e-newsletters
You May Also Like
---