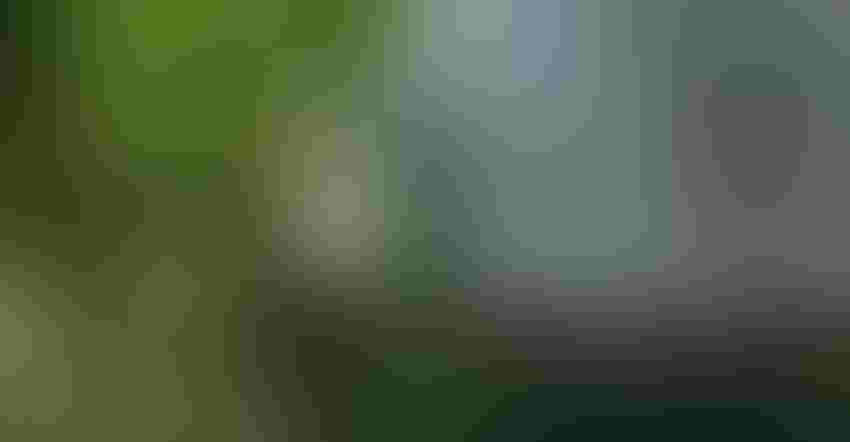 CARBON BALANCE: This is one of the Li-Cor analyzers used to measure CO2 fluxes on a cover crop plot at Rogers Memorial Farm. With greater biomass in cover crops, there is more biological activity. However, it's important to look at the whole system.
Soil scientists, no-tillers, and cover croppers often talk about soil breathing or respiring. This usually refers to gas exchange between the soil and atmosphere — particularly carbon dioxide (CO2). One of the most well-known indicators of soil health is carbon in the soil, and CO2 fluxes.
But how do CO2 fluxes change among tillage, no-till and cover crop practices? Since 2016, Humberto Blanco, associate professor of agronomy and horticulture at the University of Nebraska-Lincoln, and Sabrina Ruis, a postdoctoral research associate at UNL, have been monitoring CO2, nitrous oxide and methane emissions on plots at Rogers Memorial Farm, northeast of Lincoln, Neb., and the South Central Ag Lab near Clay Center, Neb.
"CO2 flux, or soil respiration, is an indication of greater microbial or biological activity," explains Blanco. "We've found soils with a lot of residue on top, like no-till systems, tend to have higher CO2 fluxes compared to tilled soils, unless it's the day after tillage. If you till the soil, you lose carbon more quickly in the form of CO2 fluxes. If you compare it a month later, no-till could have higher CO2 fluxes because there is higher microbial activity — and more food [carbon] to feed the microbes."
The original study started in 2013 to determine the differences in cover crop biomass yield, among other factors, in plots with different cover crop treatments — no cover crop, an early-terminated cereal rye cover crop terminated 30 days before planting corn, and a late-terminated cereal rye cover crop terminated at or within a few days of corn planting.
See related: Study shows cover crops could offset effects of residue removal
So, what drives CO2 fluxes? The primary drivers are temperature and moisture content. However, biomass also plays a role. With cover crops, soils may be cooler, reducing the potential for CO2 respiration; but there's also more biomass, which can increase soil carbon, leading to more carbon for microbes to feed on and resulting in greater CO2 respiration later on. Soil porosity also makes a difference. When pores are saturated with water, there isn't much room for gases to exchange. Cover crop roots generally improve infiltration and soil porosity. However, drier soils don't necessarily mean fluxes improve — in order for microbial activity to take place, moisture conditions have to be optimum. It's also worth noting that plant biomass itself respires CO2, which influences measurements.
The tests
In 2016 and 2017, Blanco and Ruis began measuring CO2 fluxes on these different treatments. Normally, measuring these fluxes would require taking a soil sample and sending it to a lab for analysis. However, using a Li-Cor gas analyzer — an enclosed, dome-shaped chamber — they can sample an area 8 inches wide directly in the field. While the Li-Cor analyzer directly measures CO2 fluxes, Blanco and Ruis took samples from the chamber to test methane and nitrous oxide fluxes separately.
Ruis notes that while early-terminated cover crops typically had similar CO2 fluxes to treatments with no cover crops, late-terminated cover crops saw an increase in CO2 fluxes on some days — especially in spring.
"On a seasonal basis, the effects varied by year and site, but in general, late-terminated cover crops only increased CO2 fluxes in spring when cover crops were actively growing — likely due to the large quantity of biomass compared to early-terminated cover crops," Ruis says. "Early-terminated cover crops had fluxes that were either between late-terminated and no cover crop, or similar to the no-cover-crop treatment. On a cumulative basis, cover crop termination date did not affect CO2 fluxes."
While fluxes were similar cumulatively, their research showed greater CO2 fluxes at both the rain-fed and irrigated site with late-terminated cover crops in spring. Late-terminated cover crops increased CO2 fluxes by 2.2 to 2.7 times, compared to corn residue fields with no cover crops in spring. Nitrous oxide fluxes at the rain-fed site were 2.1 times as high with late-terminated cover crops — although there was no statistical difference at the irrigated site. There was no effect on methane fluxes at either site from late-terminated cover crops.
"The late-termination cover crops had higher fluxes than earlier termination because of two things: There is more biomass there. That biomass would respire. That's one reason. The second is if there's more aboveground biomass, there's probably more roots. If there are more roots, there's more microbial activity," says Blanco. "Early-terminated cover crops were tiny — only a few inches tall. The late-terminated cover crops were about 8 to 10 inches tall."
Blanco adds that with greater biomass in cover crops, there is more biological activity. However, it's important to look at the whole system; while there is more CO2 being exchanged due to biological activity, cover crops are also storing more carbon in the soil, creating more food for biological activity. As Blanco notes, it's about the entire carbon budget. Just because cover crop plots are respiring more CO2, it doesn't mean the cover crops aren't doing their job.
"Our data show that CO2 fluxes tend to be higher with plots with cover crops compared to plots without. That doesn't mean cover crops are storing less carbon," Blanco says. "There is more microbial activity, more roots under cover crops, and it can have higher respiration. Still, many producers are storing carbon in the soil with cover crops — because cover crops produce biomass, which has significant amounts of carbon. That's why we need to look at total amount of carbon."
Overall, losses of carbon as CO2 fluxes under cover crops can be smaller than gains in total carbon through biomass input and improved soil properties.
Subscribe to receive top agriculture news
Be informed daily with these free e-newsletters
You May Also Like
---