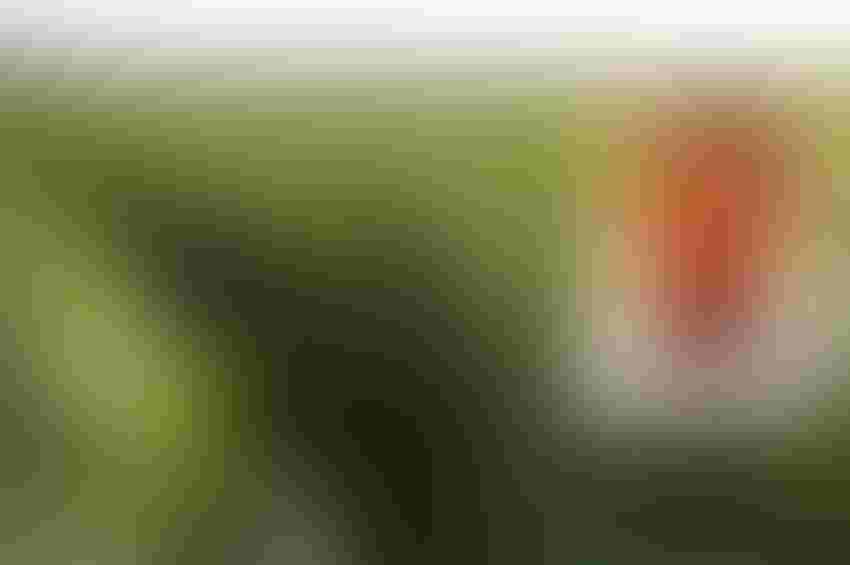 If your neighbor down the road is using one of the new soybean insecticides containing 2,4-D or dicamba or a similar chemical, you need to know it, says flue-cured grower Tim Yarbrough of Prospect Hill, N.C.
For tobacco farmers, it is very important to do everything possible to avoid herbicide contamination.
"Herbicides can certainly drift up to a mile," he says. "If your neighbor down the road is using one of the new soybean insecticides (containing 2,4-D or dicamba or a similar chemical), you need to know it. If he sprays in a wind, you can be in a bind in a hurry," says flue-cured grower Tim Yarbrough of Prospect Hill, N.C.
A yield loss can occur, but that is just part of the problem.
"You can't measure the damage auxin herbicides inflict on tobacco just by counting the pounds lost per acre," says Matthew Vann, North Carolina Extension tobacco specialist. "There are also losses in marketing opportunities."
If a drift event occurs, residues of a pesticide not labeled for production can be found on cured leaves, and that is a problem.
"The purchasers of our tobacco do not want tobacco that has come into contact with chemicals not approved for use," Vann says. "It is my firm belief that the damage done to the reputation of U.S. tobacco because of illegal residues is much greater than that done through physical injury that can reduce leaf yield per acre."
"Residues could cause you to lose your contract and maybe never get it back again," adds Yarbrough.
Related:Questions about tank-mixing pesticides in tobacco
Tobacco is extremely sensitive to auxin herbicides because it doesn't take much contact to jeopardize marketing of your crop.
Herbicides can move off target by physical movement of spray droplets by wind or by the volatilization which is the change of a herbicide from a liquid state into vapor.
Recent developments are making herbicide drift a greater threat to tobacco.
"The development of second generation pasture herbicides — including aminopyralid, one of the active ingredients in GrazOnNext HL — has increased the importance of this issue," says G. Neil Rhodes Jr., Tennessee Extension agronomist. "Residues of these chemicals are more persistent in plants and soils than 2,4-D and dicamba."
Tobacco is extremely sensitive to these herbicides because a little goes a long way in terms of jeopardizing the marketing of your crop, he says.
Cotton and soybean varieties tolerant to new formulations of dicamba and 2,4-D, both from the auxin herbicide family, could be a greater drift threat in the flue-cured areas. Products containing 2,4-D or dicamba applied on Xtend or Enlist cotton or soybeans pose quite a threat.
But there are plenty of steps that can help you minimize the threat of drift damage, Rhodes suggests:
• Ask the right questions about prospective rental land. It you are considering renting ground for tobacco, do not hesitate to ask the landlord for the history of herbicide applications for the past five or six years. This applies to fields that have been in row crop production, and it is particularly important for pastures or hay fields.
• Carefully plan rotations. In addition, plan movement of cattle and use of manure. Aminopyralid and picloram will persist in soil, treated pasture grass and hay, and in manure produced by cattle that have grazed in treated pastures or that have been fed treated hay. These herbicides should only be used in permanent grass pastures or hayfields. They have no place in a crop rotation system.
• Take care when moving cattle that have grazed pastures or have been fed hay treated with auxin herbicides to fields that you are planning to rotate to tobacco. Holding the cattle in an untreated pasture or loafing lot and feeding them untreated hay for a week before moving them to the field to be rotated will eliminate the problem. Manure from cattle that have grazed treated pasture or fed treated hay should shot be spread on tobacco fields.
• Know your neighbors and be sure they know you. "If you have a neighbor who has pastures and fence rows that might be sprayed, be sure they know the location of your tobacco fields," he says. "Visiting them ahead of time can go a long way toward preventing problems."
• Never spray pasture herbicides from your tobacco sprayer. "Pasture herbicides are very difficult to wash out of sprayers," he says. "Because of the sensitivity of tobacco to pasture herbicides, chemicals such as 2,4-D can cause serious damage." If you have pastures to spray, have a dedicated sprayer for them, he advises.
In South Carolina, Justin Ballew, South Carolina horticulture and agronomy agent stationed in Mullins, says that with the herbicide technology newly labeled this year, growers should pay more attention than ever to the wind in order to reduce drift.
"I would urge everyone who plans to apply auxin herbicides to invest in a wind meter," he says. "There are a wide range of wind meters that go for $25 to $600."  
Pay close attention to wind direction and what lies downwind. Ballew says, "It would be a good idea to make some flags, which can be done cheaply and easily with a six-foot piece of rebar and some flagging tape."
Put the flags in a couple of places on the edge of the field you are about to spray, he says. "That way, you can look at those flags while you are spraying and be aware of any changes in the wind."
About the Author(s)
Subscribe to receive top agriculture news
Be informed daily with these free e-newsletters
You May Also Like
---