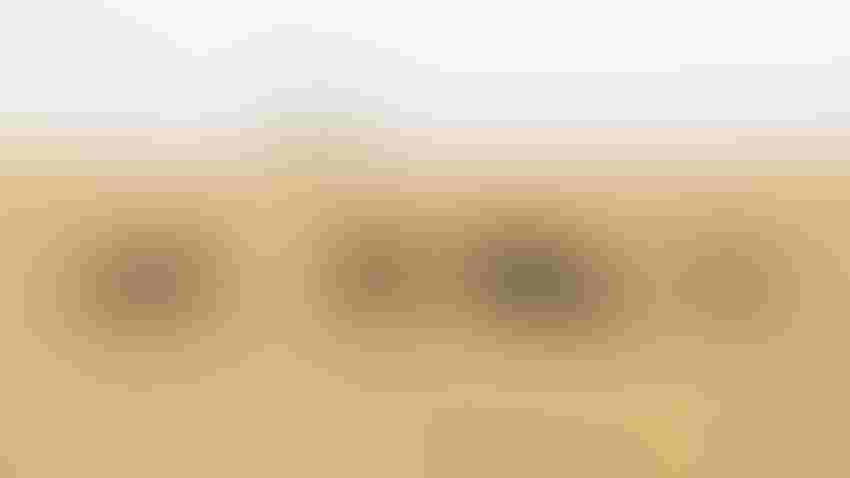 KANSAS WATER: Water is becoming increasingly a critical issue for Kansas, and therefore Gov. Laura Kelly recently created the position of special adviser for water in her cabinet, and appointed Vijay Ramasamy.
Courtesy of K-State Research and Extension News Service
Gov. Laura Kelly announced Oct. 9 she has appointed Vijay Ramasamy as special adviser for water. Ramasamy will advise Kelly on water planning and develop coordinated strategies to ensure a sustainable future for water in Kansas, according to the press release.
This new position, created by Kelly, is meant to drive progress on the state's most pressing water issues. Ramasamy will collaborate with state and local partners across the state and throughout the region. He was a policy coordinator and then a policy and budget adviser for the Kelly administration from 2019 to 2021. He just completed both a master of public policy and master of science in comparative social policy as a Rhodes Scholar at the University of Oxford. His undergraduate degree is in public health studies from Johns Hopkins University.
Moo-ving cattle into the classroom
The Kansas Beef Council has partnered with the Nebraska and Oklahoma beef councils to bring agriculture education into mainstream classrooms through a series of booklets about various aspects of the beef industry.
There will be three readers in this series. Each will provide scientifically accurate facts about beef production, information about different occupations in the cattle industry and QR codes that allow students to dig deeper into the content.
The readers mainly focus on different sustainability topics with the first covering greenhouse gas emissions, then the others will delve into nutrient up-cycling and the role of cattle in ecosystems. They're designed for middle to high school students in STEM (science, technology, engineering and math) and family and consumer sciences.
Teachers interested in the beef readers can go to this link to find more information and download all assets of the first reader.
Garden City welding teacher wins $50,000 award
Don Murrell, a high school welding teacher at Garden City High School, Garden City, Kan., was surprised with the 2023 Harbor Freight Tools for Schools Prize for Teaching Excellence. The award gives $15,000 to the winning teacher, and $35,000 to the school's program.
Murrell is one of 25 public high school teachers across the U.S. who received this award. In total, Harbor Freight awarded $1.5 million in cash prizes.
"By expanding my program from the classroom to the lab to industry connections, the sky's the limit for both my students and myself. Even now, after having taught more than 3,000 students, there is still not a day I don't want to teach," Murrell wrote in his prize application.
The prize, now in its seventh year, was created to recognize excellent high school skilled trades teachers, a group of educators who are frequently overlooked and underappreciated. Since 2017, the program has awarded more than $7 million to more than 130 teachers and their schools' programs. The mission of Harbor Freight Tools for Schools is to increase understanding, support and investment in skilled trades education in U.S. public high schools. 
"There is a growing shortage of skilled trades professionals in the United States," says Danny Corwin, executive director of Harbor Freight Tools for Schools. "These incredible teachers are educating the next generation of skilled tradespeople through inventive, hands-on programs. We are grateful for the work they do every day in classrooms across the country."
The Harbor Freight Tools for Schools Prize for Teaching Excellence was started in 2017 by Eric Smidt, owner and founder of Harbor Freight Tools.
For more information, visit HFTforschools.org.
Kansans to lead National Sorghum Producers board
The National Sorghum Producers board of directors reelected officers and a new director at its annual board and budget meeting in August. Craig Meeker of Wellington, Kan., will serve a second term as chair, Amy France of Scott City, Kan., will continue to serve as vice chair and Kody Carson of Olton, Texas, retains his position as past chair.
The NSP board of directors elected one new member — Scott Frazier from Chapman Ranch, Texas. Frazier produces sorghum, cotton, corn and cattle, cultivating a deep connection to agriculture. He served on the Texas Farm Bureau & Affiliated Cos. board of directors, where he served as secretary-treasurer. He has contributed to the Nueces County Farm Bureau, leading as president for a number of years. Frazier was also a member of the Texas Agricultural Lifetime Leadership (TALL) Class XIV and represented Texas agriculture at the USMCA (United State, Mexico and Canada Agreement) hearing in Montreal in 2019. For two decades, Frazier has lobbied in Washington, D.C., and Austin, serving as a passionate advocate for the agriculture industry.
Marc Adams with CoBank was also reelected to the board. Frazier and Adams will serve a three-year term that began Oct. 1. The NSP board also recognized one leader who ended his term as director on Sept. 30, Jay Wilder of Snook, Texas.
"This executive leadership team has represented sorghum farmers exceptionally well this past year, and we look forward to following their leadership through 2024," said Tim Lust, NSP CEO. "As we near more concentrated farm bill debate and other issues pressing sorghum farmers and the industry, Craig, Amy and Kody serve as a shining example of dedication and expertise, guiding us toward a more prosperous and sustainable future for sorghum in the United States. Our industry is fortunate to have them at the helm of this industry during this important time."
Learn more at SorghumGrowers.com.
Subscribe to receive top agriculture news
Be informed daily with these free e-newsletters
You May Also Like
---