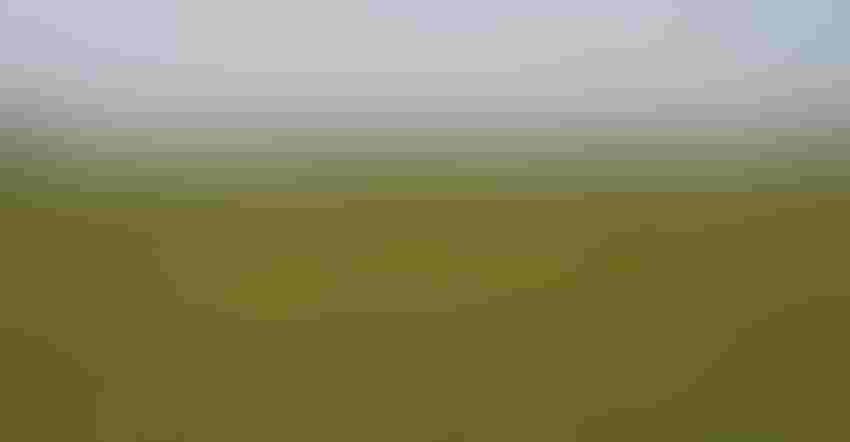 SOIL PROTECTION AND MORE: A cover crop protected this field from wind and water erosion over winter, and provided a good planting environment this spring.
With all the information out there about cover crops, it's easy to get confused about what species to plant.  Make the decision based on addressing a resource concern.
This information was prepared by the Indiana Conservation Partnership, led by a team of Natural Resources Conservation Service personnel including Don Donovan, district conservationist; Kris Vance, public affairs specialist; Victor Shelton, state agronomist/grazing specialist; Tony Bailey, state conservation agronomist; and Shannon Zezula, state resource conservationist.
So what does it mean to address a "resource concern"? Always have a primary purpose in mind, Donovan says. For example, if you farm land subject to erosion and your resource concern is protecting the soil surface, use a cover crop mix with a grass species. 
While using oats will give some protection over winter, oats normally don't live through winter. For the highest erosion protection, include annual ryegrass, cereal rye or triticale. 
If you don't want to seed the entire field to a cover crop, keep some wheat or cereal rye in a drill and seed areas that tend to erode. Just that strip of green growing all winter will protect sensitive areas. Remember to always consider resource concerns and what you want your cover crop to address.
Seed choice
Pay attention to seed quality when buying cover crop seed, Donovan says. Different seed varieties have different characteristics. Be aware of which variety you're planting. 
This is especially true with annual ryegrass. Don't buy just any annual ryegrass. Do your research and choose a variety that works well as a cover crop in your part of the state. Don't buy any "variety not stated" annual ryegrass. You may end up with a major headache! 
Also pay attention to variety when planting cereal rye. Different varieties mature at different times. This is important if you want to plant green or if you want to use a crimper to terminate your cover. 
How you seed your cover crop will go a long way in determining how much seed you need to plant, Donovan emphasizes. Use one rate if you fly it on with a plane, a different rate if you use a drill, and another rate if you use a precision planter. NRCS has a cover crop rate calculator that can determine how much seed you need to plant based on the planting method. This calculator will also determine how much seed of each species you need to plant in a mix. 
Harvest residue
Cover crop planning isn't the only chore you should tackle right now. Proper residue management on crop fields now is an important factor for during planting next spring, Donovan says. You may think it's too early to start thinking about soil and ground conditions for next year's planting season, but it's never too early.
As combine headers have increasingly widened, upgrading to a different spreader may be required to get a good start on next year's crops. It's important that residue is spread out the back equally over the field. Residue left after harvest plays a big role in proper germination and nutrient distribution for crop fields. That can directly affect yields. Evenly distributing residue is especially important to producers who practice no-till, since they only have one chance for proper distribution. 
Take time to monitor the amount of residue being spread. Make sure it's being spread evenly and at your desired thickness.
Subscribe to receive top agriculture news
Be informed daily with these free e-newsletters
You May Also Like
---