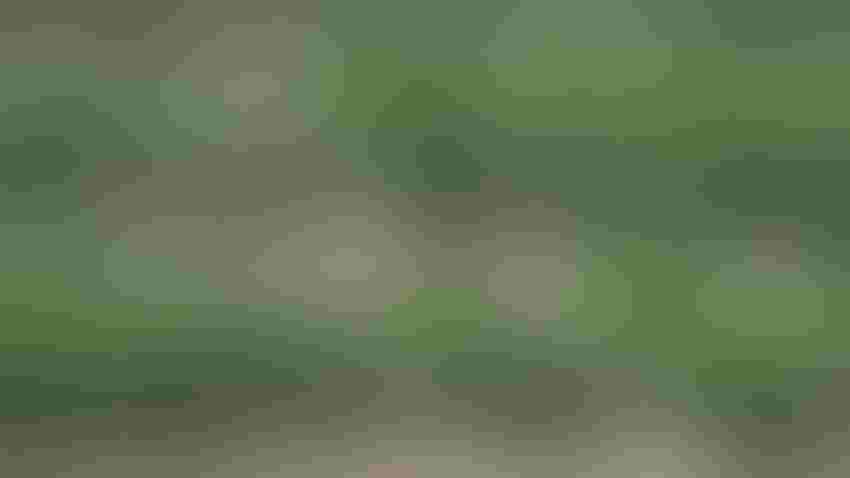 DRIFT CAUSES INJURY: When herbicides drift onto susceptible varieties, plant injury occurs. Notice cupping and irregular growth patterns in these soybeans.
Tom J. Bechman
Say it's a bit breezy but you really need to spray a field of soybeans. So, you spray anyway. How much downside risk is there to that choice?
USDA Agricultural Research Service researchers Narayanan Kannan and Christina Huggins found that if you were using a conventional sprayer and waited for what they call "low wind conditions," you could have reduced pesticide drift by 74%. Their work in Mississippi showed that switching to a hooded sprayer reduced pesticide drift of preemergence herbicides by 63%. They also reported that avoiding spraying when temperatures were high reduced drift.
Products within sight
BASF recently shared a peek into the future, unveiling plans for many new products in the pipeline. Here is a status report for corn and soybeans:
Surtain corn herbicide. BASF bills this as the first solid encapsulation technology for a preemergence and early postemergence herbicide in corn. It's part of the Kixor herbicide family. Registration by EPA is expected later this year. Look for launch in 2024.
L-GA active herbicide formulation. L-GA stands for L-glufosinate ammonium. Spokespersons say this formulation will greatly reduce the amount of active ingredient required. Look for it by mid-decade in the U.S.
Tirexor Active. This new PPO-inhibiting herbicide controls weeds currently resistant to other PPO herbicides. It's approved in Australia and Canada, with expected market introduction in Argentina in 2024 and the U.S. in 2025.
Products on the horizon
BASF and Corteva Agriscience are collaborating on two technologies for weed control that may not be in your hands for a decade or more. Here is a peek:
New PPO soybean trait. An additional PPO herbicide under development will be paired with a new herbicide tolerance trait developed by Corteva. This would allow over-the-top application of this PPO in soybeans. Look for it in the early 2030s.
New mode of action, new soybean trait. An active ingredient with an entirely new mode of action is in late-stage research by BASF. The company is also developing the corresponding herbicide tolerance trait in collaboration with Corteva. Expect it in the 2040s.
Biobased product news
Employ from Wilbur-Ellis Agribusiness and Plant Health Care can now be tank-mixed with key herbicides. It's a plant health promoter that turns on natural defense systems in plants, promoting growth and guarding against stress effects. Herbicides approved for tankmixing include Engenia, Tavium, XtendiMax and Enlist One. Visit wilburellisagribusiness.com.
Meanwhile, Vestaron launched Spear RC, a peptide-based bioinsecticide. It joins a lineup of other Spear products featuring a novel mode of action called IRAC Group 32, helpful in resistance management. It's for use in soybeans, cotton and rice, and is effective against armyworm. Visit vestaron.com.
Micronutrient news
Here are two new products in the micronutrient sector:
MicroMark DG. This is a new line of granular micronutrients offered by The Andersons, Maumee, Ohio. Through dispersing granule technology, spherical granules break into thousands of subparticles in the soil, increasing availability. See andersonsplantnutrient.com.
Seed Life Armor-C. Seed Life LLC, Virden, Ill., introduces this planter box treatment featuring biocapsule technology. Biocapsules will be charged with Terrasym, a biostimulant, and a microbial team that can fix nitrogen and solubilize nutrients. It comes in an 80-20 talc blend with iron, manganese and zinc, with formulations for both corn and soybeans. Visit seedlifellc.com.
Subscribe to receive top agriculture news
Be informed daily with these free e-newsletters
You May Also Like
---