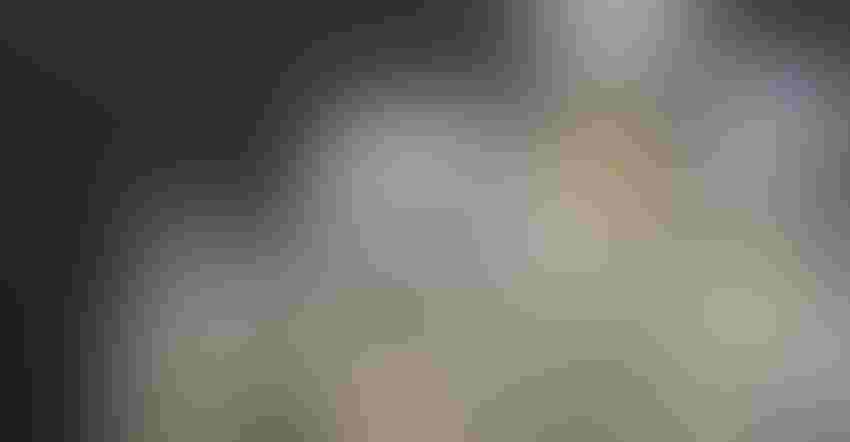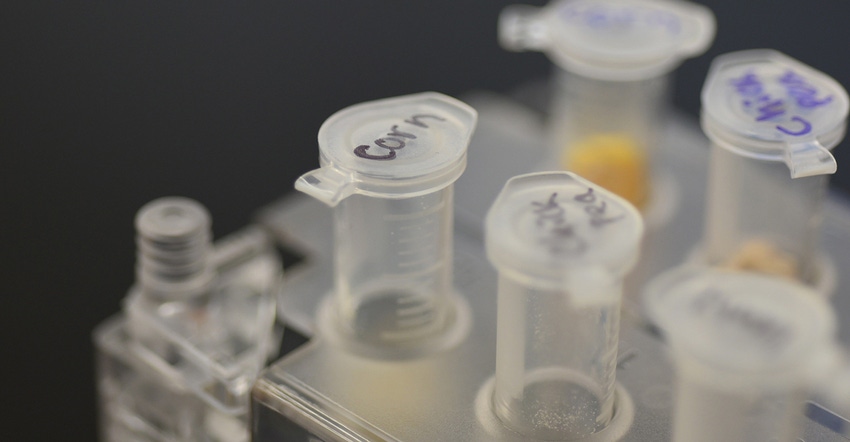 GENOTYPING TEST: Samples are ready to be tested for disease pathogens at the National Agricultural Genotyping Center.
NAGC
The National Agricultural Genotyping Center (NAGC) offers molecular testing of soil and crop residue for pathogens that cause Goss's wilt, gray leaf spot and bacterial leaf streak in corn.
Since management strategies for these diseases differ, it is good to know what may be present in the field prior to planting, according to Megan O'Neil, NAGC director.
Goss's wilt
The pathogen causing Goss's wilt is Clavibacter michiganensis subsp. nebraskensis. Surface residue has been reported to be the main source of inoculum for Goss's wilt. The wilting is more common on young seedlings, while Goss's leaf blight is typically characterized by large, elongated lesions (streaking) with small, water-soaked freckles in the periphery of the lesions.
Currently there are no chemical treatments to manage Goss's wilt.
GOSS'S WILT: Streaking of corn leaves is sign of Goss's wilt.
NAGC can perform a field test for Clavibacter loads in crop residues.
Gray Leaf Spot
Gray leaf spot is a destructive foliar disease caused by two closely-related fungal species Cercospora zeae-maydis and Cercospora zeina, which have different distributions in North America. C. zeae-maydis is thought to be found throughout North America compared to C. zeina, which appears to be restricted to the eastern Corn Belt.
When plants are infected by either species, gray leaf spot first manifests as small pinpoints, which eventually turn into brownish-gray, rectangular lesions. Once infected, plants continually shed great leaf spot fungal spores throughout the growing season, which can be transferred to adjacent plants or fields by wind-driven rain.
GRAY LEAF SPOT: Leaves continually shed gray leaf spot fungal spores.
During periods of high humidity and moderate temperatures, large gray leaf spot outbreaks can occur. Fungicides have been shown to be effective against gray leaf spot.
Bacterial leaf streak
Bacterial leaf streak is caused by the bacteria, Xanthomonas vasicola pathovar vasculorum, and was first reported by USDA in the U.S. during the 2016 growing season. Symptoms are similar to other diseases, making visual diagnosis difficult to impossible. Infected corn plants appear to have narrow stripes similar to fungal disease, like gray leaf spot.
The disease has been detected early and can develop three weeks after the plant emerges. Due to its recent discovery in the U.S., the control and spread of bacterial leaf streak is largely unknown, but it is highly unlikely that foliar fungicides typically used against gray leaf spot will be effective against this bacterial disease. The bacteria likely persists in field residue from previously infected plants, and common weeds may serve as important reservoirs for the pathogen.
To keep costs down and aid the producer in evidence-based management practices, NAGC has developed a single test for both bacterial leaf streak disease and gray leaf spot.
BACTERIAL LEAF STREAK: Bacteria that causes bacterial leaf streak persists in field residue from previously infected plants and common weeds.
For information on how to submit a sample, see genotypingcenter.com.
About NAGC
The National Corn Growers Association in partnership with Los Alamos National Laboratory established the NAGC in 2016 to translate scientific discoveries into solutions for production agriculture, food safety, functional foods, bioenergy and national security.
NAGC is a 501(c)(5) corporation housed on the campus of North Dakota State University in Fargo, N.D. The center's genotyping services are made available to private and public scientists from breeders to quality control and food safety researchers.
Source: NAGC, which is solely responsible for the information provided and is wholly owned by the source. Informa Business Media and all its subsidiaries are not responsible for any of the content contained in this information asset.
Subscribe to receive top agriculture news
Be informed daily with these free e-newsletters
You May Also Like
---