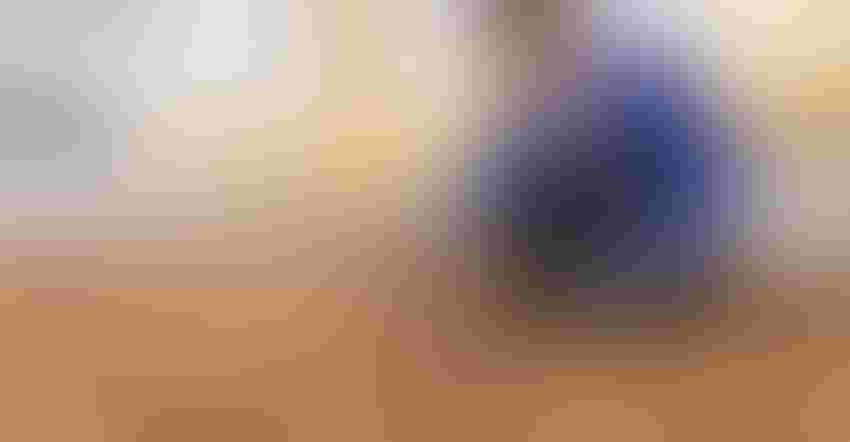 1 POTATO, 2 POTATOES: Sam Perez checks potatoes in a storage bin at the UW-Madison Hancock Ag Research Station that holds about 200,000 pounds of potatoes.
By David Tenenbaum
Potatoes are heaped high in the storage building at the University of Wisconsin-Madison Hancock Agricultural Research Station, situated in the middle of the Central Sands area of Wisconsin — one of the most productive potato-growing regions in the country.
Hancock has stored these potato samples to see how well they will last in storage, and equipment operator Sam Perez keeps a close eye on the spuds.
Storage concerns
By monitoring sugar levels, frying test batches of potato chips and implementing other techniques, Perez and other research station employees help growers decide when to market their stored potatoes. Waiting longer usually means a higher price, but only if the potatoes are sound and unsprouted.
Storage is a big concern for Paul Bethke and other UW-Madison horticulturists who breed and grow potatoes at the station.
"One goal of the breeding and storage programs is to have families eating Wisconsin potatoes at the July Fourth barbecue," says Amber Gotch, who works alongside Perez in the lab. "That requires 10 months of safe storage."
Wisconsin is ranked in the top five nationally in production of potatoes, sweet corn, green beans, peas, carrots and many other processed vegetables.
The Hancock station, located along Interstate 39 between Stevens Point and Portage, plays a central role in Wisconsin-oriented potato research. In 2006, the Wisconsin Potato and Vegetable Growers Association raised $3.2 million for the storage building where Perez spends half his year.
When fieldwork begins, Perez moves outside as one of the site's field technicians, where he also performs preventive maintenance and repair on the station's farm equipment and vehicles.
During four years at the Hancock Agricultural Research Station, Perez has earned a reputation as being methodical and willing to handle any task. Those qualities made him one of eight UW-Madison employees to receive the 2017 University Staff Recognition Award.
Bold move
Lady luck played a significant role in delivering Perez to a job he loves. He and his wife, Andrea, both Chicago natives, first moved to Wautoma in 2000 and found the Central Sands a welcome relief from the big city bustle. They eventually moved to Florida, but in 2012, after two unsatisfactory years there, they opted to return to Wisconsin. Unable to decide where to set up house, they taped a state map to the wall and threw a dart.
Seriously.
It struck within spitting distance of the Hancock station. Perez, who had previously worked on potato farms and knew the area, applied for a job.
In the years since, he's proved to be a jack-of-all-trades, and master of many, plus reliable and hardworking enough for Troy Fishler, Hancock's storage facility manager, to nominate him for the staff award.
"Sam is always willing to go out of his way," Fishler says. "He knows our mission is to facilitate the research that professors and staff come to do, and they are always taken care of. He's very generous with his time, and is an absolute pleasure to work with, and he has this enormous positive attitude. Some people will fight tooth and nail to get out of the less desirable jobs, but he takes it as just another day; he's always willing to help out."
Before he moved to potato country 17 years ago, Perez was working as a courier for Chicago law firms, "and didn't know anything about farming or mechanics." He proved a quick study. "Every machine, I found I could take it apart and put it together like brand new," he says. "When I take apart an engine completely and put it back together, the initial start is the best feeling. Just to know what you did, that counts for something."
Some of his skills, Perez says, came from his father, who knew no English when he came from Mexico. "Dad started his own home remodeling company, and I would tag along and watch everything he did," Perez says. "I just picked it up. He also worked on cars, would take one apart, take the engine out and put another in. We had our ups and downs, but everything I know is from him."
Perez and his wife have four children, and even though his boss, Fishler, describes him as "a family man who has his priorities in the right place," Perez says he likes to be "on the go all the time."
Mechanics is both a vocation and an avocation for him, and hard work is a gift, not a burden, Perez says. "I take the days one at a time," he says. "I try to live life to its fullest, because you never know what tomorrow is going to bring."
Tenenbaum writes for UW-Madison Communications.
Subscribe to receive top agriculture news
Be informed daily with these free e-newsletters
You May Also Like
---