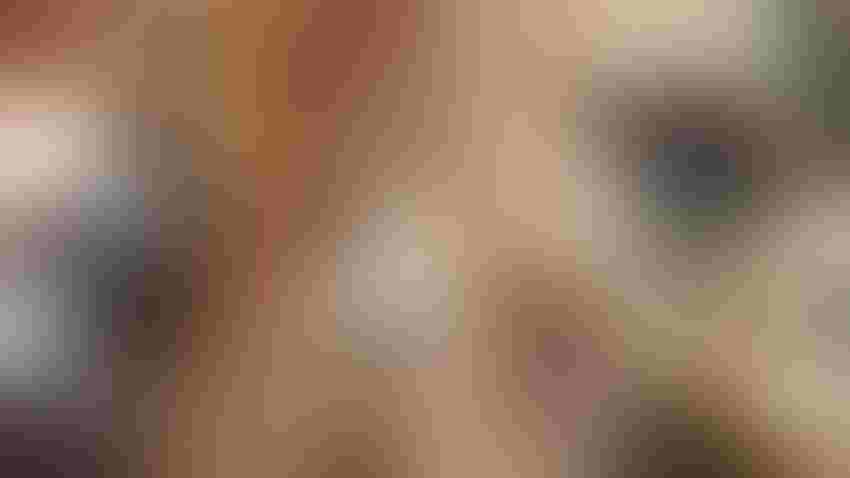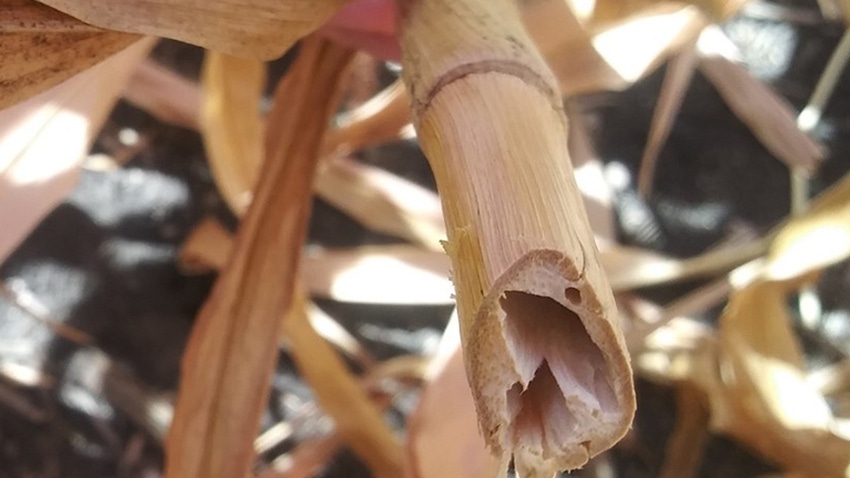 STALKS: Cornstalk quality is important when holding the corn plant up during the growing season.
Jeff Coulter
To say that the 2023 growing season has been interesting and challenging would be an understatement. Now, a challenge is to harvest corn in a manner that minimizes preharvest losses as well as being sure the combine is properly adjusted to prevent harvest losses.
Stalk quality and resulting lodging potential will be a concern for cornfields that experienced the stress of too much or not enough moisture or heat stress across the state. Because of the stresses this year, cornstalk integrity may be compromised in some fields because the plant cannibalized itself to fill out the ear as much as possible. Although plant health looks good at this writing, stalk rot may also cause deterioration of stalk quality and result in lodging.
Two methods for monitoring fields for stalk quality are the "pinch test" and the "push test":
Pinch test
Check cornstalk firmness by pinching the lower internodes near the ground between your thumb and forefinger.

Be concerned when stalks crush easily.
Push test
Push the plant at shoulder height approximately 30 degrees from vertical.

Be concerned when plants pinch over or fail to return to upright.
Regardless of the method chosen, check a minimum of 100 plants per hybrid per field, preferably by evaluating at least 20 plants in five different areas. If soil types vary significantly, be sure to observe each area of the field (low areas, hilltops, side slopes, etc.) If more than 10% of plants crush easily or fail to return to upright, this indicates cornstalk quality may be an issue, and that field or portion of field should be prioritized to harvest before fields or portions of fields with better stalk quality.
While evaluating cornstalk quality, also check the strength of ear shanks to assess the potential for preharvest ear losses and move fields or portions of fields with 10% or more weak ear shanks to the top portion of your harvest order.
Moisture effects
Corn grain drydown from physiological maturity to about 23% is nearly constant and is only minimally affected by air temperature and relative humidity. However, below 23%, grain drydown can be influenced greatly by both air temperature and relative humidity. At this writing, the outlook from the National Weather Service is for the early harvest season to be warmer and drier than normal. If this comes to pass and the warm and dry trend continues into later in the harvest season, it may be tempting to wait until corn grain gets to 15% before harvesting to avoid drying costs or moisture discounts. Remember, however, that the longer cornstalks are left standing, the greater the potential for lodging and ear droppage to occur. Lodging, ear droppage and header kernel loss are commonly greater the longer corn is left standing in the field and the drier corn is at harvest. (If you decide to wait a while, Sotirios Archontoulis and Mark Licht developed a corn drydown calculator that, with minimal input of location, initial date and grain moisture can provide some estimation of how long it will take to reach your target harvest moisture. The calculator can be found at crops.extension.iastate.edu/facts/corn-drydown-calculator.)
Observing the quality of cornstalks and ear shanks prior to harvest and then establishing an order of field harvest based on those observations can result in more bushels in the bin after harvest is completed.
Schmitt is an Extension agronomist for Iowa State University.
Subscribe to receive top agriculture news
Be informed daily with these free e-newsletters
You May Also Like
---