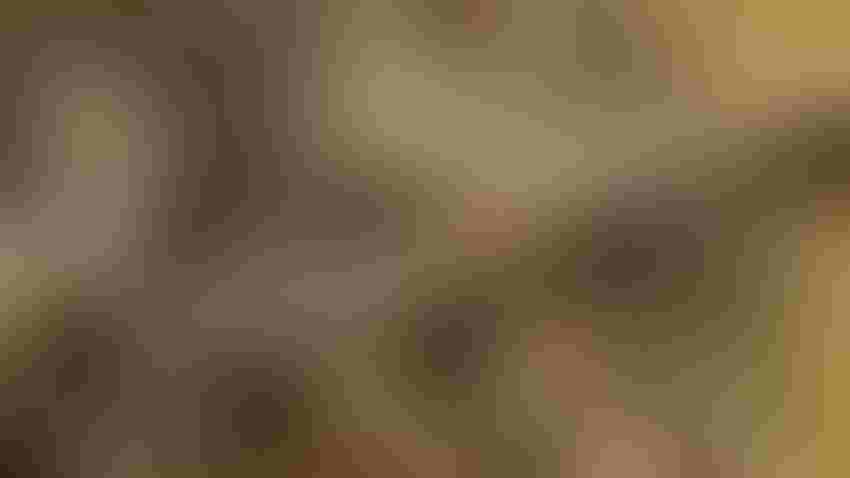 NO-TILL: Before you no-till drill wheat into your corn or sorghum residue, Kansas State University experts offer some advice.
Jennifer M. Latzke
According to the Oct. 1 USDA National Agricultural Statistics Service Kansas Crop Progress Report, Kansas farmers have harvested 51% of their corn crop, with their soybean and sorghum crops not very far behind. Some producers saw challenges that pushed them to chop their crops for silage, and those who had crops in the field to harvest saw suitable field conditions to get the crop out at the end of September or early part of October.
The U.S. Drought Monitor reported that as of Sept. 28, conditions across the eastern and central two-thirds of the state range from abnormal to extremely dry, with southwest and west-central Kansas showing no drought effects. With available soil moisture and some timely precipitation, some farmers, according to Kansas State University cropping experts, are considering no-tilling their winter wheat right into their freshly harvested summer crop residue.
Lucas Haag, northwest area agronomist; Kraig Roozeboom, cropping systems agronomist; and Ignacio Ciampitti, farming systems specialist, wrote about the management considerations farmers need to keep in mind in the Sept. 28 Agronomy eUpdate. Here are their top eight considerations.
Watch your wheat variety. When you plant wheat after corn, you need a wheat variety that has the best rating for resistance to fusarium head blight or scab. Look for a wheat with a high level of drought tolerance since the previous crop may have used up a lot of soil moisture. And select a winter-hardy wheat with late-fall tillering since it's going into the ground later than other wheat.

Plant it soon. The quicker you can get wheat into the ground after you pull off the summer crop, the longer the window for that wheat to develop fall tillers. That gives the crop a good start going into dormancy, and you don't have to rely on spring tillers for yield.

Boost your seeding rate. When you delay planting, or you're going into a high-residue environment, you will need to increase seeding rates just to get an adequate stand.

Mind your residue. The more evenly you can distribute your summer crop residue as you harvest it, the better. Uneven clumps of residue make it difficult to maintain adequate seed placement into the soil and are tough for that wheat seedling to break through to develop a crown. Additionally, areas of higher crop residue immobilize more nitrogen.

Add some weight to the drill. High-residue conditions are tough, as it is to get the seed drilled to the right depth, where it can reach soil moisture in drought conditions. It's more important in this system to set the drill correctly and add ballast to the drill or air seeder to get the downforce it needs to cut through the residue and place the seed at the right soil depth. Also, maintain a ground speed that not only lets residue flow through the seeding tool, but also gets the seed into the ground at the right depth.

Feed it right. Wheat needs nitrogen, but wheat going into the ground after corn or sorghum in general needs higher rates of fall-applied nitrogen, the experts say — especially if you're following sorghum, with its residue that is lower in nitrogen content. Experts recommend an additional 30 pounds per acre of nitrogen applied if you're planting after sorghum or sunflowers. Wheat following soybeans needs nitrogen too, because the organic nitrogen released from the soybean usually occurs too late to benefit the wheat significantly, they say.

Read the herbicide label. Herbicide history on the field is important when you're planting back to wheat. Consider, too, how much rain the field has received, which can help reduce potential injury to your wheat crop.

Consider desiccants thoroughly. Desiccants, like a preharvest application of glyphosate on sorghum, can get the crop harvestable earlier, thus saving you soil moisture for your following wheat crop. Research shows that on average in this system, wheat yielded 12% to 13% more on average than wheat following untreated sorghum, or about an increase of 5 to 6 bushels per acre. You can read more about the study at Sept. 28 Agronomy eUpdate.

Source: Kansas State Agronomy contributed to this article.
Subscribe to receive top agriculture news
Be informed daily with these free e-newsletters
You May Also Like
---