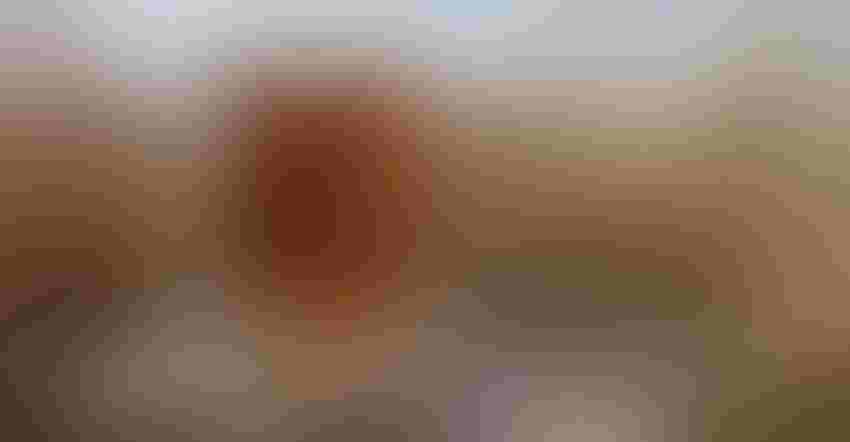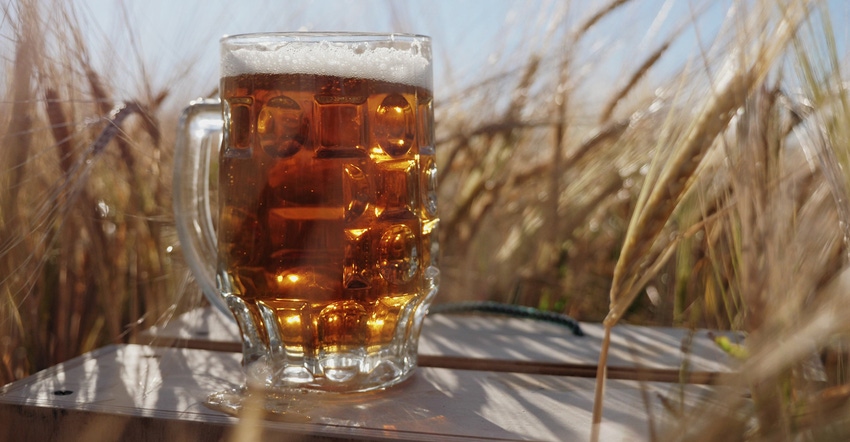 FROM FIELD TO GLASS: The relationship between farmer and buyer is changing as companies set sustainability goals. For example, AB InBev is investing in model farm research as part of its sustainability journey.
Dmytro Diedov/Getty Images
A farmer in Uganda gets access to a new kind of crop insurance. A small-holder farmer in Zambia tests blockchain tools for his operation. And a barley farmer in North Dakota gets agronomy insight to boost returns. All three are connected by an unlikely source — Anheuser-Busch InBev, the global brewer that's working across its supply chain to meet aggressive sustainability goals.
"We have our 2025 sustainability commitments, which we're on track to achieve [by] our sustainability team that sit within our procurement function to make sure we're connecting our sustainability objectives directly to the business," says Katie Hoard, global director of agricultural innovation and sustainability, AB InBev.
The work is being done globally with programs such as the 100+ Accelerator, which is designed to work with startups to explore new ways to achieve goals, and a new model farms program in the United States that kicked off in 2020.
But when the conversation turns to sustainability in agriculture, Hoard says the focus needs to change. "We want to move beyond [sustainability] being a reporting exercise," she says. "I know that often when farmers hear the word 'sustainability' that's what comes to mind."
She explains that the company has agronomists on the ground, working with farmers on productivity and quality issues, but sustainability is a key goal. "Sustainability is a journey, it is a partnership," Hoard says. "We understand that some of the practices and technologies that will help improve sustainability on the farm might seem a bit risky."
Turning to model farms
There are practices that can boost productivity and enhance soil health at the same time, but do they work for barley or rice? Good question. Earlier this year, AB InBev committed $530,000 to support model farms at four land-grant universities. The goal? Enhance environmental sustainability.
The donations focus on the following areas:
Water and soil health. The University of Idaho is building the nation's largest research dairy farm, Idaho CAFÉ, which includes the Sustainable Water and Soil Health Demonstration Farm. That program will receive $200,000 to research rotations, cover crops and livestock integration at multiple sites, including locations owned by AB InBev.
Soil health and cover crops. North Dakota State University, in partnership with the North Dakota Barley Council, will receive a $150,000 contribution to their Soil health and Agriculture Research and Extension Farm projects to improve soil health and production sustainability. The research will focus on suitability and impact of cover crops following barley in local rotations.
Water and energy savings. Montana State University receives $50,000 for additional research on the amount of water and energy saved using Low Energy Spray Application pivots on barley while maintaining yield and quality.
Irrigation strategies. University of Arkansas Systems Division of Agriculture will receive $130,000 to establish a Discovery Farm to test different irrigation strategies that help rice farmers become more efficient and to document continuous improvement toward sustainability, including profitability and methane emission reductions.
Lately, when the phrase soil health comes up, it's attached to "carbon sequestration." Hoard says that may be part of the benefit of the model farm work and in-field efforts. "But our focus is on the farm and determining how we improve the soil," she says. "Because that will have an impact on carbon that will have an impact on watershed health, and productivity and consistency in production. So [carbon sequestration] is part of a broader approach for us."
A brewer's new focus
For many farmers, the relationship with a brewer was to raise the crop and sell it. That's changing. "There are pressures that we see on food systems to build resilient supply chains, and that's why we're having these conversations," Hoard says. "We do focus on our priority crops, whether it is rice or barley, but we also appreciate that [those crops] are part of a larger rotation."
If a company is going to work with farmers to boost soil health and enhance sustainability, a holistic approach is needed. "We have to take that rotation into account, and that means we have to look at the partnerships as well," she says.
The model farms will allow AB InBev to test new ideas at field scale. "It will allow us to show farmers versus tell them about sustainable practices," she says. And the company will work beyond the model farms identifying farmers that can be involved in the effort. That can also lead to peer-to-peer learning to help promote the new practices.
Farmers may be raising commodity crops, but increasingly buyers are looking at farms to better understand practices, and perhaps bring new approaches for the future.
About the Author(s)
Subscribe to receive top agriculture news
Be informed daily with these free e-newsletters
You May Also Like
---