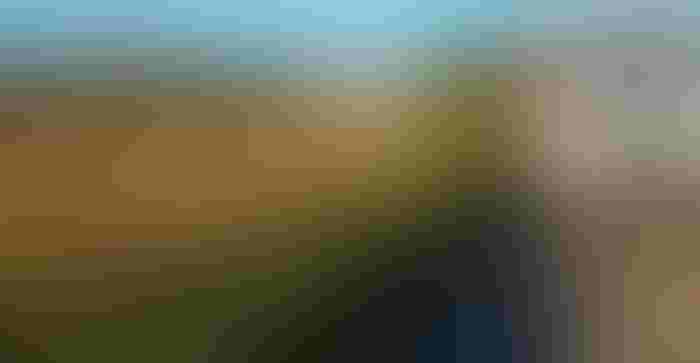 HARVEST BOUNTY: This scene is from the 2017 wheat harvest on the Penner farm, a year when spring rain and lingering cool weather brought strong improvement to yields.
"To God be the Glory!" by Andréa Crouch, is playing as I write this. Today, April 25th, I am in a celebratory mood. Rain is falling down. Wheat is stretching to the sky. Harvest is more than just a glimmer of hope.
I celebrate the recent arrival of a new weather pattern, which has potential to bring additional moisture to the wheat and other crops. Before that 1.5 inch slow, soaking rain, moisture has been scarce since mid-October of 2017.
Prior to last week when moisture did fall, it came in very small amounts, usually one or two tenths of an inch at a time. Or, it came as blowing snow followed by gusty winds, which were not conducive to keeping the moisture on the ground where it is needed.
My rainfall monitor indicates some fields are still as much as 3.3 inches behind our 10-year average. Other fields are only 1.6 inches behind, and some fields show varying deficits in-between.
This year is already one for the books in our area. Wheat seeded in the fall, which did not have adequate moisture to germinate or was planted too shallow to germinate, did not emerge until late March. Unfortunately, it does not have great yield potential.
The difference is obvious when comparing fields planted side-by-side. One field, planted into soybean stubble with a single disc, no-till drill, emergence and uniformity is very good. The neighboring field, planted into soybean stubble with a double-disc drill — planted at least 24 hours prior to the other field — shows uneven germination and emergence. Both fields show differences during growth and maturation.
Survival in harsh, dry winter conditions is difficult enough, even after germination and emergence. In previous dry years, growers in our area could count on winter snowfall in sufficient quantities to germinate areas which were problematic and emerge under the snow.
However, that is no longer a valid assumption. We are not receiving enough snow cover in the early winter months to bring moisture levels up. We must continually adjust cropping rotations and conservation practices in order to adapt.
The year is 2015, at the conclusion of the General Session of the Commodity Classic in San Antonio, Texas. In a short video made by yours truly, the pianist is playing a compilation of gospel hymns, the last hymn is the work of Andréa Crouch.
Then former president of the National Association of Wheat Growers, Brett Blankenship, while performing on the grand piano, captures the attention of a small group of friends who remain. A small contingent of maintenance personnel are milling about. All are listening to the melody and to the joy expressed so eloquently by the authors and the artist.
What an appropriate send-off and notes of encouragement!
That is how I feel today. As farm families, relatives and friends prepare to come together once again to gather in the harvest, we rejoice and are thankful that we are able to live and work together in this manner.
May you have a blessed, safe and wonderful time this harvest.
Penner is a Marion County farmer and former president of the National Association Wheat Growers. His email is [email protected].
Subscribe to receive top agriculture news
Be informed daily with these free e-newsletters
You May Also Like
---