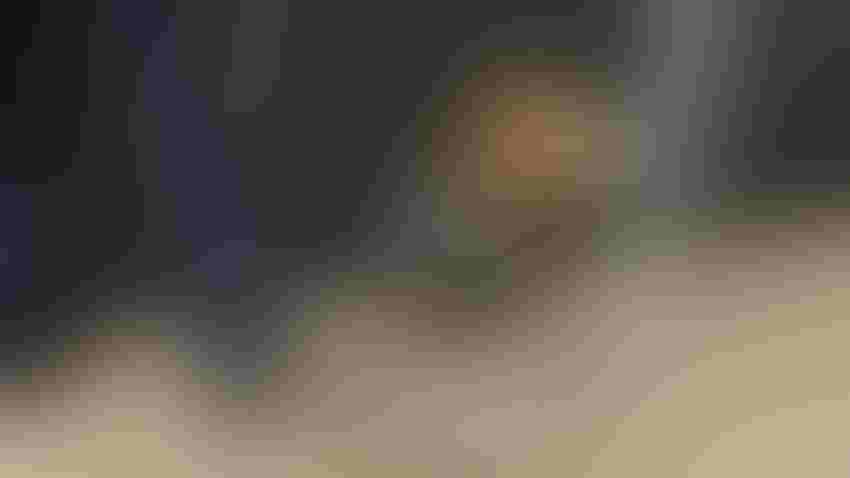 LITTLE DOG, BIG JOB: Ozcar may be small, but he has a big job detecting food products and pests that may be hitching a ride with passengers coming into Chicago's O'Hare International Airport.
Kevin Schulz
Ozcar is not even 2 feet tall, and definitely doesn't break any scales, but he is a force to be reckoned with on the defensive line.
You see, Ozcar is a beagle, and he and his teammates at various airports and other ports of entry across the United States play an important role in keeping foreign diseases and pests from infecting American livestock, crops and forests.
Dogs, humans work as a team
Ozcar and his human handler, Sari Hall, Customs and Border Protection (CBP) agriculture specialist canine, work at O'Hare International Airport in Chicago where he screens "passengers, their hand carries and their checked luggage to see if there's any beef, pork, any fruits, vegetables, anything for the garden to grow or soil that can bring pests or diseases into our country," Hall says. Customs and Border Protection is part of the U.S. Department of Homeland Security.
Hall and Ozcar were at the World Pork Expo in Des Moines, Iowa, sharing the importance of the work of Ozcar and his canine colleagues. Hall says Chicago O'Hare is the No. 1 airport in the country in canine seizures, and "last year we found over 22,000 things that we had to take away from folks." She adds that Ozcar has found more than 20 items in a single day that had to be confiscated.
Prospective Beagle Brigade members go through a three- to six-month training program where they master detection of five core smells: apple, citrus, mango, beef and pork. Once dogs complete their training, a group of handlers comes in to work with the dogs to determine who would make good pairings. Hall says though she worked with a number of dogs in that part of the training, she and Ozcar kept gravitating toward each other. "We really gelled together," she says of the relationship between her and Ozcar.
Ozcar works a nine-hour shift, three of which are spent monitoring the 11 carousels at O'Hare. Most flights that come into O'Hare have 300 passengers, making for a lot of nose work for Ozcar. The balance of his work shift is Hall transporting him from his kennel, checking his well-being and tending to his needs.
Hall and Ozcar demonstrated his detection ability with a variety of luggage pieces lined up that Ozcar sniffed around. Hall knows that Ozcar "hits" on an item when he sits down next to the offending luggage.
Nose defense
These canine seizures could possibly prevent pork products infected with a foreign animal disease from entering the United States. African swine fever is on most hog producers' radars, as a recent Iowa State University study estimates that an outbreak of the disease on U.S. soil could cost the swine industry about $7.9 billion annually for up to 10 years.
Joe Scheele, California agriculture liaison for the CBP, says the human and canine workers are tasked with "safeguarding our borders and protecting U.S. agriculture and the public from the biological threat." There are about 26,000 armed officers in the workforce who are cross-trained in agriculture, "because we know what's important," he says.
In 2022, looking at about 860,000 travelers coming into the country by air, water or land, the agriculture specialists are busy. Not all agriculture specialists work with canines such as Ozcar, but Hall says dogs make the job much easier. "We love when the canines work because they'll find so much more than just our regular screening process," she says. "They're quite efficient hunters for fruits and vegetables."
While the Beagle Brigade gets a lot of ink for their work at airports, Scheele says Labradors also make up a key portion of the force, because they work in more of a cargo environment and are able to climb on pallets to sniff out potentially smuggled content at various ports of entry.
Ozcar and his fellow beagles have busy shifts in the airports, but the Labs' work can almost seem daunting. The largest cargo ship that Scheele has been on has 18,500 containers. "I can't look at 18,500 containers on one boat," he says. "That's why we have targeting teams. We want to make sure that we look where we need to look, and focus our work."
On the front lines
As good as the beagles and Labradors are at their jobs, responsibility still lies with travelers in being honest about what they are transporting. "A lot of folks declare items so we can regulate the items that they declare," Hall says.
Maintaining and strengthening this first line of defense is the reason the National Pork Producers Council led nearly 60 agricultural and other organizations supporting the Beagle Brigade Act of 2023 (H.R. 1480 and S. 759) that was reintroduced in the U.S. House of Representatives and the U.S. Senate. This act would provide permanent authorization for USDA's National Detector Dog Training Center at Newnan, Ga.
Hall says most of the dogs at the training center are rescue dogs. When Ozcar is retired from service, he will find a permanent home with Hall.
Subscribe to receive top agriculture news
Be informed daily with these free e-newsletters
You May Also Like
---