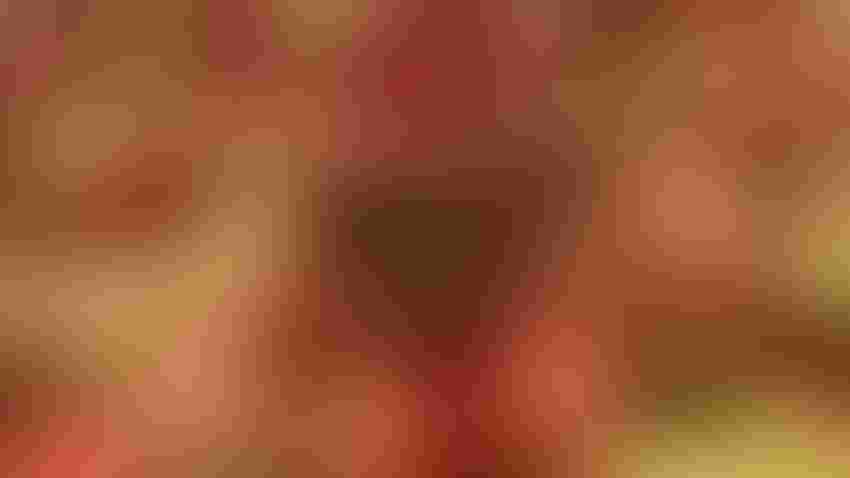 AUGUST BOUNTY: This bin of apples from Three Springs Fruit Farm shows the early-season apple bounty. Dave Wenk says he may have a record apple crop. But too many apples on the market will likely depress prices, especially for lower-grade and processing apples.
Dave Wenk
The old saying goes, "You can never have too much of a good thing." For tree fruit grower Dave Wenk, too many apples are a blessing and a curse.
The blessing: The trees produced a lot of fruit, much of it good quality. The curse: The trees produced a lot of fruit, and so did a lot of other growers.
"We have to do what we can to minimize any small apples," he says.
Wenk is one of three producers participating in our monthly Field Snapshot series. He is a partner in Three Springs Fruit Farm in Gardners, Pa., which includes 236 acres of apples; 48 acres of peaches; 4 acres of pears; 3 acres each of tart and sweet cherries; and 2 acres each of plums, apricots and other stone fruits.
It's been an up-and-down season. First, an early spring brought fears of frost and freeze damage. Then, the early-season drought forced him to irrigate his earliest peaches, something he had never done before. The rains have come back since late June leading to an exceptional peach crop, Wenk says, one made even better by good market prices because of peach crop shortages in Georgia and South Carolina.
Apples filled out nicely, and the first varieties of Wildfire Gala and Premier Honeycrisp have started getting picked, he says. But he is concerned that an expected banner year for many Pennsylvania and New York growers will likely depress some of the market.
Higher-quality, fresh market apples should bring good prices, but the market for lower-grade and processed apples is not very good. "We're scrambling to find homes for secondary stuff," Wenk says. "The fresh market price is manageable, but I expect there to be overall downward price pressure because of volume."
One silver lining: Wenk says he has plenty of workers, including H-2A workers, to get through much of the season. It is a welcome relief compared to other years, he says, when he had to reach out to his elected leaders to get more H-2A workers on the farm. Wenk says he has 34 workers picking fruit, most of whom will stay through November.
Recovering from fire
Out in western Pennsylvania, William Thiele picked up the pieces from a late-June fire that destroyed a hay hoophouse on his farm.
The hay hoophouse, which was built 15 years ago as a cheap way to store dry hay, caught fire June 29. No one was hurt, but 108 hay bales were destroyed. Thiele believes it started as a result of a few bales that may not have been dry enough for storage.
Thiele co-owns an 80-head, 300-acre dairy farm in Cabot, Pa.
The rebuilding of the hoophouse has already begun. The farm has gotten a new covering for the hoophouse, has put down new gravel and has raised the structure higher off the ground.
"We're putting a new covering on to have some hay for the dry cows over the winter. We're going to try to do that in between all the other fieldwork," he says with a laugh.
As the structure lacked electricity, Thiele says it was not insurable, so they couldn't get money to rebuild. The hay inside it, as well as patches of soybeans that had to be run over to put the fire out, was insured. In fact, Thiele says he got his check about a week and a half after the fire.
Lesson learned? "I guess whenever we're making fresh-cutting dry, to make sure it is really dry," he says, adding that he is also using a preservative to ensure he doesn't have any more issues with spontaneous heating.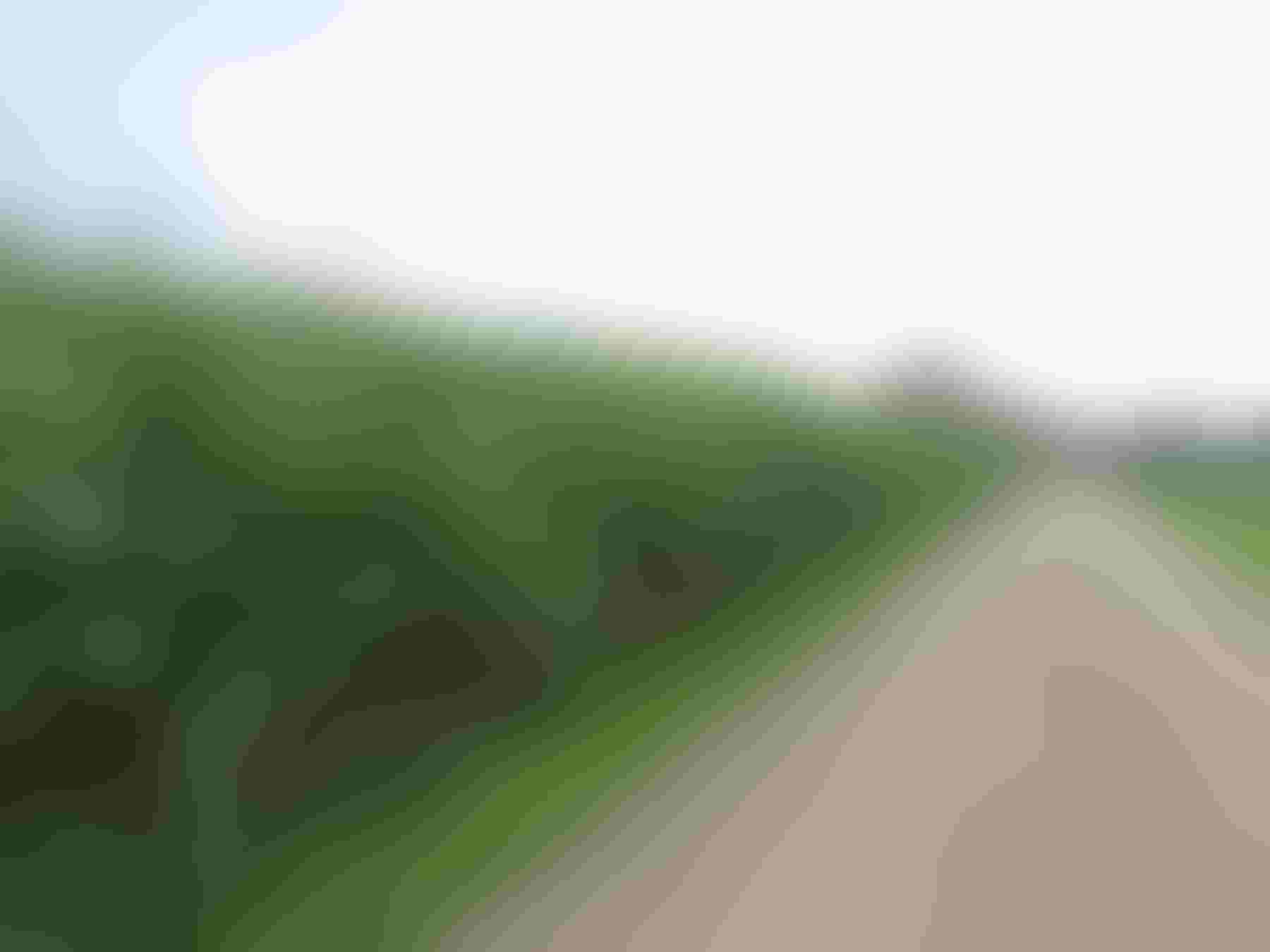 CORN IS BACK: Here at William Thiele's farm in western Pennsylvania, corn growth has exploded. It's a big change from earlier this season, when drought threatened corn and soybean yields on the farm.
In terms of his crops, the corn looks good, Thiele says. Soybeans are growing well in fields that have been manured, but in other fields where he killed the preceding cover crop late, the soybeans are struggling.
Thiele plants his soybeans green in spring, which he did this year. April and May were abnormally dry on the farm and, as a result, he believes the cover crops soaked up too much moisture from the ground, leaving very little moisture for the following soybeans.
While he is not giving up on planting green, this year taught him to pay closer attention to these fields in dry years, perhaps killing the cover crop earlier or planting soybeans earlier.
Oats and straw have recovered and are growing well, Thiele says. After that, he says he will plant his "Thiele's crazy mix," a multispecies cover crop mix made up of sunflowers, buckwheat, rapeseed and radishes.
"If we need to do it later in the fall, we can make forage out of it. It's something that we experiment with every year," he says.
For example, if the crop next spring is corn, he will add a clover or legume to the mix to fix more nitrogen. If it's soybeans, he will take the legumes out.
The goal is to cover soils after small grains to prevent noxious weeds such as marestail from taking over. He also plants the mix to address soil compaction issues and attract pollinators to the farm.
Sorghum regrets?
The early-season drought made it easy for Dave Hunsberger to shift more of his corn to grain sorghum. But his remaining corn has come roaring back.
Hunsberger, of Millerstown, Pa., grows 325 acres of hay, non-GMO corn, barley and, new this year, grain sorghum behind a crimson clover and ryegrass. He only planned on growing 20 acres of sorghum this season, but the early-season drought got so bad that he took out 40 acres of what would have been corn and instead planted sorghum, a more resilient crop in hot and dry conditions.
He is growing 60 acres of iGrowth sorghum that will be marketed through a firm in Berks County that will sell it for birdseed.
It was planted in 15-inch rows in barley stubble as Hunsberger thought it would provide better weed control.
His farm didn't see measurable rain for the entire month of June. "Now, we've had more than adequate rain, which is something that we haven't said for an awful long time," he says. "The corn is looking good. It just seems like every other morning we got 1.5, 2 inches of rain."
Puddles that he doesn't normally see have started appearing in some fields. In a couple of places, the corn is yellowing, a sign that denitrification is possibly occurring. Denitrification happens when there is not enough oxygen in the soil because of saturation. Nitrates get converted to gas that dissipates into the atmosphere, leading to nitrogen loss.
Still, Hunsberger says this is very isolated. For the most part, corn has made a big comeback. "In the beginning of the season, I made the decision early to grow extra sorghum instead of corn and soybeans, but now, with the rain, maybe the corn will out yield the sorghum," he says. "I won't have trouble finding reasons to be humble."
Subscribe to receive top agriculture news
Be informed daily with these free e-newsletters
You May Also Like
---