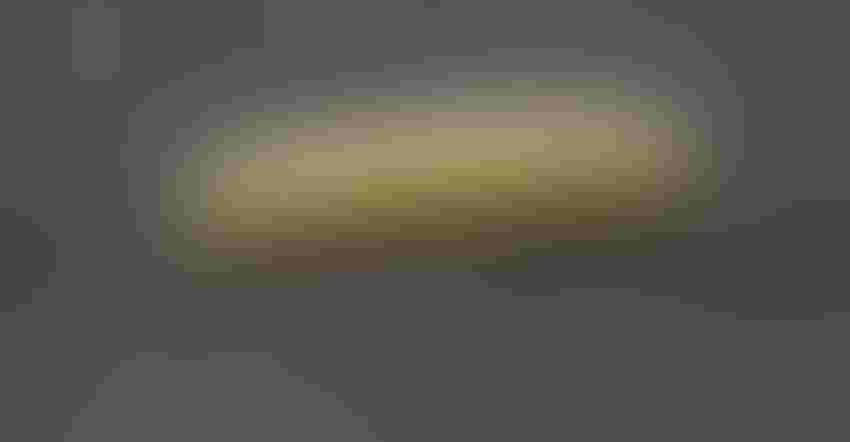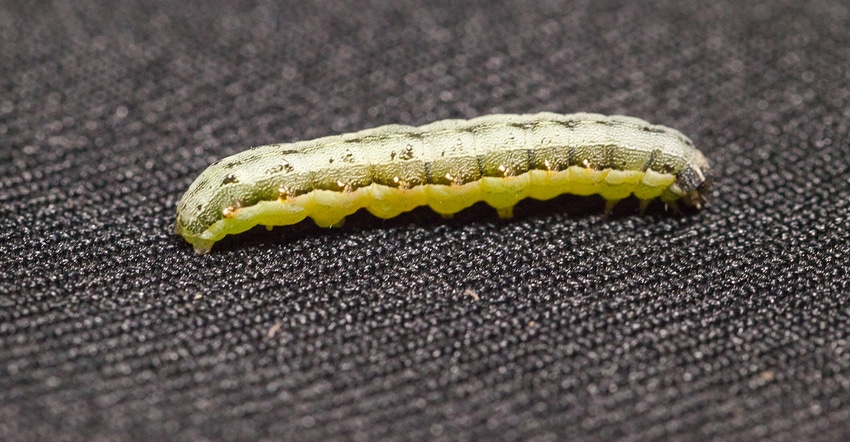 BE ON LOOKOUT: Armyworm caterpillars are smooth-skinned with several dark brown, white or orange-ish stripes down the length of their body. Their overall color can range from yellowish-green to dark gray or brown.
moxumbic/Getty Images
By Annie Deutsch
Last year, the true armyworm made news in parts of Wisconsin. This moth species gets its name from the behavior of the caterpillars, which will completely consume one food source and then move, in a mass, to the next area to continue eating. There haven't been major, widespread armyworm infestations for a while, but they definitely marched through parts of Wisconsin in 2018.
Armyworm caterpillars are smooth-skinned with several dark brown, white or orange-ish stripes down the length of their body. Their overall body color can range from yellowish-green to dark gray or brown. The true armyworm's head capsule is brown with a series of weblike markings, making it look like it has large, veiny eyes. Mature larvae are about 1.5 inches long.
Adult armyworm moths are tan to light brown and have a small white spot in the center of each forewing. They are 1 inch long with a 1.5-inch wingspan. Armyworms pupate just below the soil surface. In Wisconsin, there are typically two to three generations per year.
True armyworms should not be confused with other species such as tent caterpillars, gypsy moths, cutworms and the fall armyworm. True armyworms do not build webbed nests and typically don't defoliate trees unless all other food sources are gone.
Migratory pests
Armyworms are not a problem in Wisconsin every year because they don't spend the winter here. Like many of our snowbirds, armyworm moths overwinter in the Southern U.S. and migrate north in storm systems throughout the spring. For whatever reason, last year they "decided" that northern Wisconsin would be a great place to visit!
This means that while there were high populations in some areas last year, we don't know what will happen this summer. Pheromone traps, which attract the male moths, will provide the first clue about the arrival and size of the incoming population.
After the adults arrive in the North, they mate. Females lay eggs primarily at the base of grasses and other plants. In agricultural fields, the moths prefer to lay eggs in reduced-tillage fields with crop residue (especially soybean residue), weedy areas or grassy strips near fields.
As armyworm caterpillars grow, they feed on grasses, including pastures, small grains, corn and turf. As one food source is consumed, they move on to the next. If a herbicide is used to control grasses or a crop is harvested, the armyworms will also move to nearby sites.
In small-grain fields, armyworm larvae chew on leaf edges and can completely strip plants as they move up the stalk. At the top, they can clip the stem just below the head. The treatment threshold in small grains is three larvae per square foot. Because the caterpillars primarily feed at night, check on the soil surface and under plant residue when searching for them. If using an insecticide, be aware of the preharvest interval of the product before use.
In cornfields, armyworm feeding damage results in large chunks taken out of leaves, and often the whorl is full of insect frass (poop). If there are signs of armyworm feeding, check five sets of 20 plants at random throughout the field. Rather than looking at how much damage has already been done, focus treatments on preventing additional damage.
The treatment threshold is if 75% of plants have one caterpillar or 25% of plants have two caterpillars inside. Also, keep in mind that caterpillars over 1 inch long are almost done feeding, so using an insecticide may not be necessary. Unfortunately, many fields have larvae that are a range of sizes.
Spot treatments are ideal, but that option depends on the results of scouting. Corn with aboveground Bt trait(s) may still be attacked, so check those as well.
Pastures, soybeans, alfalfa and other crops are not immune to damage, especially with large armyworm populations. Insecticide recommendations for commercial field crops can be found in the University of Wisconsin publication A3646, Pest Management in Wisconsin Field Crops.
The Department of Agriculture, Trade and Consumer Protection's Wisconsin Pest Bulletin includes trap catches for true armyworm moths throughout the summer, so make sure to check out that publication to know when they start arriving. For more information about controlling armyworms, contact your local Extension office. 
Deutsch is the Extension agriculture educator in Door County, Wis.
Subscribe to receive top agriculture news
Be informed daily with these free e-newsletters
You May Also Like
---