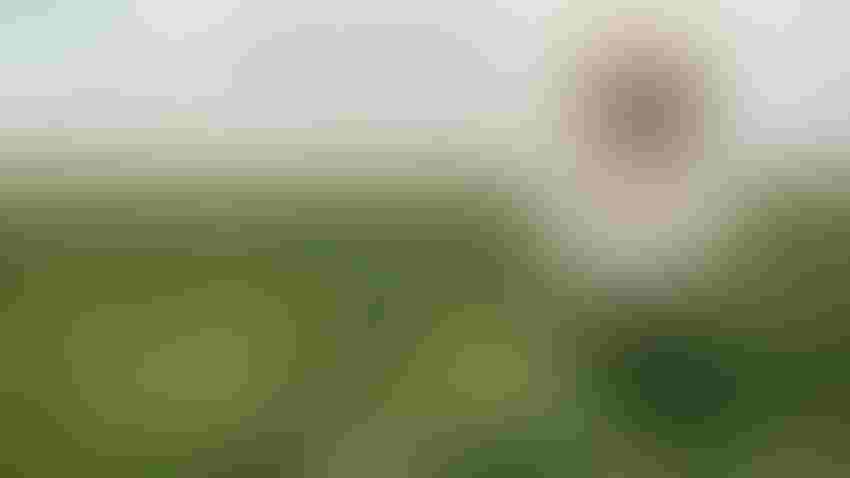 OPTIMAL CONDITIONS: Weather, crop and field history, and growth stages should all be considered for optimal fungicide application timing.
stevanovicigor/Getty images
The risk of white mold in beans varies across the region. Take a hard look at your local conditions when considering a fungicide application. Proactive management of white mold could be considered if the risk of disease is high. Risk factors that influence white mold follow:
Weather. Soils with some water can begin the disease cycle for white mold. Historically, only 1 to 2 inches of rain falling in a one- to two-week period before plants enter bloom is considered the minimum moisture for the sclerotia to germinate and produce apothecia.
Temperatures during bloom matter too, as sclerotinia infection and development is optimal when daytime highs are cooler from 60 to 70 degrees F. White mold can occur at higher temperatures, but it requires longer periods of leaf wetness.
White mold is favored if plants are wet for long periods of time. A wet plant canopy during bloom, as well as rain, fog, and heavy dews during bloom are all favorable for disease.
Growth stages. Broadleaf plants become susceptible to white mold once they begin blooming. This is due to the pathogen needing to utilize the flowers as a food source to develop and cause infection.
Somewhere in the early bloom stages of the crop is the optimal time to manage white mold with a fungicide. Applications in the late growth stages, when flowers are no longer present, miss the critical window to prevent economic impact.
Crop and history. Fields that have a history of white mold are often more likely to experience epidemics. Sclerotia can survive for many years in a field, so an epidemic a few years early may still influence this year's crop. Consequently, recent dry years don't mean less disease, even if an outbreak is less likely.
Best management for white mold
In dry beans, research finds the most important factors in timing of a fungicide application are percent canopy closure, and percent of plants with one or more initial pods.
Michael Wunsch at the Carrington Research Extension Center found that fungicide timing was optimal when the canopy was at or near closure, and when 10% to 20% of the plants were in the R2 growth stage and had initial pin-pods.
If the canopy has not closed, pinto bean fields received optimal treatment when 30% to 85% of the plants had the initial pin-pods. For navy, black or pinto beans, results were similar when applications were made with 10% to 20% of the plants had pin-pods.
Favorable conditions for white mold development in soybeans were found to be a wet canopy, cool to moderate temperatures and enough soil moisture for apothecia germination. In soybeans, fungicide timing is optimized shortly before canopy closure. If the canopy remains open, fungicide application timing is optimized by applying as soon as 100% of the plants reach growth stage R2.
Source: North Dakota State University Extension
Subscribe to receive top agriculture news
Be informed daily with these free e-newsletters
You May Also Like
---