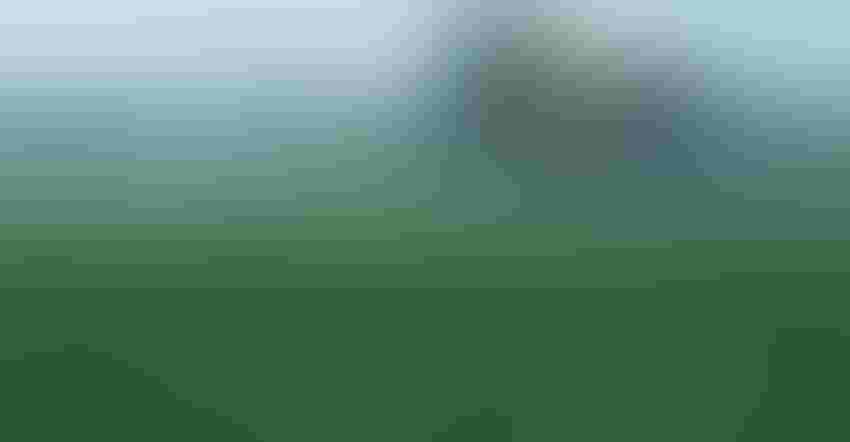 PROTEIN BOOST: Nitrogen is applied to wheat after it flowers to post protein levels.
By Dave Franzen
If you decide to try to increase the protein content of your wheat, the most efficient way to accomplish this is to apply 30 pounds of nitrogen per acre (10 gallons each of UAN and water) immediately postanthesis before the wheat berry starts to become milky.
Apply the fertilizer with flat fan nozzles broadcast over the plants during the cool of the day, usually from just before daybreak until it becomes hot. If the day is cloudy, and temperatures are in the 50s or 60s, the sprayer could likely run all day. Expect some leaf burning. At this growth stage the burning does not contribute to yield loss, but don't push it. Spraying all day in the heat, or spraying drought-stressed wheat when temperatures are in 90s, is not a wise practice.
Reduced leaf burning can be accomplished if the local supplier "melts" urea to make a urea solution. In most cases, low leaf burning or no leaf burning results from using straight urea compared to UAN. However, in rare occasions fields have been severely burned from urea solution application. This was probably the result of biuret contamination of the urea used to make the solution. Biuret is a byproduct of the urea manufacturing process when it is poorly controlled. Urea is a worldwide commodity. Although U.S. and Canadian manufacturers do a good job of keeping biuret content of urea low (less than 0.2%), the same might not be true from offshore sources. Concentrations greater than 0.5% may be cause for concern, and using a lower biuret urea source would be recommended.
RIGHT TIME: To enhance the protein content, N must be applied immediately post anthesis, before the wheat berry starts to become milky.
There are few laboratories in the region that test fertilizer for biuret. One laboratory I have found one lab that can test for biuret at about $45 per sample. The laboratory and its address is: Midwest Laboratories, 13611 B. St., Omaha, NE 68144.
This is not an endorsement for the lab, but it is the only lab I am aware of in the area that tests for biuret. The turn-around time for a urea sample is 3-5 business days.
There are a number of products that are slow-release urea liquid fertilizers that claim great efficiency over UAN or urea solution. Instead of 30 pounds N per acre, which is required for ½ to 1% protein gain, they claim that 1-3 gallons per acre (2.5 to 7.5 pounds N per acre) of their product will accomplish the same task. This is untrue. These slow release products have no more foliar N efficiency than UAN.
For data on several of these products in NDSU trials, see htndsu.edu/fileadmin/soils/pdfs/foliarNreport.pdf.
Franzen is a North Dakota State University Extension soil scientist.
Subscribe to receive top agriculture news
Be informed daily with these free e-newsletters
You May Also Like
---