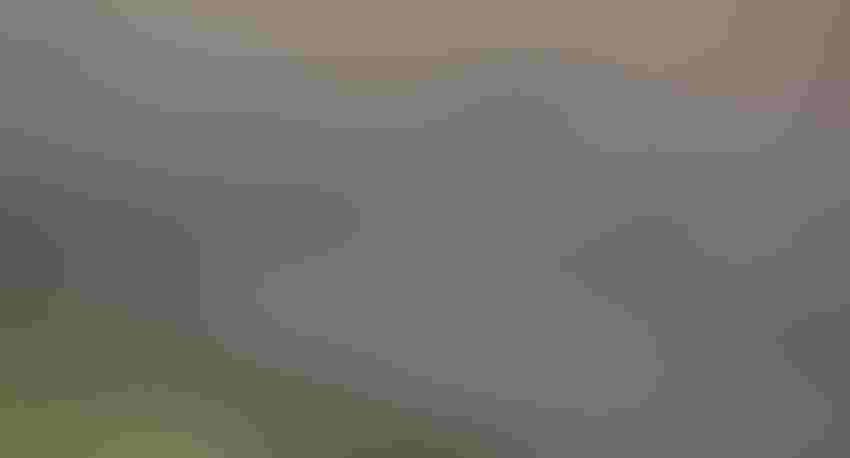 Worst example: Tilled soil is the very bottom of the healthy-soil, functioning water cycle ladder. Beef producers will earn untold benefits by operating at the top.
Alan Newport
Now that we went through the grazing primer in the January issue of Beef Producer and have had time to break most of our New Years resolutions it is time to settle down and actually get serious about making positive accomplishments this year.
The first thing I recommend is managing for a highly functional water cycle.
When I gaze at the landscapes during my travels I notice that there is nearly zero land that has a highly functioning water cycle. Moisture in the form of rain or snow should enter the soil where it lands and then be held there for use by the community for a significant period of time. Remember moisture is one of the keys to life.
The community varies from location to location, but natural model principles are the same in a desert as they are in a rainforest. The moisture needs to go into the soil and ground with little to zero runoff. The community includes all of the people, cattle and other animals in the area. Also greatly affected are the plants, soil critters, fungi, bacteria and protozoal organisms beneath the surface.
Ditches, creeks and rivers running wide open after a three-inch hard rain event point to a broken water cycle. The same is true of water ponding in fields or yards. Floods, droughts and deserts are mostly man-made and they point to a broken water cycle. Water is necessary for life, but it also is very capable of destruction and death.
Remember that a highly functional water cycle is or can be one of our most valuable resources. Taking water into the ground is a big deal no matter where you live. A highly functional water cycle requires:
Diverse plants at varying heights above the ground and some need to be green and alive most days of the year.

Dead plant material (litter) above and in the soil surface.

Billions of air pockets in the soil and the ground extending into the subsoil.

Channels in the soil mostly from dead roots.

Lots of carbon (in the form of organic matter).

Highly diverse and vibrant life (dead soil does not have a highly functional water cycle).
The only place where we can catch all of the water is where it lands. As soon as it starts downhill we are losing the moisture game. Piling brush in a gulley does no good because the water needs to be caught and held above the top. Once it heads down the slope our success is going to decrease drastically.
Carbon in and above the surface of the soil has received lots of good press in recent years, if not always for the right reasons. Organic matter is something like 60% carbon. Organic matter (actually the carbon fraction) is the sponge of water storage and transfers life. One-percent organic matter soil in the top two to four inches of clay ground can catch and hold one inch of rain (27,000 gallons per acre). Five-percent organic matter soil can catch and hold over 125,000 gallons of water per acre especially when protected by a diverse and dense canopy of plant life and quality surface litter.
Cool-season plants (C3) require and use huge amounts of moisture in their growth phase and their vegetation is not as moisture efficient or as friendly to cattle and soil organisms as are warm-season (C4) plants.
However, a highly functional water cycle requires both C3 and C4 plant life with a diverse mix of many species of plants, animals and soil organisms. The C4 plants are taller and higher on the plant successional chart as their root systems go deep in the ground to feed soil microorganisms, and their litter is digested into the soil at the surface following a high-density first graze. Those plants need to be in the majority.
Remember that carbon storage and its sponge-like role in the soil-plant-animal complex is in a constant state of movement and use. The soil requires the work and plants require animals just as animals require plants. Also remember that soil, plants and animals are not created equally. Diversity and variation in all forms are a key and consistent find on successful grassland operations.
Ray Bannister of Montana reminds me regularly that the only place to store carbon for the long term is underwater. In the pasture, water is moving through the air and the soil-plant-animal complex at all times, but at differing speeds. All natural systems operate in boom and bust and this yields and warrants a highly vibrant and functional system that is truly sustainable when grazed at high densities following or followed by complete plant recovery.
I said all of this to say the following: If we lock in on working toward a highly functional water cycle the vast majority of everything else will start falling into place.
This is a good year to get permanently serious about our water cycle. Remember that the snow and rain need to remain where they land. It sounds like a good decision to me. Our health requires soil, plant and animal health and a highly functional water cycle. Build it and use it or lose it.
Subscribe to receive top agriculture news
Be informed daily with these free e-newsletters
You May Also Like
---