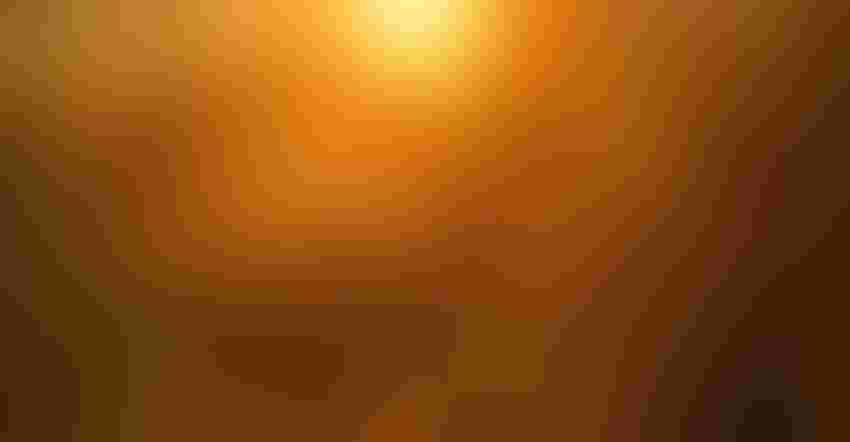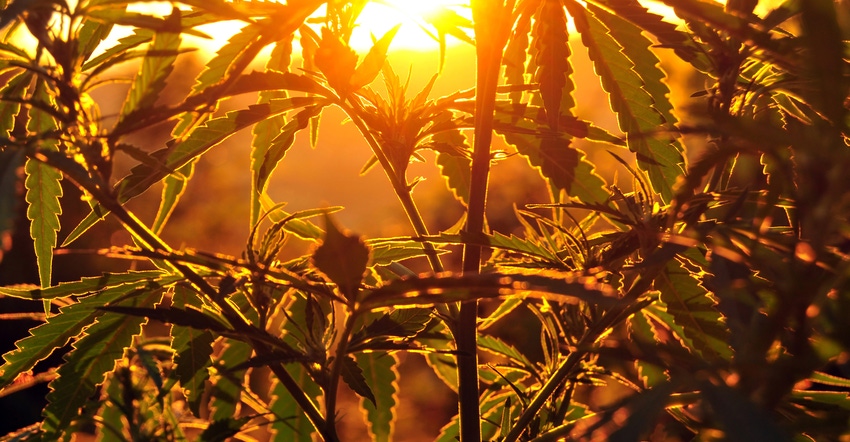 NEW CROP: Industrial hemp had been illegal to grow since the 1970s, but the 2018 Farm Bill allows states to permit farmers to cultivate the crop.
UrosPoteko/Getty Images
On May 13, Gov. Reynolds signed SF 599, the Iowa Hemp Act, into law. This new law paves the way for future legal production of industrial hemp within the state. Its passage, however, is just one in a series of hurdles that must be crossed before growers can legally plant and market industrial hemp within Iowa.
The Agricultural Improvement Act of 2018 (2018 Farm Bill), signed into law Dec. 20, 2018, exempted hemp from the federal list of Schedule l controlled substances and added it to the list of ag commodities eligible for crop insurance. The 2018 Farm Bill also established a regulatory system involving both states and the federal government.
The 2018 Farm Bill allows states to regulate hemp production based on a state or tribal plan that must be submitted to USDA. USDA must approve or deny these plans within 60 days of submission.
The plan must include information on locations of hemp production, testing for THC concentration, disposal of plants that are out of compliance, and negligence or other violations of the state or tribal plan.
If a state chooses not to adopt its own plan to monitor and regulate hemp production, the law provides that USDA must establish a plan, in consultation with the U.S. attorney general, for those states. The 2018 Farm Bill also provides that states may not prohibit the transportation or shipment of hemp or hemp products produced in accordance with the law.
These provisions apply only to hemp, and not to other varieties of the Cannabis sativa L. species. Hemp is defined under the 2018 Farm Bill as it was under section 297A of the Agricultural Marketing Act of 1946: The plant Cannabis sativa L. and any part of that plant, including the seeds thereof, and all derivatives, extracts, cannabinoids, isomers, acids, salts and salts of isomers, whether growing or not, with a delta-9 tetrahydrocannabinol concentration of not more than 0.3% on a dry weight basis.
No longer Schedule I controlled substance
As a result of the 2018 Farm Bill, hemp (as defined under the law) is no longer a Schedule I controlled substance under federal law. This change is not dependent upon regulations becoming effective. However, if cannabis or a cannabis product has more than 0.3% THC (even by mistake), it is considered marijuana and it remains a Schedule I controlled substance.
The new exemption from Schedule I applies only to hemp and tetrahydrocannabinols in hemp. Only low-TCH, hemp-derived cannabinoids (CBDs) and derivatives are included in this exemption. Thus, it's very important that growers ensure that any product they ultimately raise has THC content of 0.3% or less.
Although the 2018 Farm Bill seeks to legalize the production of hemp, it has imposed a significant regulatory framework within which this production must occur. Growers must be licensed under a federally approved state program or (if the state chooses not to act) under the backstop USDA program. Until USDA finalizes its regulations for reviewing state plans and for issuing its own licenses, it remains "unlawful" to plant hemp in the U.S. Growers of hemp acting without licensed authority — although not guilty of a drug offense — will be liable for violations.
USDA intends to issue regulations in the fall to accommodate the 2020 planting season. Once regulations are issued, states can submit their plans to USDA for approval. Until then, hemp production can lawfully occur only under a pilot program authorized by the 2014 Farm Bill. Because Iowa didn't establish a 2014 Farm Bill hemp research pilot program, Iowa growers aren't eligible to operate under such a program.
FDA authority on hemp-derived products
The 2018 Farm Bill does not alter the Food and Drug Administration's authority over hemp-derived products. The 2018 Farm Bill specifically states that nothing in its provisions modifies or affects the authority granted to FDA and the secretary of Health and Human Services under the Federal Food, Drug and Cosmetic Act, including for hemp-derived products.
This means that even if a CBD-product meets the definition of hemp under the 2018 Farm Bill, it must comply with all FDA regulations. Hemp products, for example, may not be sold as dietary supplements or added to food, including animal food without FDA approval. On May 1, the Association of American Feed Control Officials restated this position in updated guidelines.
FDA also says any products intended to affect the structure or function of the body, or to diagnose, cure, mitigate, treat or prevent disease are considered drugs and must be approved by FDA as a drug. This applies to any hemp-derived products for which health claims are made. So far, FDA hasn't approved a marketing application for cannabis for the treatment of any disease or condition. It has approved one cannabis-derived and three cannabis-related drug products, all of which are only available with a prescription.
Law sets limit of 40 acres per grower
The Iowa Hemp Act will remove federally defined hemp and hemp products from the Iowa definition of "controlled substance" once USDA approves an Iowa regulatory plan. It also authorizes production and marketing of industrial hemp in Iowa in compliance with federal law. The act tasks the Iowa Department of Agriculture and Land Stewardship with creating administrative rules to implement the act, which will include submitting a state plan to USDA and implementing application, licensing, fee and inspection and testing requirements.
The act requires IDALS to collect a licensing and inspection fee from any hemp grower. The fee will be based on number of acres planted. The act restricts each producer's hemp production to 40 acres. It also allows IDALS to reject an application for a license filed by anyone with a drug conviction and to ban any licensee convicted of a drug offense from raising hemp for 10 years. The license fee structure is as follows:
$500 plus $5 per acre for growing 5 acres or less

$750 plus $5 per acre for growing more than 5 acres but less than 10 acres

$1,000 plus $5 per acre for growing more than 10 acres
In addition, IDALS will charge an annual inspection fee of not more than $1,000.
Fees help administer program
The act authorizes a new Hemp Fund, which includes the fees collected and is to be used for administering the new hemp program. It also authorizes inspectors to enter the crop site of any hemp grower during reasonable hours to ensure that the licensee is complying with the law.
If a crop does not comply with the legal definition of hemp (after official testing), IDALS, in consultation with the Department of Public Safety, shall order the destruction of the crop. The licensee will be responsible for the costs. Civil penalties and injunctive relief may also be imposed. Growers will be subject to criminal penalties if they falsify a certificate of crop inspection.
Although the Iowa Hemp Act has been signed into law, Iowans must still wait for regulations to be issued before they can lawfully grow hemp. These regulations will likely be in place for the 2020 growing season. Until then, producers interested in hemp should spend some time researching potential markets and other challenges that may be associated with growing this emerging commodity.
Tidgren is an attorney and director of the Center for Ag Law and Taxation at ISU. Contact her at [email protected].
Subscribe to receive top agriculture news
Be informed daily with these free e-newsletters
You May Also Like
---