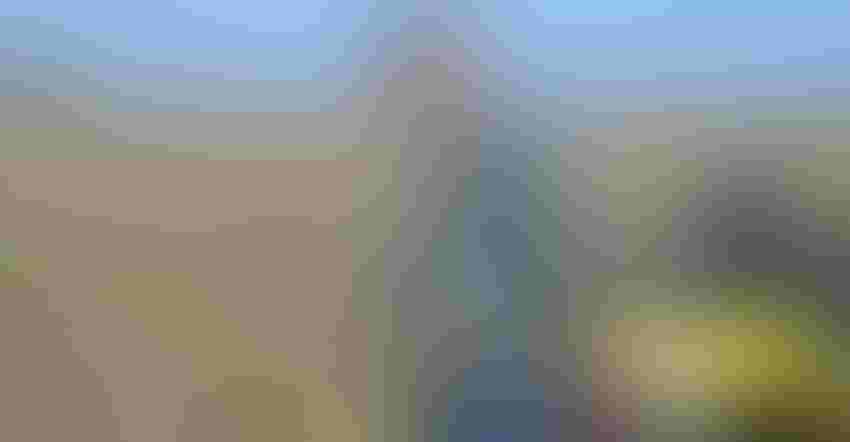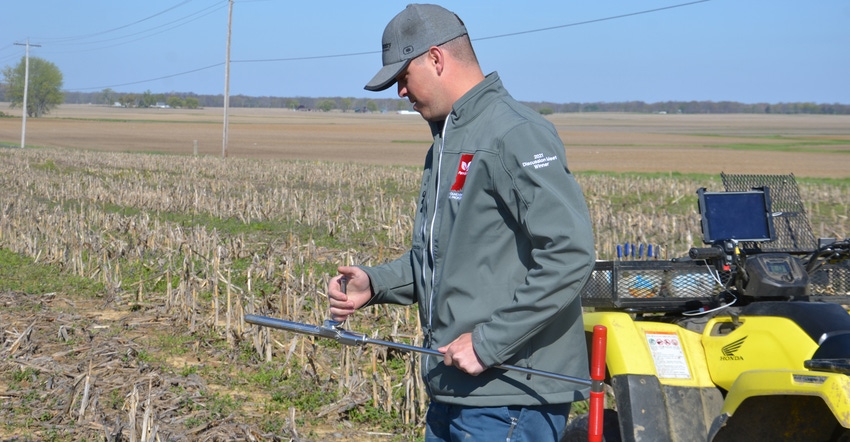 CONSISTENCY COUNTS: Nathan Bush says that doing things consistently is the most important rule in pulling soil samples.
Tom J. Bechman
Garbage in, garbage out, or so the old saying goes. If you hurry through pulling soil samples and aren't precise or consistent, the results you get back from the lab may be little more than unreliable numbers on expensive paper — garbage in, garbage out!
Nathan Bush is an agronomist with Greene Crop Consulting, Franklin, Ind. Among other duties, he spends lots of time in the field pulling soil samples.
"Getting good results so you can make meaningful decisions over time starts with being consistent in how you pull soil samples," he emphasizes.
Here are six tips for pulling soil samples that Bush says can help you achieve consistent results:
1. Adopt the right attitude. If you're pulling samples yourself, be serious and take the time to do it right, Bush says. If you're hiring a consultant or someone else to pull samples, make sure they're properly trained and understand how important it is to follow the correct procedures in the field.
2. Have the right equipment. It may seem like a no-brainer, but minor mistakes can affect results and help determine if you will get a sample and results that best represent the field. Always use plastic pails, not metal buckets, to collect samples while pulling cores. Metal from a bucket could affect the results. Make sure the soil probe is marked at the selected depth, so you sample to the same depth each time.
3. Keep a consistent soil sampling depth. "We sample to 6 inches each time where we work because that represents an acre-furrow slice of soil," Bush explains. Some people prefer to sample 7 or 8 inches deep. "Whatever depth you select, sample to the same depth each and every time," he continues. "It's one reason why we pull by hand instead of using an automatic probe. We want to make sure the depth is correct."
4. Sample at the same time of year, if possible. Over time, this will lead to more consistent results, Bush says. They're finding that pulling samples at about the same time of year is especially critical if you're having the lab run soil health tests on the samples. More people are requesting these tests, and there can be a big variation between soil health tests pulled in the summer vs. the winter on the same fields, he says.
5. Pull enough cores per sample to represent the area. The procedure his company follows calls for a minimum of 10 cores per sample, Bush says. "If you don't have at least eight to 10 samples per core, you are less likely to represent the area accurately," he believes.
6. Sample a defined area, such as a management zone. Greene Crop Consulting takes several factors into account when it sets up management zones within a field. They include soil types, yield maps, elevation and slope. "Once we set up a management zone, then we pick out spots at random within the zone where we pull cores," Bush says. "As long as you're pulling enough cores, you get an accurate representation of the zone, and your results should be consistent over time."
Subscribe to receive top agriculture news
Be informed daily with these free e-newsletters
You May Also Like
---