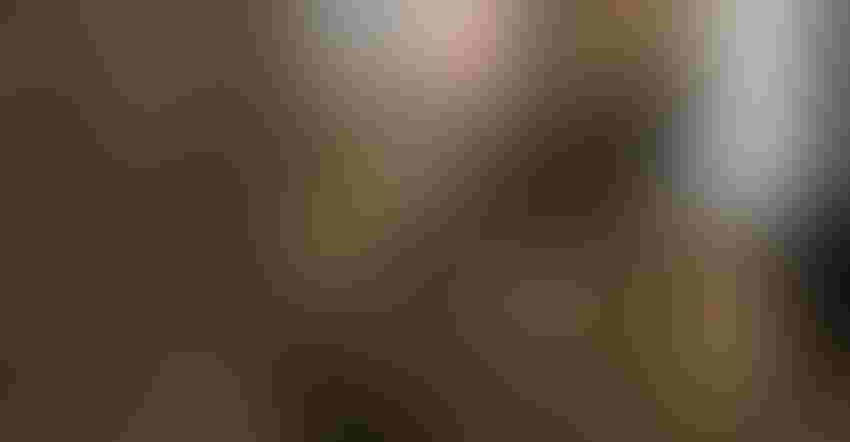 THE BEGINNING: Getting fields ready for next growing season begins in the fall with a soil test. Study your fields and pinpoint nutrient applications.
Winfield
It's never too early to begin making your postharvest field plans.
There are many things you can do to boost nutrient levels, preserve topsoil and improve your bottom-line potential. Here are a few.
1. Take a postharvest soil sample. There are three main things to consider regarding fall soil samples. First and foremost, make sure your soil's pH is within the crop's optimum range and adjust accordingly.
Second, ensure phosphorous levels are adequate. Phosphorus, which is immobile in the soil, serves as the plant's energy source.
Third, check that potassium levels are where they should be. Potassium, also immobile in the soil, moves nutrients through the plant. Review test results with your agronomist and determine necessary applications.
2. Apply nutrients only where needed. Maybe there's a field where your average nutrient levels are fine, but it's an area with high yield potential. In this case, does average cut it?
You may want to still apply nutrients there to further boost that potential. Or you may have an area where nutrients are lacking, but there's another reason for poor crop performance, making additional applications wasteful.
Determine which areas should get what nutrient amounts based on yield and ROI potential.
3. Assess the impact of tillage. Fall tillage gives you the chance to incorporate remaining crop residue, phosphorus and potassium. Always think of tillage as a form of "seed bed prep" for next year's crop. Is tillage something that will make planting easier or create the best emergence conditions?
If you're a minimal till or no-till farmer, you may need to employ creative ways to place key nutrients back into the root zone. Talk with your agronomist about this.
Soil compaction is related to tillage and you can alter the way you manage compaction this fall. Take time to read your soil conditions and develop a plan to eliminate or minimize compaction. If we end up with a dry fall in Minnesota, what areas may need deep tillage to relieve compaction caused by the last couple of wet seasons? If it's a wet fall, can you delay or skip a tillage pass, or maybe hold off tillage until spring? This can help alleviate soil compaction and make next year's planting easier.
In some areas, I'm seeing more farmers move toward less tillage because it saves time and because they want to preserve soil, since rainfalls are becoming heavier. Examples of slightly less tillage would be strip till or doing only one tillage pass in spring.
4. Plant another crop. You should always consider planting some type of crop in the fall, be it a cover crop like cereal rye or a secondary crop like winter wheat or fall-seeded alfalfa, depending on your area or current crop rotation. The benefits of planting another crop include alleviating compaction, holding soil and nutrients in place, increasing drainage and helping control weeds.
Of course, our Minnesota climate makes it a challenge to start a cover crop or secondary crop. One trick is to establish that crop before harvest. Cover crops are not for every acre. Think about fields in the state where canning crops such as peas, sweet corn, snap beans or sugarbeets may allow an earlier harvest and give farmers a shot at seeding a secondary crop. These acres can help them discover the challenges and benefits of managing a cover crop.
There are steps you can take this fall to promote good land management and boost your return on investment and yield potential in the process. Talk to your agronomist about what practices make the most sense for your operation.
Zuk is a regional agronomist with WinField United in southern Minnesota. Contact him at [email protected].
Subscribe to receive top agriculture news
Be informed daily with these free e-newsletters
You May Also Like
---