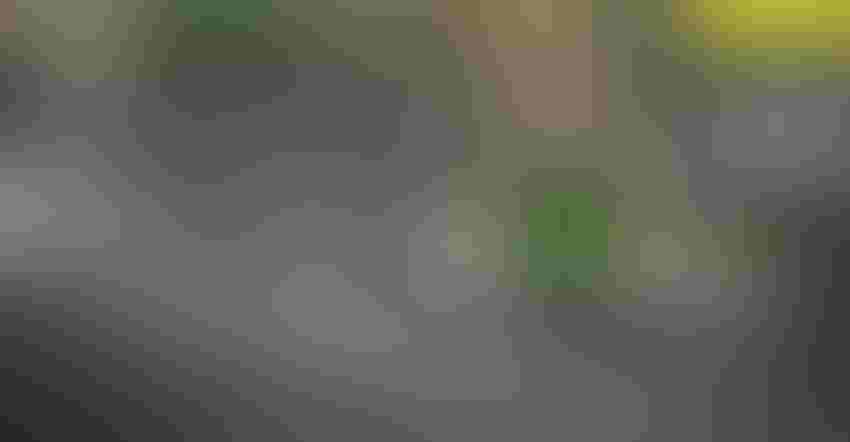 CHECK OUTPUT: This spray table can demonstrate what spray patterns look like at different spray volumes. You don't have to have a spray table, but you still need to calibrate each nozzle.
Winter herbicide application training sessions are over. It's time to put what you've learned into action. What steps must you take to achieve efficient weed control?
Bill Johnson, Purdue University Extension weed control specialist, suggests looking at the big picture. That includes more than just getting the sprayer ready.
Here are four steps Johnson recommends taking as spraying season approaches:
1. Determine the products you will apply. "The first question I would ask is, 'What am I going to spray this spring?'" Johnson says. "If it's dicamba over dicamba-tolerant soybeans, do I know everything I need to know about the product? Assuming you attended required training this winter, do you have the recordkeeping materials and equipment you need to comply with the label? Do you have the correct nozzles?
"If you're going to spray other products, do you have the correct nozzles to apply those chemicals? Perhaps you will need at least a couple of different nozzles. Do you know which nozzle you need for each type of application?"
The nozzle you need may vary depending upon which herbicides you're including in the spray mix, Johnson adds. For example, if you're including Flexstar with glyphosate vs. spraying straight glyphosate, you will need a different spray setup. Flexstar requires more total gallons applied per acre, with a smaller droplet size compared to glyphosate alone, he explains.
2. Make sure you can clean out the sprayer completely. "Ask yourself if you're fully comfortable that you can clean out one product before switching to another herbicide," Johnson says. Stainless-steel tanks are easier to clean without leaving residue behind. If your system using poly tanks, it may take more effort and extra procedures to make sure you remove all residues.
Cleanout involves everything from spraying out rinse water in the field to knowing where blind spots are where residue can hide on your machine, notes Fred Whitford, director of Purdue Pesticide Programs. For an inside look at sprayer cleanout, check out Removing herbicide residues from agricultural application equipment, PPP-108.
3. Calibrate the sprayer. "Are you comfortable that you are getting uniform application across the spray boom?" Johnson asks. "The only way to know for sure is to check output of each nozzle."
This involves simple calibration procedures. It may take time, but Johnson says it's important if you want to know for sure that you're applying the same volume through each nozzle. There is no substitute for this step.
4. Verify the accuracy of your rate controller. Most modern sprayers are equipped with rate controllers that not only tell you how much you're applying, but also can usually control multiple sections of the boom independently. Once you make sure the electronics are working properly, your job still isn't done, Johnson says.
"If you set it to apply 15 gallons per acre, how do you know you're actually applying 15 gallons per acre?" he asks. The only way to know for sure is to calibrate the sprayer by collecting output from each nozzle and comparing output to what the controller says it's applying, he says.
Subscribe to receive top agriculture news
Be informed daily with these free e-newsletters
You May Also Like
---