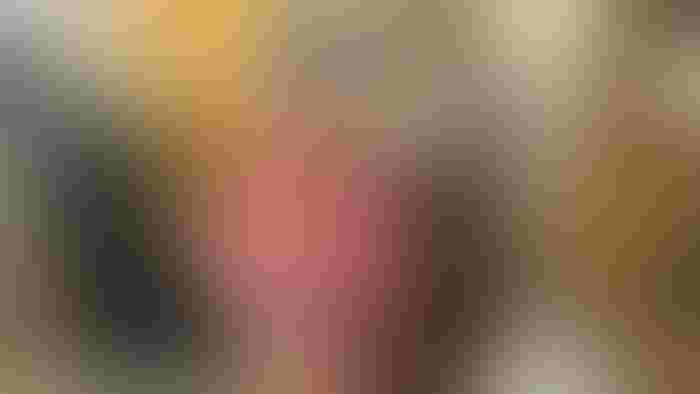 At a Glance
Bernard Warkentin is credited with planting the first Turkey Red in 1874.

The hard winter wheat survived the Kansas climate better than the soft spring wheats of the day.

Kansas wheat accounts for nearly 20% of all wheat grown in the United States today.
Kansas almost wasn't "The Wheat State."
If not for one man, and one very special wheat variety 150 years ago, Kansas could have a very different agricultural economy today.
Bernard Warkentin was a German-Mennonite farmer and flour miller in Ukraine in the 1870s. He came to North America on a scouting mission for a new home for his colony, which was fleeing Russian persecution for their peaceful beliefs. He sought a region similar in climate and topography to the steppes of Ukraine, and he found it in central Kansas. In 1874, he settled in Halstead, building a grist mill on the banks of the Little Arkansas River and encouraging other Mennonites to join him. And tradition has it that he brought with him a chest full of Turkey Red seed wheat from his Ukrainian homeland — a winter wheat variety unlike any grown in America at the time.
This one act set off a prosperity revolution in Kansas agriculture, says Aaron Harries, Kansas Wheat vice president of research and operations.  
New crop
It seems logical today for Kansas farmers to plant wheat in the fall, let it rest during the snowy winter months, then have the wheat emerge in the spring, and harvest it just as the weather turns hot and dry in late May. But to the farmers settling Kansas territory in the mid- to late-1800s, the more prevalent wheat grown were soft spring wheat varieties that were more acclimated to the Eastern seaboard of the U.S., Harries explains. There were some growing winter wheat, he added, but with little success.
Farmers back then were planting their wheat in the spring and harvesting it in late summer, setting up their crop for failure. Kansas's summers are hot, dry and windy, not exactly ideal for wheat seedlings to thrive and produce a crop. On top of that, grasshopper swarms in the summer would completely devour what wheat did manage to survive.
The German Mennonite immigrants, though, had perfected raising winter wheat crops in Ukraine. And they had the milling knowledge of how to make their hard red winter wheat into flour that made a better loaf of bread, Harries adds.
From Turkey Red in the field, to the flour mill, and ultimately dinner tables throughout the Plains, these German Mennonite farmers gave rise — quite literally — not only to the state's future nickname, but also to a burgeoning milling and baking industry in the state.
"I don't think it's too far-fetched to say that agriculture in Kansas really expanded because of Turkey Red wheat," Harries says. Railroad lines expanded, communities settled, giant elevators to store grain were built, and all that infrastructure was based on an explosion in wheat yields from Turkey Red.
Harries compares this turning point to Norman Borlaug's introduction of semidwarf wheats, or the introduction of Roundup Ready technology in corn and soybeans. Each was a change in technology or farming techniques that was quickly adopted by farmers that forever changed agriculture.
Foundation for wheat
Turkey Red hard winter wheat, and other Crimean landraces were uniquely adapted to Kansas conditions, says Allan Fritz, Kansas State University wheat breeder. These evolved and were domesticated in a similar region to Kansas, with similar temperature and rainfall patterns. One of the earliest plant explorers at the USDA, Mark Carleton, saw how Turkey Red wheat would survive under wheat rust conditions that would devastate other varieties back in 1898.
Carleton taught himself Russian so he could travel to Ukraine to gather similar wheat varieties to test in the U.S. By 1901 he was the head cerealist for the USDA, working on experimental trials of seed stocks and breeding. That was the start of Kansas' public wheat breeding efforts.
"The first released variety from K-State was a variety called Kanred, and it was actually a selection out of one of those other landraces from the same region," Fritz says. "But it shared a lot of the same characteristics and genetics." That was the beginning of improved varieties and crossing lines, he adds. By many accounts, up to 98% of the wheat grown in Kansas in 1919 was from Carleton's seed stock, with a pedigree including Turkey Red and other Crimean wheats. Those improved varieties averaged a whopping 13 bushels per acre for the time.
"That [Turkey Red] genetic material is still the foundation of our varieties today," Fritz says. "We've shortened them, we've given them stronger straw, we've improved drought tolerance and we've hopefully improved quality. But that's really still the scaffolding on which everything is built." Even today, visitors to the USDA Agricultural Research Service Southern Regional Performance Nursery in Lincoln, Neb., will see a check plot of Kharkov, a landrace similar to Turkey Red that is meant to show how the current wheat varieties stack up to the historic record.
"They're standard-height wheats, so they're very tall, with weaker straw, and always at the bottom of the trials," Fritz says. But the difference in yield is remarkable to see, he adds. The world has come a long way from a 13-bushel per acre average in 1919 to the record 57-bushel average set in 2016.
Help from the past
Today, wheat breeders like Fritz and his colleagues have a few more tools to make genetic selections than were available to Carleton with his keen observations. With the mapping of the wheat genome, researchers can see what parts of a wheat variety's genetics play a role in yield, quality or even rust-resistance traits. Fritz and other wheat breeders can now return to those grandfatherly landrace lines, like Turkey Red and its parents, using these gene maps, and select genes they want to bring together to improve the wheat varieties for tomorrow.
"For the most part, they're fairly undesirable as a whole for today's farms," Fritz says. "But they may have some really good characteristics, and they are a very important repository of genetic diversity." They might hold the key to solving agronomic and nutritional challenges today and in the future. And not just for Kansas farmers.
K-State has a long history of sharing wheat germplasm with growers and farmers around the world, Fritz says, And even back to Ukraine, where Turkey Red first originated.
"There will only ever be one Turkey Red. That was really the foundation that we kind of built this whole industry and this whole region's wheat production around," Fritz says.
Bernard Warkentin likely never dreamed that the seeds he and his Mennonite brethren were bringing to Kansas could one day lead to the state growing 244.2 million bushels of wheat in 2022, or 18% to 20% of the wheat crop of the United States. He may not have imagined that wheat production in the state would account for $4.3 billion of its economy and 15,245 jobs. Or that in 2023, half of every load of wheat that arrives at the local elevator would be destined for foreign buyers.
"Turkey Red gave Kansas the reputation for quality hard red winter wheat that we know today, and it has a reputation all across the world for U.S. hard red winter wheat as a quality wheat — the standard-bearer, if you will," Harries says. "It was a game-changer for economic prosperity in Kansas."
It's why Kansas will always be The Wheat State. Check out wheat's history in Kansas on this timeline.
History celebrated
Fern Bartel works for the Mennonite Heritage and Agricultural Museum., Goessel, Kan., which tells the story of the German Mennonites' struggles and triumphs. She shared these facts:
German Mennonites have roots in Dutch, Northern German, and Russian ancestry. They settled in Russian Ukraine in the 1700s, but continued to speak German.

In 1871, Russian Czar Alexander II pressured the German Mennonites to assimilate into the Russian society. The Universal Service Act required the pacifist Mennonites to serve in the Russian military. Many chose to leave the country instead.

Of the 18,000 or so German Mennonites who left Russia between 1873 and 1883, 10,000 settled in Kansas, Nebraska and the Dakota Territory. They brought Turkey Red seed wheat in crocks and chests with them to start their new lives.
The museum has tentative plans to celebrate the 150th anniversary of Turkey Red wheat in 2024. Be sure to visit goesselmuseum.com, or stop by at 200 N. Poplar St., Goessel. Among the many exhibits you'll see is the Wheat Straw Liberty Bell, a giant woven wheat art piece commissioned by the Smithsonian for display for the nation's bicentennial in 1976.
And, to learn more about Turkey Red wheat's influence in Kansas agriculture, listen to Kansas Wheat's "Wheat's on Your Mind: Thresher Nation" podcast episode, Wheat's on Your Mind, with Harries and Glenn Ediger, author of "Leave No Threshing Stone Unturned," a book about the Mennonites and Turkey Red wheat.
Subscribe to receive top agriculture news
Be informed daily with these free e-newsletters
You May Also Like
---