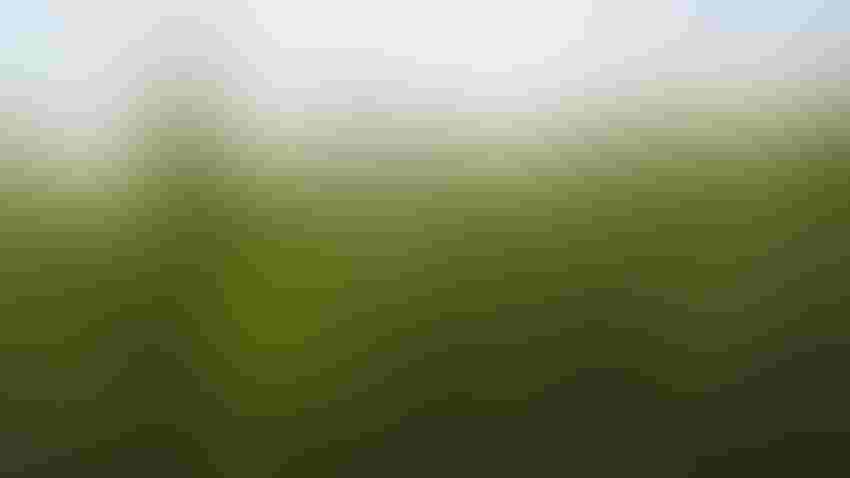 DISEASES, BUGS AND WEEDS: A field agronomist from Beck's looks at several different crop issues and challenges that can arise late in the growing season.
Curt Arens
One of the biggest crop issues in eastern Nebraska right now is drought. Even in the 18 counties in southeast Nebraska in the area covered by Trey Stephens, a field agronomist for Beck's, soils are abnormally dry in most of the region.
"Last year, in August and September, it was dry as well," Stephens says. "On corn, we tend to see diseases pop up after tasseling occurs, because the plant puts its focus on reproductive processes. But even last year, there was not a ton of disease pressure."
Stephens noted some instances of tar spot and Goss's wilt, which seem to favor dry weather.
"This year, we are thinking about having a healthy plant," Stephens says. "Even if there were no drought conditions, we need a strong and healthy plant."
Scout for diseases
To keep the plants healthy going into fall, Stephens says producers should make sure plants are not stressed by heat or lack of water, if irrigation is available. "Scout continuously, once a week at minimum, to see if there is any sign of disease," he suggests. "Tasseling time is a profitable time to apply fungicide to corn to beat that pressure."
Producers can also start looking for tar spot. Right now, in Nebraska, it generally is not a huge pressure, but it is definitely something to watch for, Stephens adds.
"Sometimes we tend to find northern corn leaf blight or southern rust move in around August. Another issue to watch for is gray leaf spot," he says. "Right now, the emphasis in southeast Nebraska is gray leaf spot and tar spot, but there are instances of the others, too."
Tar spot is still novel in Nebraska, but researchers are looking at how crop rotations might affect the disease, how long it sticks around and if it will persist in crop debris. Stephens also looks to research to see if there are corn hybrids that are more resistant or have a better disease package for issues such as tar spot.
At the new Beck's practical farm research (PFR) facility near Goehner, Neb., the company is looking at hybrid response for different fungicide timings, applications at different times of the day and different carrier rates to see what effect these practices might have on controlling diseases, Stephens says.
Insect pressure
Drought also affects insect pressure, especially grasshoppers, which are prevalent in rangeland again this season, but can impact crop fields.
"Obviously, we are looking at corn rootworm feeding and pressure during silking and pollination, because it tends to be a bigger pressure in corn-on-corn acres," Stephens notes. "Japanese beetles have had a big influx, especially in soybeans, as they can defoliate a plant quickly if you let them."
Soybean gall midge is on the radar, Stephens adds, but spider mites can also be an issue in corn and soybeans. "We had a case in June already of spider mites, where a soybean field needed to be replanted," he says. "In corn, there is some stinkbug feeding every year, with a few cases impacting yield, partly because the feeding opens up the plant to other problems."
Beating weeds
In Beck's trials on weeds, researchers are looking at practices to tackle all kinds of issues, including waterhemp and Palmer amaranth.
"These are some of the biggest weed problems, even in a dry year," Stephens says. "They seem to fight through drought conditions, so producers have had to face the question if they should apply a residual herbicide, taking the risk that it might not rain on dryland crops and it might not be activated."
Beck's is testing different cover crop scenarios, trying to find the right time to terminate and looking at ways cover crops can curb resistant weeds, he explains. "Can we slow down the weed pressure?" Stephens says. "Can we find time to spray when the weeds are at 4 inches tall, rather than 10 inches?"
Researchers at the Beck's facility are testing all kinds of treatments and timings to try to find a package of best management cover crop practices for both corn and soybeans.
Producers can get an up-close look at research being conducted at Beck's Goehner PFR facility at a field show Aug. 3. This is the first time such an event will be held in Nebraska. The company hosts up to 15,000 farmers across seven similar field shows each year, including other August shows in Kentucky, Illinois, Iowa, Minnesota and Indiana.
Learn more at beckshybrids.com/research.
Subscribe to receive top agriculture news
Be informed daily with these free e-newsletters
You May Also Like
---