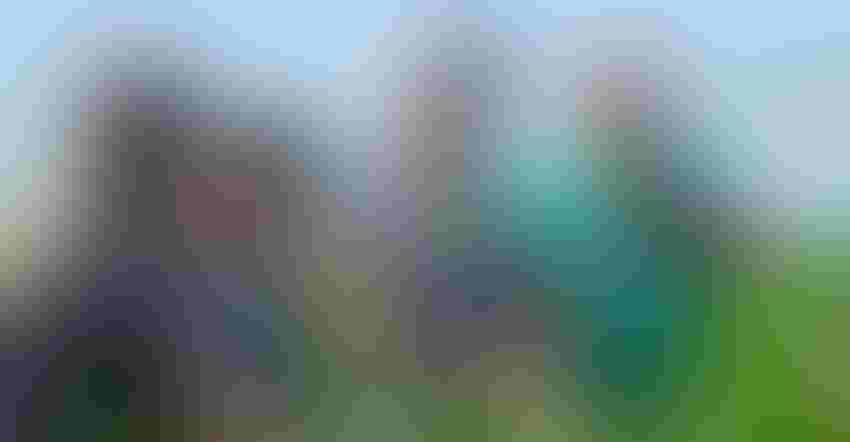 OUTREACH: Larry Buss (center, with hat) leads the Harrison County team that helps farmers evaluate the effectiveness of weed and pest resistance management practices.
Resistance to pesticides, genetic traits and other control practices continues to show up in weeds, insects and disease pathogens in Iowa. If this problem isn't addressed, crop yields will decrease, or crop production costs will increase — or both. Iowa has taken the lead on the issue by creating and implementing the Iowa Pest Resistance Management Program. 
IPRMP works to address weeds, insects and plant diseases that can adapt and become resistant. The program outlines ideas for effective integrated management solutions for pests. By using diverse management methods, pest resistance can be delayed or even prevented. 
A cross-section of Iowa ag partners developed IPRMP to address the problem while remaining flexible enough to include new information. The Iowa Corn Promotion Board (ICPB) has provided checkoff funds to support the program since its start in 2015. Introduced publicly in 2017, IPRMP has four pilot projects focused on pest resistance issues — corn rootworm, soybean aphids, weeds and plant disease. 
Changing mindset 
Larry Buss, a western Iowa farmer serving on ICPB, is team leader of the Harrison County project. His concern regarding pest resistance accelerated in 2013 when Palmer amaranth was first discovered in Iowa.
"It was here in Harrison County where this aggressive, difficult-to-control weed first showed up in Iowa," he says. "With its arrival, I sought answers about how to control it. I knew it was a big problem in Southern states. I realized the entire ag community in our county and in Iowa had to change its mindset, and integrate pest resistance into all decisions relative to crop production." 
Iowa farmers will play a leading role in pest resistance management through their stewardship of pesticide use, and biotech traits and tools, he says. Iowa farmers make management decisions each year on more than 23 million row crop acres.
Actions include protecting crop traits, managing existing resistance, and adopting practices to delay future resistance.
These critical actions will help farmers remain competitive in the global market by maintaining the long-term productivity of Iowa agriculture while reducing yield losses, Buss says. 
Community action needed
"Pests don't understand field boundaries; we need to work on pest resistance management collaboratively with our neighbors," Buss says. "We are engaging people from all aspects of agriculture to work together to address this issue: farmers, landowners, lenders, agronomists, crop consultants, and seed and ag chemical companies."
Also involved are Iowa State University, the Iowa Department of Agriculture and the U.S. Environmental Protection Agency, which registers pesticides.
"Pest resistance management will not work if only some farmers act; it will require a combined effort of the whole ag community," Buss says. 
Farmers are not alone in their effort to address resistance, as a wide variety of experts and resources are available to help. "The pilot projects use the concept of adaptive management, making changes as we move forward in the pilots to learn more about pest resistance issues, what works and what doesn't," he says. 
From the pilots, an overall program will be developed, with the goal of including wide participation from all areas of Iowa agriculture to prevent further resistance.
As Buss says, "Implementing solid pest resistance management is essential for the future of agriculture." 
About the Author(s)
Subscribe to receive top agriculture news
Be informed daily with these free e-newsletters
You May Also Like
---