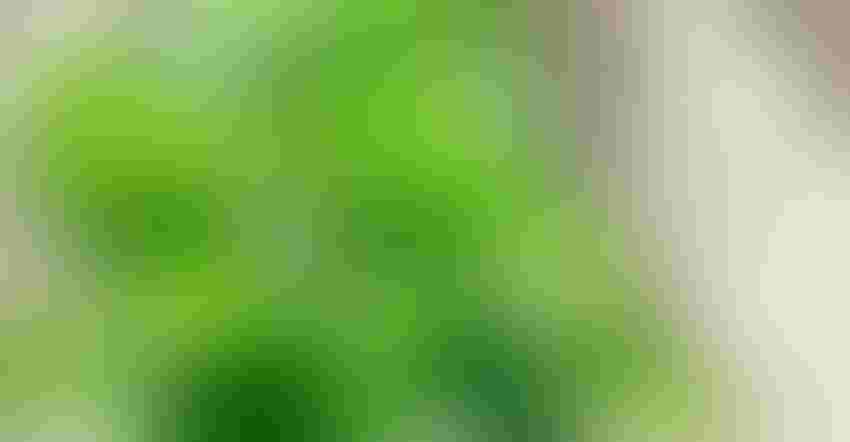 This winter brought bouts of colder-than-normal temperatures and frozen precipitation to much of the Mid-South. But, were temperatures below freezing long enough to knock back overwintering pests? 
The answer, unfortunately, is no when it comes to cotton pests like the tarnished plant bug, which overwinters as far north as Canada, entomologists say.
"The below-freezing temperatures likely impacted some pests of crops we grow in the southern U.S., but not the pests we typically deal with in cotton," says Jeff Gore, Mississippi State Extension entomologist.
"The freezing temperatures may have reduced tarnished plant bug numbers some, but spring weather influences their populations in cotton more than anything else," says Whitney Crow, Mississippi State Extension entomologist. "Populations can build to high numbers on wild hosts in the spring before moving into crops."
Weather conditions during March, April and May are critical to pest population buildup. 
"If weather conditions are good for the transition from flowering winter annuals to flowering spring annuals, tarnished plant bug populations can rebound quickly," Crow says. 
Derek Clarkson, territory manager for Corteva Agriscience, reminds growers that cotton pests, including tarnished plant bug, are often found in ditches, turnrows and other areas adjacent to crop fields before showing up in cotton.
While more than 100 plant species can be hosts for tarnished plant bug, primary noncrop host plants in the Mid-South include Italian ryegrass, primrose, marestail, crimson clover and other flowering plants that support plant bug reproduction.  
"If you're seeing winter weeds do well around your farm, don't be surprised if plant bug numbers build with those hosts," Clarkson says. "Once these winter weeds start drying down, tarnished plant bug populations migrate to healthier host plants. And in our area, that's often cotton."
Tarnished plant bug has also been known to move from other crop hosts into cotton fields. With increased corn and grain sorghum acres expected this year, the presence of these earlier-planted host crops could boost cotton pest populations later in the season.
"While tarnished plant bug hasn't shown to be an economically important pest of either corn or grain sorghum, both are great pest hosts during the reproductive stages," Clarkson says. "When these crop hosts begin to dry down, it triggers migration to the next best host in the environment, which often is cotton."
A study, sponsored by Cotton Incorporated, evaluated tarnished plant bug thresholds across the Mid-South.
"Based on that research, we came up with common economic injury thresholds for all states in the Mid-South," Crow says. "We come together each year to evaluate our thresholds to try to determine if we need to improve them or adjust our recommendations."
The University of Arkansas recommends growers treat for tarnished plant bug when scouting counts estimate three plant bugs per 5 row feet on normally fruiting fields. For fields with a small square set of less than 75%, that threshold drops to two tarnished plant bugs per 5 row feet.
As the season progresses, economic pest thresholds change. In Arkansas, cotton growers are encouraged to spray an insecticide in late June or early July if small square set is less than 85% and 2 or more plant bugs are found per 5 row feet or 8 to 12 pests are collected per 100 net sweeps.
The University of Arkansas also recommends treating with an insecticide if tarnished plant bug counts exceed 6 pests per 5 row feet after cutout (NAWF=5). Mississippi State entomologists are conducting ongoing research to consider a similar recommendation.
"Transform WG insecticide has shown the most consistency across years of plant bug efficacy data," Clarkson says. "Other products tend to perform irregularly from year to year based on pest pressure and resistance development. In comparison, Transform has provided rock-solid control."
The best fit for Transform® WG insecticide with Isoclast® active, Clarkson says, is when plant bug numbers begin to increase around midbloom. At that timing, he recommends spraying at least 1.5 ounces of Transform per acre.
"A rate bump to 2 ounces per acre provides additional residual activity," he says. "We have also seen an increase in lint yield and longer residual activity with two back-to-back applications of Transform."
Clarkson stresses that insecticide applications should not be made until tarnished plant bug populations reach recommended economic threshold numbers.
"With back-to-back applications of Transform, growers can potentially eliminate an insecticide application throughout the growing season," he says.
Clarkson adds, "When I was a master's student working under Arkansas Extension Entomologist Gus Lorenz, he told me, 'there are two types of people who make predictions on insect pest pressure for the upcoming year, newcomers and fools. That's something I've never forgotten."
Discover how Transform can deliver a proven yield advantage for you.
TM ® Trademarks of Corteva Agriscience and its affiliated companies. Isoclast is a registered active ingredient. Transform WG is not registered for sale or use in all states. Contact your state pesticide regulatory agency to determine if a product is registered for sale or use in your state. Always read and follow label directions. © 2021 Corteva. CA14-396-030 (05/21) BR   CAAG1TFRM052
About the Author(s)
Subscribe to receive top agriculture news
Be informed daily with these free e-newsletters
You May Also Like
---