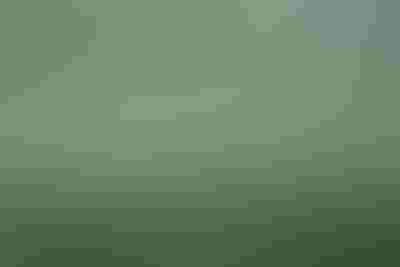 The EPA is putting crop and livestock producers in the Chesapeake Bay watershed area on a pollution diet. The EPA announced on December 29 last year that it is enforcing Total Maximum Daily Load (TMDL) limits in the Chesapeake Bay watershed to help improve water quality.
Environmental experts are speculating the approach used in the Chesapeake Bay could eventually be applied to other U.S. watersheds. "The reason we need to watch both the TMDL and what is going on in the Chesapeake Bay is because EPA has clearly signaled us that this may be coming to a watershed near you. If it is successful, it could be applied to the Mississippi Basin, for example," says Tim Jones, senior counsel for Tyson Foods, Springdale, AR. "EPA has said they are using the Chesapeake Bay as a test case."
Plans to reduce pollution
The Chesapeake Bay TMDL guidelines identify limits and reductions for nitrogen, phosphorus and sediment in the Chesapeake Bay watershed. According to the USDA Natural Resources Conservation Service (NRCS), the Chesapeake Bay watershed covers about 68,500 square miles encompassing an area including parts of Delaware, Maryland, New York, Pennsylvania, Virginia, West Virginia and the District of Columbia. Different EPA jurisdiction areas in those states are following detailed plans to reduce pollution within each area. The TMDL is made up of "wasteloads" listed from point sources, including large animal-feeding operations, and non-point sources, such as polluted rainfall runoff from agricultural lands.
State legislation is among the methods that will be used to fund wastewater treatment plant upgrades, urban storm water management systems, and agricultural programs, specifically in Maryland, Virginia and West Virginia. Pennsylvania plans to dramatically increase enforcement of state requirements for agriculture and commit state funding to develop and implement technologies for converting animal manure into energy for farms. Regulators in Delaware, Maryland, Virginia and New York are considering implementation of mandatory programs for agriculture by 2013 if plans for pollution reductions fall behind schedule.
Excess nutrients
Livestock producers who do not follow specific management guidelines will be subject to enforcement actions and penalties. Douglas Beegle, Penn State agronomist specializing in nutrient management, says livestock producers in the area are being encouraged to have nutrient management plans and follow best management practices, such as the use of no-till methods and planting cover crops. "Most of what is called for in our TMDL is based on good management recommendations, and we will continue to make some progress, but we won't solve the bigger problem unless we figure out a sustainable way for our farmers to deal with excess nutrients in the watershed," he explains.
Beegle says Pennsylvania's livestock producers had been making steady progress while working to reduce the amount of nutrients going into the Chesapeake Bay, but the question of how to deal with excess manure nutrients is a difficult challenge for the state's producers.
"We import feed, mostly from the Midwest. Because there are not as many crops grown here, the manure nutrients tend to accumulate on the farms and don't go back into crop production. This is driven by global economic forces and there is no good, simple, economic answer to this challenge. We either have to find alternative uses for the excess nutrients and get the manure off the land and back to someplace else, change the structure of the production systems so that excesses are not created in the first place, or figure out some other sustainable way to deal with the imbalances in the system."
TMDL requirements call for a 25% reduction in nitrogen, 24% reduction in phosphorus and 20% reduction in sediment in the Chesapeake Bay watershed. The TMDL, which sets Chesapeake Bay watershed limits of 185.9 million lbs. of nitrogen, 12.5 million lbs. of phosphorus and 6.45 billion lbs. of sediment per year, is designed to ensure that all pollution control measures intended to fully restore the bay and its tidal rivers are in place by 2025.
The Clean Water Act (CWA) sets an overarching environmental goal that all waters in the United States be "fishable" and "swimmable." The CWA requires jurisdictions to develop an EPA-approved list of waterways that are impaired by pollutants and consequently do not meet water-quality standards. A TMDL plan is required for those waterways identified on the impaired list.
Most of the Chesapeake Bay and its tidal waters are listed as impaired because of excess nitrogen, phosphorus and sediment, leading to algae blooms that can prove harmful to aquatic life.  President Obama issued an executive order in May 2009 directing the federal government to lead a renewed effort to restore and protect the Chesapeake Bay and its watershed. According to the EPA, the Chesapeake Bay TMDL plan is a key commitment in the strategy developed by federal agencies to meet the President's executive order.
Voluntary practices
According to the NRCS, agricultural land makes up less than 30% of the Chesapeake Bay watershed area. A recent multiagency USDA Conservation Effects Assessment Project (CEAP) made an effort to quantify the environmental effects of conservation practices in the Chesapeake Bay watershed area. The project did not specifically investigate livestock operations but targeted conservation approaches being used on cropland. The CEAP results showed farmers have been making good progress in reducing sediment, nutrient and pesticide losses from farm fields through conservation practices throughout the Chesapeake Bay region.
Dave White, chief of the USDA NRCS, says the study confirms that voluntary, incentives-based conservation approaches are delivering significant and proven results. Most cropland acres in the area have structural or management practices, or both, in place to control erosion. Nearly half of the cropland acres are protected by one or more practices such as use of buffers or terraces. Reduced tillage is used in some form on 88% of the cropland.
The study also shows opportunities to improve conservation practices to reduce nitrogen in subsurface flows. The CEAP report indicates suites of practices such as soil erosion control and appropriate rate, form, timing and method of nutrient application could help address soil erosion, nutrient runoff and nitrogen leaching concerns.
Some agricultural experts contend that discrepancies exist between the nutrient levels cited by the EPA and the USDA data. The Pennsylvania Farm Bureau (PFB) and the American Farm Bureau Federation (AFBF) have joined in a lawsuit against EPA for its implementation of a TMDL plan in the Chesapeake Bay watershed. PFB and AFBF assert that the EPA exceeded its authority under the Clean Water Act to establish the TMDL limits and that the science used by EPA to create the model  used to develop the TMDL plan is flawed.
"Aside from exceeding its authority, EPA has failed to account for many best management practices that significantly reduce runoff into Pennsylvania streams and the Chesapeake Bay," says PFB President Carl T. Shaffer. "By ignoring the real amount of no-till farming cover crops used by Pennsylvania farmers, EPA's model underestimates the on-the-ground action taken by farmers and overestimates the amount of nitrogen, phosphorus and sediment coming from farms.
"Farmers have already played a major role in helping to improve water in Pennsylvania that flows into the bay and will continue to do so regardless of the outcome of the lawsuit."
Subscribe to receive top agriculture news
Be informed daily with these free e-newsletters
You May Also Like
---