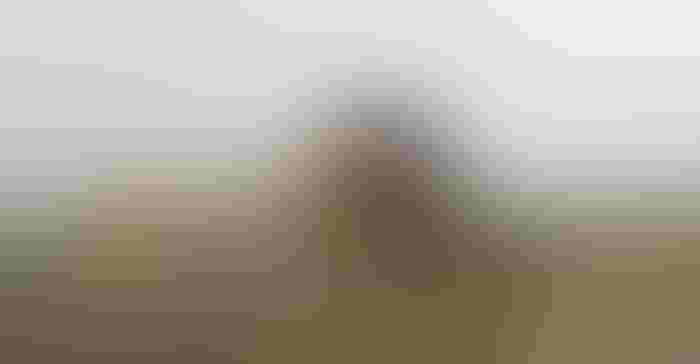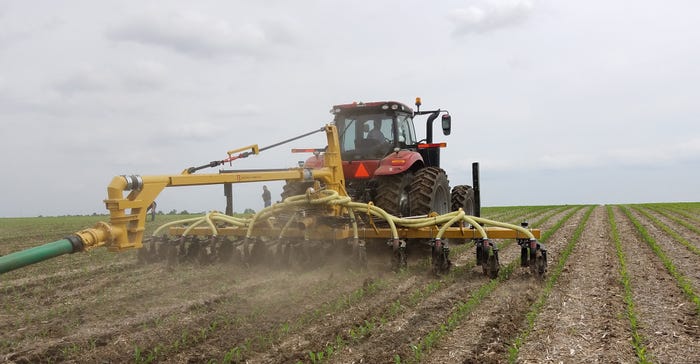 Ask 10 growers about their ideal nitrogen management strategies, and you'll likely get 10 different answers. Nitrogen fertilizer has long been a major line-item expense for growers in the Corn Belt, but growers, researchers and agronomists are constantly learning new things about how nitrogen mineralizes and becomes available in different soils and different crop rotations.
Here, three Washington County growers talk about their nitrogen management strategies and their efforts in the 4R's — the right rate, source, time and place. For each of these growers, nitrogen management is an ever-evolving strategy affected by a range of factors, including application timing and rates, as well as crop rotation and soil type and topography.
Over the years, Rob Stout, Washington County grower and Iowa Master Farmer, has moved to split applications and spoon-feeding the corn crop. Now, he applies nitrogen three to four times a year.
"We don't add any more nitrogen than we applied 10 or 15 years ago, and we're getting higher yields," Stout says. "We don't always reach it, but we always shoot for 250 to 270 bushels. If we have 180 or 190 or even 200 pounds applied, it's only 0.8 pound per bushel."
In Washington County, there are a number of livestock feeding operations of varying sizes, so manure and litter sources are widely available. Stout, who raises hogs in a grow-finish operation, injects manure each fall. Of course, when it comes to manure application, the nutrient content depends on a number of factors, and Stout tests each barn in the fall before applying.
"We use around 3,000 to 3,200 gallons an acre, and the average nitrogen rate is usually around 50 pounds per 1,000 gallons. So we're getting around 150 pounds per acre," he says. "I can usually count on about 75% of the nitrogen the first year. If I'm putting on 3,000 gallons, if that's 150 pounds, I'd count only about 75%, or about 112 pounds of that being available to the crop that year."
Since he started growing cereal rye as a cover crop 10 years ago, Stout began applying UAN 32% solution with his burndown applications in spring. This helps alleviate the temporary tie-up of nitrogen by the cereal rye. He follows this application with a starter application through the planter, applying UAN 32% in-furrow, and another stream behind the closing wheel.
"With the cover crops, the bugs are eating up all the residue. They're sucking up nitrogen to help break down the residue, and then they don't release it until later on, so there's a shortage of nitrogen early on in the season," Stout says. "So we started adding some extra nitrogen with the planter. We drop it close to the seed, so it's there for early-season growth. That helps us get to later in the season when the nitrogen we injected in the fall becomes available."
Stout typically conducts a late-spring nitrogen test to determine how much is needed to finish the year, usually following up with a sidedress application. He's made sidedress applications using several methods, including anhydrous toolbars, injecting UAN 32%, aerially applying urea, broadcasting dry urea with a ground rig, dry spreading ammonium sulfate (AMS) and experimenting with injecting manure as a sidedress application using a toolbar made by Bazooka Farmstar in Washington, Iowa.
"I think nitrogen management is a constant thing to tweak. I'm always open to learning new things that can make my nitrogen use more efficient," Stout says. "We're constantly trying to learn and do a better job, doing a little better every day, and every season."
Low-cost approach
For Dave Birney, who also farms in Washington County, nitrogen management is all about economics.
"My theory has always been to be low-cost producer. I'm trying to produce the most bushels in the best way, for the least money and in the most environmentally friendly way. I'm not trying to win a yield contests I'm trying to do it economically," Birney says. "We're down around 0.7 pound per bushel, but it depends on the year and our yields. In most years, we average 230-bushel corn. Some years, we can reach 250 or 260."
Like Stout, Birney is no-tiller and cover cropper, and has to account for soil biology breaking down cereal rye and temporarily tying up nitrogen. So, before planting, he applies AMS, which provides nitrogen to help keep soil biology active while breaking down the rye, and also provides sulfur.
Birney also applies a starter with the planter, which includes 10-34-0 and micronutrients like boron and zinc, followed by a "weed and feed" application with UAN 32%, along with a nitrogen stabilizer.
For over 50 years, Birney has worked closely with Witthoft Farm Supply, a chemical and fertilizer dealer just down the road from him. In addition to custom-applying liquid nitrogen for Birney using a high-clearance machine, as well as dry fertilizer, they also share harvest equipment and labor.
For several years, Birney has conducted stalk nitrate tests in fall. Initially, there were low levels around 700 parts per million, and virtually undetectable levels of nitrogen. However, since he began growing cereal rye, his nitrogen levels have increased.
He says, "700 parts per million is low, and that's fine because I can't save it for next year. The corn wasn't showing any visual signs of nitrogen deficiency, and we weren't seeing a yield impact.
"The levels just started going up, and lately, we've seen levels up with around 1,800 parts per million. But we aren't putting on any more nitrogen than we were back in 2010. I'm blaming it on the cover crops; we're improving the soil biology and helping mineralize more nitrogen."
Moving forward, Birney plans to fine-tune his management and capitalize on nitrogen mineralized in the soil and fixed from the air. He notes 78% of the air in Earth's atmosphere is made up of nitrogen.
"There's potentially 10,000 pounds of organic nitrogen in every acre of soil if you can capitalize on it," Birney says. "I'm still going to continue the least-cost-producer approach. The question is: As corn populations and yields get higher, can I release enough organic nitrogen?"
Adapting to change
For Darrell Steele, who also farms in Washington County, nitrogen management is a dynamic thing. Not unlike Stout and Birney, Steele notes a big change for him has been gaining a better understanding of soil biology, especially with the addition of cover crops.
"I found a research paper that discussed the C:N [carbon to nitrogen] ratio of cereal rye roots versus the ratio of the aboveground material in rye. We kill rye at about 8 to 10 inches tall before corn. At that time, the C:N ratio for the aboveground biomass is 17:1. That's not a problem. The rye roots, however, have a ratio of 55:1. That's a problem. Because you terminate the plant, all that carbon is there. That's food for the microbes, but they need nitrogen to process it."
So, he changed his applications, applying more nitrogen in the form of UAN 32% and starter in-furrow with the planter to match that temporary tie-up of nitrogen. However, he still ran into issues with nitrogen deficiency in the following corn crop.
"After talking with agronomists and researchers, we realized the C:N ratio is bigger than just carbon and nitrogen," Steele says. "It's carbon and nitrogen, carbon and phosphorus, and carbon and sulfur. Those are the three big drivers of biology in the soil."
So, he began applying AMS before planting to provide a source of sulfur. On some fields, he also fall-applies turkey litter supplied by a neighbor, in addition to manure from his own hog barns, to help keep his phosphorus levels up. He also applies fall anhydrous on some fields, and determines the remainder of his fields' nitrogen needs based on whether or not he applied manure or anhydrous in fall, and spring and summer rainfall. This final application is often made using a high-clearance machine equipped with Y Drops from 360 Yield Center.
Currently, Steele is working to fine-tune his variable-rate nitrogen prescriptions based on how much is mineralized by the soil in different parts of the field.
"We're looking at getting a predictor of what the soil will provide. There are big differences from one spot in the field to the other based on soil type," he says. "We've got fields that will go from 90 CSR down to 15 CSR. There's a tremendous difference in the soil's ability to give nitrogen to the crop. It's a living system. And we're trying to understand how it wants to live. I'm by no means there yet, but we're further along than we were ten years ago."
Built-in bioreactor
In the summer of 2014, Rob Stout installed a bioreactor on his farm in Washington County. Bioreactors, which are excavated pits filled with woodchips designed to filter tile drainage water, have been used on farms in Iowa to reduce the nitrate load entering Iowa's rivers and water bodies. With an available carbon source, the microorganisms in the pit can use any nitrate in the water to break down the wood chips, releasing it in the air, rather than the water. Often, farmers use cost share funding available through USDA Natural Resources Conservation Service's Environmental Quality Incentives Program.
"We've had six full years of results with it. We've averaged a 70% reduction in the amount of nitrogen leaving our tile, and that's through monthly," Stout says. "The wood chips and the microorganisms are doing their job. They chew it up and it comes out in the air where it belongs."
Stout has tested his other tile outlets in addition to the one that drains into the bioreactor, and he notes he's reduced his overall nitrate load leaving the entire farm through practices like cover cropping, split-applying nitrogen and using nitrogen stabilizers when applying liquid nitrogen.
"By late summer, we're getting down to less than one part per million. Ten parts per million is the drinking water maximum," he says. "Last year, our highest amount going into the tile was 10 or 11 ppm. Coming out, it was three or four early in the season when there's a lot going through. The longer it stays in the bioreactor, the more nitrate that comes out.
"As the summer goes on, there's less water going in and the water can stay in the bioreactor a little longer before it leaves. So the bugs do a better job, and a higher percent gets sent out in late summer. In spring, it's moving through pretty fast, so it might be reducing it by 45% or 50%, but we've been averaging 70% through the season."
About the Author(s) Tyler Harris is the editor for Wallaces Farmer. He started at Farm Progress as a field editor, covering Missouri, Kansas and Iowa. Before joining Farm Progress, Tyler got his feet wet covering agriculture and rural issues while attending the University of Iowa, taking any chance he could to get outside the city limits and get on to the farm. This included working for Kalona News, south of Iowa City in the town of Kalona, followed by an internship at Wallaces Farmer in Des Moines after graduation.
Coming from a farm family in southwest Iowa, Tyler is largely interested in how issues impact people at the producer level. True to the reason he started reporting, he loves getting out of town and meeting with producers on the farm, which also gives him a firsthand look at how agriculture and urban interact.
Subscribe to receive top agriculture news
Be informed daily with these free e-newsletters
You May Also Like
---