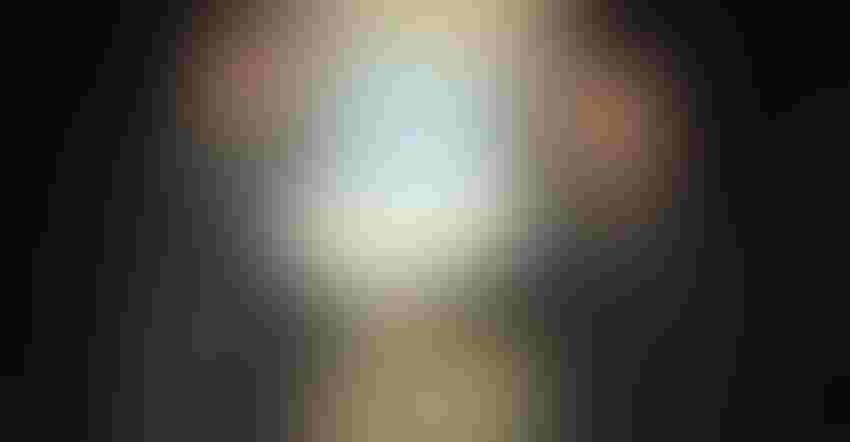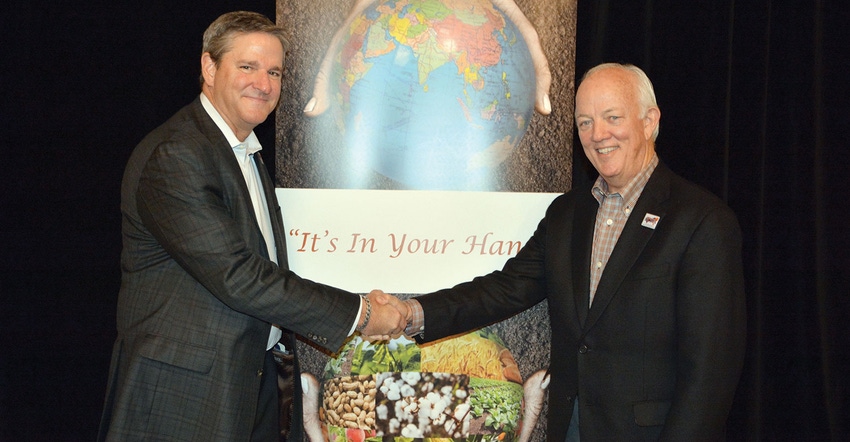 SCPA Presidents Michael Boden, left, newly elected, and Steve Williams, outgoing, shake hands in front of the SCPA three-year theme: "It's in our hands." Boden took over as president during the 64th annual SCPA conference in Asheville, N.C. in mid-November
The outgoing and the incoming Southern Crop Production Association (SCPA) presidents sat down for a few minutes following the 64th annual meeting to reflect on some of the challenges and opportunities facing the crop protection industry.
Steve Williams, Albauagh LLC, finished his two-year term at the conference and turned the gavel over to Michael Boden, Syngenta Crop Protection at the Asheville, N.C., conference.
"One of our greatest challenges," Williams says, "is the misperception the public has about agriculture and the misinformation they have regarding the contributions the crop protection industry makes to agriculture.
"This industry puts tools in the hands of farmers that contributes greatly to food production."
"It's a global industry," Boden adds. "We help feed the people of the world who depend on an ample supply of high-quality food and fiber. And consumers largely take that contribution for granted."
He adds that the crop protection industry, as well as agriculture as a whole, "has been complacent. And consumers have believed that food would always be there. As people got farther and farther away from the farm they lost their perspective on where food comes from," Boden says. "They don't understand the value of innovation and technology."
"Ag equipment manufacturers develop new technology to make farmers more efficient," Williams says. They use more sophisticated, computerized tractors, planters and combines to streamline their jobs.
"Crop protection companies do the same with our products," he explains. "We create products to improve efficiency, and those products benefit the farmers who use them and consumers who have access to high-quality food and fiber."
Opportunity
Communication, Boden and Williams agree, also provides one of their greatest opportunities.
"We have to take the opportunity to take our message to the people who consume food and fiber," Williams says.
"We have done a good job of messaging the people who use our products, but we have got to educate consumers. This is a challenge and an opportunity we have to take on."
They say the industry missed an opportunity in introducing genetically engineered crops to the public. They spent a lot of time and effort educating farmers on the benefits but neglected to do the same with consumers. It's a misstep that continues to bedevil the industry.
"No one person can do this job," Boden adds. "It's an industrywide message that we are an integral part of food and fiber production. We all have to work together."
He says the industry needs the "freedom to operate" with reasonable regulations across the entire value chain of agriculture. And communication, he adds, is a challenge and opportunity across that chain.
"We have to be more proactive in helping people understand what we contribute to food and fiber production and that we are helping to feed the world."
He adds that young people coming into agriculture may have better ideas on communication. He points to the FFA as an example of an organization that goes beyond promoting production agriculture to a farm audience.
"FFA members expand the knowledge of all the things that agriculture does," he says. Through FFA, others learn of careers that "touch on agriculture. We heard yesterday that data scientists are in short supply in ag companies. Agriculture goes far beyond what a lot of the public realize."
The challenge and the opportunity facing the crop protection industry, Williams and Boden say, is to understand those misconceptions and work across the industry to dispel the misinformation and replace it with accurate evidence.
About the Author(s)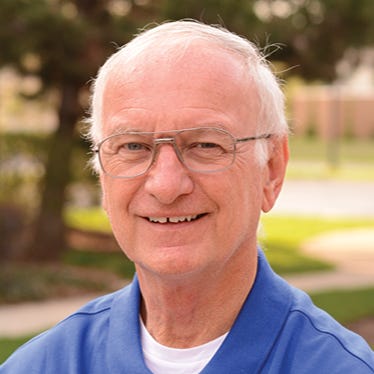 Ron Smith has spent more than 30 years covering Sunbelt agriculture. Ron began his career in agricultural journalism as an Experiment Station and Extension editor at Clemson University, where he earned a Masters Degree in English in 1975. He served as associate editor for Southeast Farm Press from 1978 through 1989. In 1990, Smith helped launch Southern Turf Management Magazine and served as editor. He also helped launch two other regional Turf and Landscape publications and launched and edited Florida Grove and Vegetable Management for the Farm Press Group. Within two years of launch, the turf magazines were well-respected, award-winning publications. Ron has received numerous awards for writing and photography in both agriculture and landscape journalism. He is past president of The Turf and Ornamental Communicators Association and was chosen as the first media representative to the University of Georgia College of Agriculture Advisory Board. He was named Communicator of the Year for the Metropolitan Atlanta Agricultural Communicators Association. Smith also worked in public relations, specializing in media relations for agricultural companies. Ron lives with his wife Pat in Denton, Texas. They have two grown children, Stacey and Nick, and two grandsons, Aaron and Hunter.
Subscribe to receive top agriculture news
Be informed daily with these free e-newsletters
You May Also Like
---