Adapt-N tool calculates for weather extremes and soils
Adapt-N tool calculates for weather extremes and soils
Think DifferentNo farmer would accept 30-70% seed germination. Yet corn producers settle for getting 30-70% efficiency from nitrogen. Frustration with this great unknown and trying an alternative to "the way it is done," is why Iowa farmers Todd Thilges and Bill Palmersheim decided to try Adapt-N when their consultants suggested it."How much nitrogen to use has always been more of an old wive's tale without really knowing what was needed or having any kind of test that gave an accurate answer," says Thilges."I shake my head at what some do, just because that's the way dad did it," says Palmersheim. "My thing is that until you've tried something, you don't know if it will be helpful.  Even then, you still have to take the information and apply it to new situations."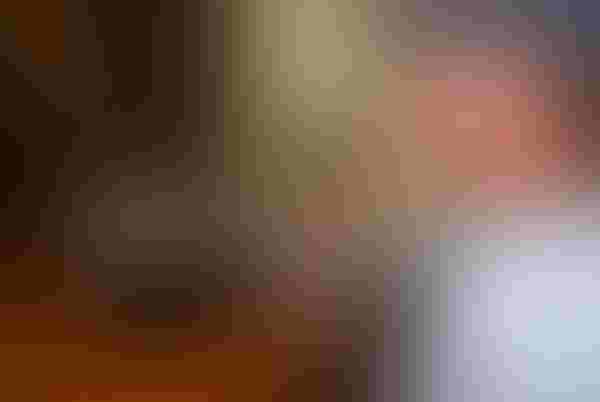 Harold van Es knows how to make the best of a bad thing. The Cornell University professor of soil and water management couldn't have asked for better weather to test his team's Adapt-N nitrogen application model in 2012 and 2013. Extreme drought last year followed by extreme moisture this year proves the program's value in ways moderate weather never could.
"The (web-based) tool is especially beneficial under more extreme conditions, because it accounts for weather's interactions with soil and management factors," says van Es. In a year like this, the timing of nitrogen application, soil conditions, precipitation and temperature effects interact in complex ways. The Adapt-N tool incorporates it all in its N prescriptions, he says.
Todd Thilges, who farms near West Bend, Iowa, experienced Adapt-N's benefits in 2012. The program recommended he drop back about 10 gallons per acre on his liquid N sidedress application, reflecting the impact of the extreme dry weather on nitrification and leaching. When harvest finished, the results were clear, based on the replicated plots by the north-central Iowa corn and soybean farmer and his crop consultant Michael McNeill.
"We followed conventional recommendations on the bulk of my corn acres," says Thilges. "If we had followed the Adapt-N recommendations, I would have saved a substantial amount of money."
This year Thilges was lucky to get his corn in during a three-day sun break before mid-May and was still finishing soybeans three weeks into June. At that time, he received his first Adapt-N sidedress recommendations for his over-watered corn...recommendations on the low side of what he expected, given all the rain. While last year's results are reason to follow the recommendations on more than just plots, Thilges is hesitant.
He normally applies fertilizer ahead of the planter and then sidedresses. However, Thilges is frustrated that he never felt he had a good idea of just how much to sidedress. He has tried tissue testing, but with multiple tests, results can vary from hour to hour, he says. He is interested in real-time application based on optical sensors, but questions how organic matter is figured into the equation.
"Organic matter is key with Adapt-N," says Thilges.
While Thilges appreciates that the recommendation for sidedressing with Adapt-N also includes a wide variety of other factors, he fully recognizes its limitations. "The problem is how to predict what will happen over the next month," he says. "Even if we put on a little extra over their rate, if we then get more rain, we may have to recheck the model and go back with a second application."
Thilges questions the possible investment; however, he notes that a fall or early spring application this cropping season would have also required a second pass to sidedress. He admits the only difference is the N is being used, not lost.
"If this model keeps proving itself and suggests the need for another 50 lbs. of N in early August, we'll have to seriously consider it," says Thilges. "This is definitely better for the environment and, more importantly, better for the bottom line than fall application would have been."
When Iowa corn grower Bill Palmersheim's longtime crop advisor suggested Adapt-N comparison plots two years ago, he liked the concept of taking so many variables into account. As a hog producer, Palmersheim sees Adapt-N as a potentially valuable tool to address manure's variability and how to supplement with sidedressing. However, he's still not confident enough to follow the recommendations 100%. He is following the recommendation on about half his acres and adjusting the rest based on his gut feelings.
"Last year the program said to cut back on what I normally would have applied, and it worked well," says Palmersheim. "This year they are suggesting taking a lot less credit for the manure due to the rain, resulting in higher sidedress rates; I have questioned some of the results. We won't know who is correct until harvest. My gut feeling is that any results we've gotten last year or this makes a good section in the file cabinet, but will it have long-term value? I need an average of some kind of normal."
After 25 years of ridge-tilling and ridged no-till, he is very aware that what works for him may not work for a neighbor. Palmersheim obviously hopes Adapt-N will work for them both.It addresses his long-standing concern over N use.
"It's been an economic driver forever for me, but we have to look at it environmentally too," says Palmersheim. "Adapt-N is simpler and quicker than other methods of estimating N needs, but we still don't know if it is more accurate. If we can trust it 80% of the time, Adapt-N could really change how we do things."
Saturated soils speed denitrification
Existing standards for estimating denitrification rates are being revamped for Adapt-N recommendations.  Spring soil nitrate samples collected by Adapt-N users suggest higher-than-expected losses in non-coarse soils. Traditional estimates for denitrification rates were based on several multi-year studies, none of which involved such an extremely wet year as 2013.
Coarse soils with their low denitrification rates lose N mostly through leaching, and recommendations for them were unaffected by the new information.
"We concluded that such losses were underestimated for medium- and fine-textured soils in cases of persistent wetness, as was experienced in several parts of the Adapt-N user area," reported the Adapt-N team. "In extreme wet years, the lack of oxygen is persistent and can temporarily deplete all nitrate in the soil."
(See http://bit.ly/15bb2Fy for details on Adapt-N.)
You might also like:
About the Author(s)
Subscribe to receive top agriculture news
Be informed daily with these free e-newsletters
You May Also Like
---