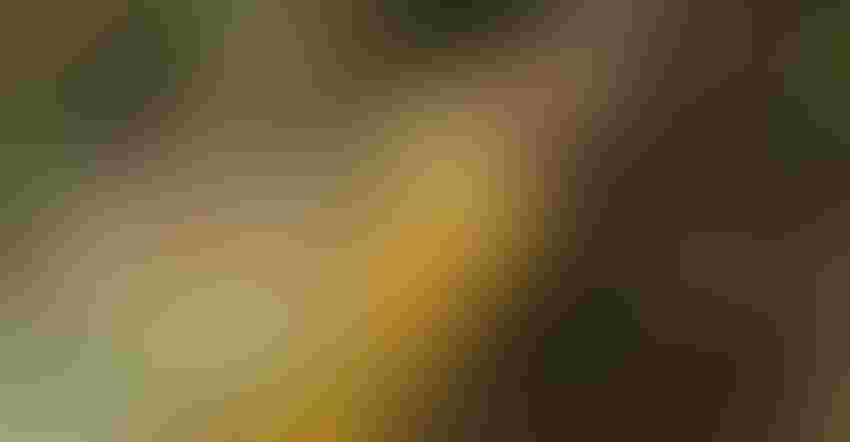 FINDING FUNGUS: Parts of Missouri experienced drought stress during pollination and grain development. The result could prove toxic to corn.
Blair Fannin, Texas AgriLife Research
Some areas of northeast Missouri experienced significant drought stress during the 2017 growing season, according to Max Glover, University of Missouri Extension agronomy specialist. Drought stress during pollination and grain development can increase aflatoxin levels in corn grain.
Aflatoxin is a group of extremely toxic chemicals produced by two molds, Aspergillus flavus and A. parasiticus. The toxins can be produced when these molds, or fungi, attack and grow on certain plants and plant products. Most of the aflatoxin problems on corn in the U.S. are caused by A. flavus, and the most potent toxin produced by this mold is called aflatoxin B1.
Drought, extreme heat and corn ear injury from insect feeding stress the corn, and create an environment favorable to these molds and to aflatoxin production. Temperatures ranging from 80 to 100 degrees F and a relative humidity of 85% are optimum for A. flavus growth and aflatoxin production. Periods of drought and heat stress during the growing season, especially during pollination and as kernels mature, favor A. flavus infection. Corn damaged by insects or weather conditions such as hail, early frost that cracks the kernels, or windstorms may also be predisposed to infection by A. flavus.
The loss in income for Missouri corn farmers due to aflatoxin contamination was estimated at $10 million in 1993 and $20 million in 1998.
According to the University of Missouri Extension guide G4155, "Aflatoxins in Corn," here is how to detect the potential for aflatoxin in corn during harvest.
• Look at the ears. A greenish-yellow to yellowish-brown, feltlike or powdery mold growth on or between the corn kernels is a signal that the toxin A. flavus may be present. Mold growth is more likely to develop adjacent to or in insect-damaged kernels on ears. Visible A. flavus symptoms in the field can be considered an increased risk for high aflatoxin levels in grain; however, predicting harvested grain aflatoxin levels based on field observations is very difficult.
• Sample the grain. Typically, aflatoxins are not distributed uniformly through a field of corn or mass of grain. Improper sampling of the field or grain mass can result in misleading (either high or low) mycotoxin levels when samples are analyzed for aflatoxin concentration. It is extremely important to collect samples that are representative of the entire grain mass. A good composite sample consists of subsamples taken from every part of a load, bin or unit of corn.
Samples for aflatoxin testing can be submitted to the Veterinary Medical Diagnostic Laboratory, College of Veterinary Medicine, P.O. Box 6023, Columbia, MO 65205; phone 573-882-6811. The sample should consist of a half-pound of grain that is representative of the entire load or volume of grain. There is currently a $53 fee for aflatoxin analysis.
Source: University of Missouri Extension
Subscribe to receive top agriculture news
Be informed daily with these free e-newsletters
You May Also Like
---