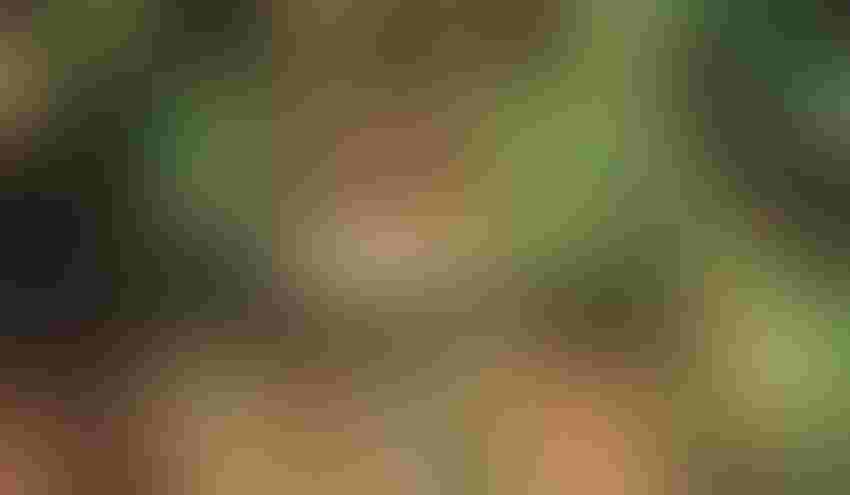 Typical early development of tillage radish in a fall/winter cover crop in October 2018 (Mitchell Co., TX) that has received several inches of rain. Other species visible include black-eyed pea, sorghum/sudan, and rye.
Dr. Calvin Trostle, Texas A&M AgriLife
Fall and winter cover cropping systems have a wide variety of planting dates, from mid-August to as late as Thanksgiving or Christmas following harvest. But a grower should select a species according to when he or she is planting that crop, says a Texas agronomist.
"To get substantial growth before a freeze, early planted covers may include a blend of warm-season species, so the cold tolerant species can take over," says Dr. Calvin Trostle, Texas A&M AgriLife Extension agronomist at Lubbock. "Later-planted cover crops will focus only on cold-hardy species that can germinate, establish, and provide some growth over the winter."
While cover cropping may not be feasible in drier areas of Texas with limited rainfall, Trostle says, where that's less an issue he has some practical guidelines for cover crop selection, including how many species to consider planting.
First, Trostle says to consider what are your cover cropping goals. If it is to curtail potential wind erosion, a cover crop which produces significant biomass may be the greatest need. But if a grower's goal is to grow cover to improve soil health, biomass may not be as important.
"In my observations and limited testing, I've found for winter biomass, rye leaves a higher amount of residues for the next spring," says Trostle. "Some years, it seems to grow better than wheat (at least in West Texas dryland), and its root system is often more aggressive than wheat."
See, Cover cropping may not be for everyone
For summer cover cropping, if biomass is again the goal, Trostle recommends conventional (non-BMR) sorghum/sudan as the core component of a cover crop.
Next, Trostle recommends selecting a regionally adapted cover species. "While this may be hard to tell in some cases, I find most radishes and turnips, other brassicas (mustards, canola), hairy vetch, Austrian winter peas, and your cool-season small grains are adapted. Some of these species like small seeded brassicas, however, only survive the winter if established a month or more before the first freezes," he says.
For other species such as flax and buckwheat, Trostle recommends asking a seed provider about adaptability.
"Other than the small grains, some varieties of many species will winterkill, though that can be reduced if seeded as part of a cover crop mix where something like rye is providing protection to winter-susceptible cover crop species. 
"If you are planting early enough, fall growth may be sufficient for some warm-season species, and a freeze will terminate them (and stop their moisture use, too), while other species take over through the winter," he says.
As for later-planted cover crop species, Trostle insists growers ensure each species is winter hardy, "Otherwise, why pay for it?" he says.
Another consideration in cover crop selection is determining if there is a need for a mixed species and if so, how many.
"Again, for winter cover crops, the small grains could stand alone as a cover. For a mix, it seems like some groups have focused on cover crop species in multiples of four — an eight-way cover crop mix, or possibly 12, and even 16.  I think some of these high-number, multi-species mixes are overkill for several reasons as they drive up costs, and more likely, components in some of the mix species won't grow well or may not even establish," says Trostle.
While the high-number cover crop mixes may take a "shotgun approach," assuming, depending on the year, something will grow, Trostle says some cover crop seed providers and NRCS staff suggest up to five species is sufficient. For example, for a fall/winter mix, a grower could plant a cool-season grass, a legume (hairy vetch, Austrian winter pea), a tuber brassica like a turnip or radish, a small-seeded brassica (mustard, rapeseed), and maybe one more species.  
"University soil microbiologists in the Texas High Plains agree that a basic cover crop mix will likely accomplish your objectives, and that soil biological activity does not appear to be significantly higher or more diverse past a few different established species in a cover mix," he says.
When considering a multi-species mix, Trostle recommends the following:
If you are planting in a drier region where rainfall is less frequent, you may need to plant a cover crop mix 1.5 inches or even 2 inches deep to get it established. Small seeded species like clovers, some brassicas, and other species may not emerge if planted too deep.

If you have a residual herbicide on the field, that may eliminate the need to even consider planting some species if they likely won't grow.  Something to consider before you spend the money.

If you expect weeds to become a problem within the field where planting a cover crop mix, ask yourself, will those weeds have time to go to seed? Would you need to spray them?  If so, move away from potentially susceptible cover crop species, in case you need to spray.

Legumes by themselves can nicely diversify a cover crop mix.  But we cannot assume that root infection with the right N-fixing species-specific Rhizobium/Bradyrhizobium bacteria strain will occur.  They may not be present in the soil or it may be difficult to add an inoculant to the cover crop seed mix.  If an inoculant is used, I recommend a seed-applied inoculant, so you do not have to deal with it (which most likely would be a seed box powder inoculant, which AgriLife trials show are relatively ineffective at infecting and nodulating on numerous crops).
For initial information on cover cropping, particularly for West Texas, long onto Texas A&M AgriLife at https://lubbock.tamu.edu/cover-crops/.
Subscribe to receive top agriculture news
Be informed daily with these free e-newsletters
You May Also Like
---