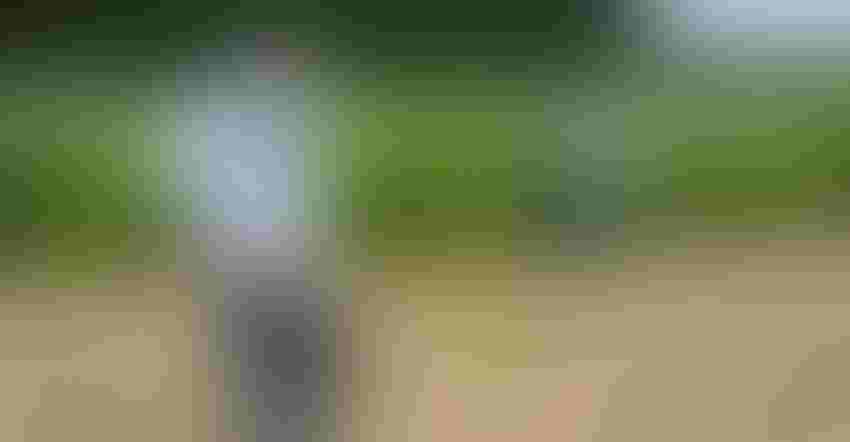 TESTING COVERS: Tim Fritz, owner of King's Agriseeds (right) and his son, Taylor, talk about cover crop seed mixes currently planted at Hershey Farms in Elizabethtown, Pa.
Chris Torres
Cover crop mixes are nothing new on farms, but should you do some mixes over others?
One way to see what's possible is to test them, which is exactly what King's Agriseeds and the Pennsylvania No-Till Alliance are doing this year on a farm in Elizabethtown, Pa.
During a recent field day at Hershey Farms, attendees got to see eight cover crop mixes growing in a small test plot. The mixes were as follows:
Sorghum Sudan and sunn hemp

Spring oats and spring peas

Pearl millet and sunn hemp

Sunflower and forage soybeans

Yellow blossom sweet clover and radish

Ray's crazy summer mix (a mix of eight cover crop species in one blend)
Eight rows were planted in June using a 7-foot Esch drill. Each two-species mix was planted at half rates both horizontally and vertically for a total of 64 four-species mixes. No fertilizer was applied.
"This has been one of the more fun projects that I've worked on. Didn't take that long either," says Tim Fritz, owner of King's Agriseeds.
Good growth overall
Since most of the mixes are warm-season, it's not surprising that growth, thus far, has been very good.
"In such a little area, this year was such a good growing year that everything grew beyond expectations," he says.
Some plots did better than others. The mix of spring oats and spring peas, which are essentially out-of-season, grew very well.
"There is some plant interaction going on that's more than just competition for light and nutrients," he says. "There are some things going on with allelopathy (plant interaction). Bottom line, we're just starting to learn."
Finding the right balance
Some of the cover crop species fix nitrogen, while others scavenge nutrients in the soil and keep them in the roots.
Fritz says it's all about meeting your farm's goals when you decide to do mixes.
"The thing to think about is when you're putting together a mix, you got to have things balanced," he says. "If you put too much of one thing, another thing might not come."
Also, think of nutrient release — carbon-to-nitrogen ratio for release of nitrogen is one example — and whether or not the species will eventually become a weed, dragging down yields.
As the owner of a seed business, Fritz says that he looks at mixes that are balanced and will interact well with each other.
"Some cases you have synergistic, beneficial responses, in other cases they are antagonistic," he says.
In his experience, farmers are looking for more and more mixes these days. They want to try different things to see what benefits their farm the most.
"So, it used to be one species was good for a cover crop. We know now that multi-species are very beneficial," he says. "People are looking for five or more species put together.
"We have all these different materials that are coming out and feeding the biology of the soil. And so the people that are on the cutting edge are reading about this and looking for it."
Subscribe to receive top agriculture news
Be informed daily with these free e-newsletters
You May Also Like
---