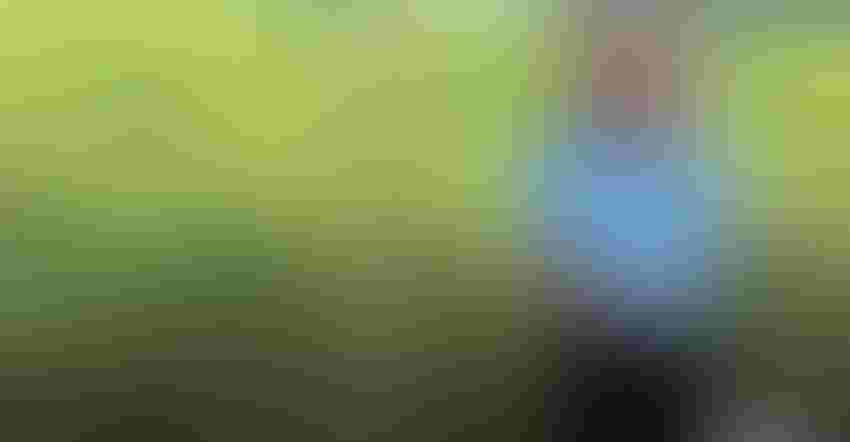 Savana Denton spoke at the second stop on the Cotton Tour Field Day in Jackson, Tenn.
Alaina Dismukes
Cover crops can offer producers a lot of benefits like weed control and erosion control, but they can only do so if you have the proper management of that cover crop, especially in terms of termination prior to planting cotton.
Savana Denton, a PhD. student at the University of Tennessee, spoke on cover crop termination timing and methods, and planter attachments at the recent Cotton Tour Field Day in Jackson, Tenn.
Termination timing
"Our target plant date for this field in question was May 1," Denton said. "Our treatments included a broadcast and strip termination six weeks prior to planting, a broadcast termination three weeks prior to planting, and an at-planting termination. The data indicate that earlier termination is more beneficial, with minimal differences in the stand between earlier termination timings.
"That doesn't mean that at-planting termination doesn't work. There are plenty of examples where terminating at planting has worked in west Tennessee, but a lot of risk is associated with at-planting terminations. That is why we stick with the recommendation of terminating two weeks prior to planting," she said.
She also said they looked at maturity by counting the number of plants in plots with two leaves. Denton did not find much difference between the early termination timings since termination was delayed; maturity was also delayed.
"Plots where cover crops were terminated earlier look a lot better. They are taller and have a lot more leaves on them. They are also getting out of the seedling stage quicker than they would following termination at planting," Denton said.
Termination methods
To terminate, the researchers either rolled the cover crop, sprayed the cover crop, or they rolled and sprayed the cover crop a month before the target plant date.
"Our graphs are looking at stand counts and maturity. We thought a roller-crimper would provide a good kill of our cover crops. In this area, though, when we're trying to terminate, we don't have enough biomass, so the roller-crimper does not get a good enough kill," she said. "Therefore, you see lower stands and fewer of those plants have reached two leaves at the time of rating.
The team's recommendation is that chemical terminations are still more effective.
"We don't see the benefit of the roller-crimper in this area because of the lower levels of biomass here in Tennessee," Denton said.
Planter attachment
"In our planter attachment study, we had four different cover crop scenarios," she said. "We started with a green standing cover crop, and then we rolled the green cover crop. Then we had a sprayed cover crop and a sprayed and rolled cover crop."
They used different combinations of row cleaners and double-disk openers on the row units. Aggressive row cleaners were able to provide a clean and consistent seedbed by moving the cover crop residue away from the seedbed, but if they were too aggressive, they often bound with residue.
"We tend to have better stands and emergence when we get that cover crop biomass away from the row." Denton said. "Where you run into issues with row cleaners, especially when you're planting into green cover crops, is when you collect and accumulate too much biomass."
Without a row cleaner, the gauge wheels will be introduced to variable levels of biomass across the field. As these gauge wheels ride over an uneven seedbed, seed placement can vary from too shallow to too deep in only a few feet. Furthermore, biomass remaining in the seedbed can prevent the press wheels from closing the furrow.
"In some situations, you can get away with it. If you get enough rainfall after planting, the seed may still germinate and come up, but you will need rain," she said. "If you don't get enough rainfall, your stand will suffer."
The goal is to get a good, consist seedbed, so the gauge wheels on each row unit move across the field smoothly and don't bump up and down like they can in a high biomass situation.
"We must have the gauge wheels riding across a consistent seedbed since cotton is a shallow-seeded crop," Denton said. "If the seedbed is even slightly inconsistent, seed depth may range from too deep to too shallow. In a high-biomass cover crop, the consistency of the seedbed is often a function of how much biomass the row cleaner can push away without binding. That's what we're going for."
Subscribe to receive top agriculture news
Be informed daily with these free e-newsletters
You May Also Like
---