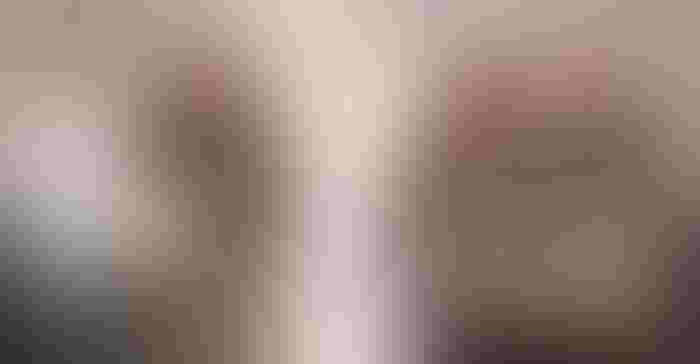 Improving soil health and reducing erosion are key motivators for Don and Andy Linder, Easton.
That's why they make sure their 800 acres of cropland is covered with vegetation year-round. They sold their conventional tillage equipment and practice no-till and strip-till on every tillable acre. During the growing season, they farm a three-crop rotation of soybeans, corn and small grains. Once those crops are harvested, they sow cover crops.
Seeing improvements in their soils has made them advocates of soil health. Over the past four years, the Linders have worked with the Faribault SWCD, the Faribault County Soil Health Team and the Sustainable Farming Association to attend meetings as speakers and host field days on their family farm. It also prompted them to start their own cover crop sales and application business.
In 2019 alone, Andy has installed more than 8,000 acres of cover crops in southern Minnesota and northern Iowa.
The evolution in thinking and practices definitely ignited something in Andy.
"I've developed a passion for cover crops," says the fifth-generation farmer. "It's made farming a lot of fun. It's made management more thoughtful and more interesting."
Adds Don: "We like to share what we've learned about the changes in soil health and soil structure."
In recognition of their efforts to conserve and enhance soil, Linder Family Farms was chosen as the 2019 Minnesota Association of Soil and Water Conservation Districts' Outstanding State Conservationist.
Don and his wife, Nancy, and Andy and his wife, Lindsay, received the award Dec. 10 at the MASWCD's annual convention awards luncheon in Bloomington. They were nominated by the Faribault SWCD as the district winner and chosen by a MASWCD awards committee as the MASWCD Area 6 and state winner.
The Linders have been farming near Easton since 1866, with Don being heavily involved for the past 42 years. They started their own tillage trials six years ago, comparing aggressive versus minimum tillage. They saw the benefits of no-tilling into corn stalks for their soybean rotation and now also use both no-till and strip-till for the corn rotation.
Their three-crop rotation of one-third soybeans, one-third corn and one-third small grains might see a change when they add canning crops to the mix. They are looking into the possibility since they like the idea of growing more diverse cover crops before and after cash crops.
They began experimenting with cover crops in 2014 by interseeding cereal rye into soybeans. Over the years, they tried various multispecies mixes and experimented with planting dates. They seed cover crops into the corn and beans around Labor Day weekend with the high clearance seeder.
"I really like using cereal rye and Bayou kale into corn that will be planted to beans the next year," Andy says. "The combination of no-till beans and cereal rye the next spring is great for weed suppression."
The Linders also experimented with seeding annual ryegrass and other various seeds into V4 corn. Other cover crops they've used on their farm include winter triticale, turnips, rape, various clovers and other warm-season grasses.
For the last two years, Andy and Don have operated a cover crop seed and application business, using a customized highboy interseeder with a 90-foot boom. Currently, Andy is patiently waiting for his new 120-foot boom interseeder. A friend in Ohio is doing the fabrication that allows spray and seed tanks to be interchanged, depending on the task at hand.
Don and Andy also raise around 300 nursery pigs and custom-grazes beef cattle on their cover crops for a friend of Andy's. They were able to secure a grant that helped them install permanent fencing around fields so they could graze cover crops.
They also received certification from the Minnesota Ag Water Quality Certification Program, have installed buffer strips along woods that border the Blue Earth River and are collaborating with University of Minnesota bee researchers by providing an 11-acre pollinator plot on their farm.
"Cover crops and no-till are no silver bullet. They are a tool," Andy says. "I like to tell people I've traded one set of problems in the old way of doing things for another set of different problems in the new way. The benefits are far outweighing the challenges."
Area winners
The Farmer magazine is a long-time sponsor of the MASWCD area and state conservation awards program, dating back to the 1970s. Each summer, MASWCD asks districts to nominate individuals, conservation organizations and others for outstanding efforts with implementing conservation practices and improving Minnesota's natural resources. MASWCD's awards committee meets in the fall and reviews all nominations. Eight area winners are selected, and from that group the outstanding state winner is chosen. Each area winner receives a plaque, and the state winner receives a framed natural resources print.
MASWCD area winners honored at the annual awards luncheon were:
Area 1, Todd and Michelle Andresen, Detroit Lakes, nominated by Becker SWCD. The Andresens farm 2,000 acres, rotating corn, beans, wheat and alfalfa. Todd, a third-generation farmer, devotes a portion of their acres each year to researching and developing different cropping techniques, species, varieties and treatments to evaluate performance and feasibility on the farm.
They also raise 80 Red Angus cow-calf pairs, using prescribed grazing, planting full-season cover crops and interseeding pasture. With financial and technical assistance from Clean Water Legacy fund, USDA's EQIP program and SWCD staff, the Andresens have installed various structures and practices to keep livestock and nutrients from reaching tributaries of the nearby Buffalo River.
Area 2, Schueler Farms, Willmar, nominated by Kandiyohi SWCD. Brothers Sherman and Kevin Schueler operate a commercial hay-and-grass-fed beef farm that's been in the family since 1903. They breed and rotationally graze a herd of 50 Lowline Angus cattle on a unique blend of alfalfa and grass, marketing their grass-fed premium beef through local markets they have developed. They also raise 420 acres of the alfalfa-grass hay as a premium forage. They are in the process of transitioning to 100% certified organic. Buffer strips, field windbreaks, minimum tillage and more than 50% perennial crops in their rotation virtually eliminate wind erosion.
To improve water quality, they replaced all but three open tile intakes on their property with blind intakes of their own design. They've installed water and sediment control basins and restored a 14-acre wetland surrounded by 21 acres of native grasses and wildflowers on prairie land.
Area 3, Warren Tester, Andover, nominated by Carlton SWCD. Warren Tester, who lives in the metro area, owns 160 acres of forestland that straddles the Nemadji River, a designated trout stream. He worked with the Carlton SWCD and other public and private agencies to improve wildlife habitat, forest health, streambank stabilization and water quality. Part of the forestry plan includes practices implemented to provide nesting and habitat for the golden-winged warbler, which is declining in population in the area.
Tester's forest-stand improvement also targets 39 acres of river valley, encouraging long-lived species such as oak, maple, birch, pine and spruce to help reduce landslides and bank erosion.
Area 4, city of Waconia Public Service Department, nominated by Carver SWCD. The city of Waconia's Public Services Department, under the direction of Craig Eldred, installed a municipal stormwater reuse facility that collects, treats and stores excess rainwater from 300 urban areas, then pumps the water to irrigate green areas and fields around schools. This is the second-largest stormwater reuse system in Waconia. It reduces downstream nutrient loads and saves on the demand for groundwater for irrigation purposes.
Eldred led another project located directly across from city hall that treats 60 acres of runoff that previously drained directly to Lake Waconia. The pond was expanded to provide additional flood storage and has several best management practices installed around the pond — rain gardens, porous pavement and an iron-enhanced sand filter.
Area 5, Tom Hansen, Windom, nominated by Cottonwood SWCD. Tom and Dori Hansen have owned their 480-acre farm since 2002 and converted three years ago to no-tillage and cover crops. Last year, Tom built his own interseeder to plant his acreage.
With the help of their sons, the Hansens planted more than 11,000 trees. They have had to add tree tubes to prevent deer damage — a constant management effort by all.
With assistance from the U.S. Fish and Wildlife Service, Tom installed a six-acre pond with a windmill aerator. He personally invested $12,000 to establish the natural resource, an enjoyable site with trees and native grasses, all overlooking a large valley. He also maintains 12 acres of wildlife food plots, which has attracted up to 200 pheasants at a time. The farmstead also is certified in the Minnesota Agricultural Water Quality Certification Program.
Area 7, Joan Heim-Welch, Brownsville, nominated by Root River SWCD. Joan Heim-Welch operates a 630-acre diversified crop and livestock operation raising beef, grain, hay and timber, along with cover crops on silt loam soils in the karst topography of southeast Minnesota. All of the acres are ridge-top and rain downstream toward either the Mississippi River or the Crooked Creek Watershed.
Heim-Welch manages a cow-calf beef herd, rotationally grazing them on some of the vulnerable areas of her farm. Water is supplied by four grade stabilizing structures that have been placed in areas of the landscape to provide water as well as to reduce gully erosion.
Over the years, with help from late husband, Arne, Hein-Welch installed several grade stabilization structures, contour strips, terraces and thousands of feet of waterway. With her husband, Todd, she has added honey bee habitat and hives, cover crops, brush management, critical area plantings and forest stand management.
Area 8, Ron Meyer, Pequot Lakes, Crow Wing SWCD. For more than 25 years, Ron Meyer has led efforts to protect the Whitefish Chain of Lakes — around 14,000 acres of water in the heart of the Brainerd Lakes area. In 2004, Meyer helped form the Pine River Watershed Alliance, a volunteer citizen-led local nonprofit whose mission is to protect and preserve the watershed's land and water quality. Through PRWA, Meyer helped leverage more than $277,700 in grants to do watershed work and to create an endowment fund to further water quality efforts.
Since 2008, Meyer and the PRWA partnered with the Cass County Farm Bureau to host 11 annual Harvest Dinners. More than 1,650 people attend the event, which connects ranchers and lakeshore owners with a sit-down local food meal.
In 2016, the Minnesota Pollution Control Agency identified Arvig Creek as an impaired stream. Meyer took initiative to build a relationship with the farmer adjacent to the stream. He has fenced off the creek, began adaptive grazing techniques and is working on implementing cover crops. In 2019, Crow Wing SWCD and PRWA hired two farmers to talk with landowners about conservation and cattle.
Subscribe to receive top agriculture news
Be informed daily with these free e-newsletters
You May Also Like
---