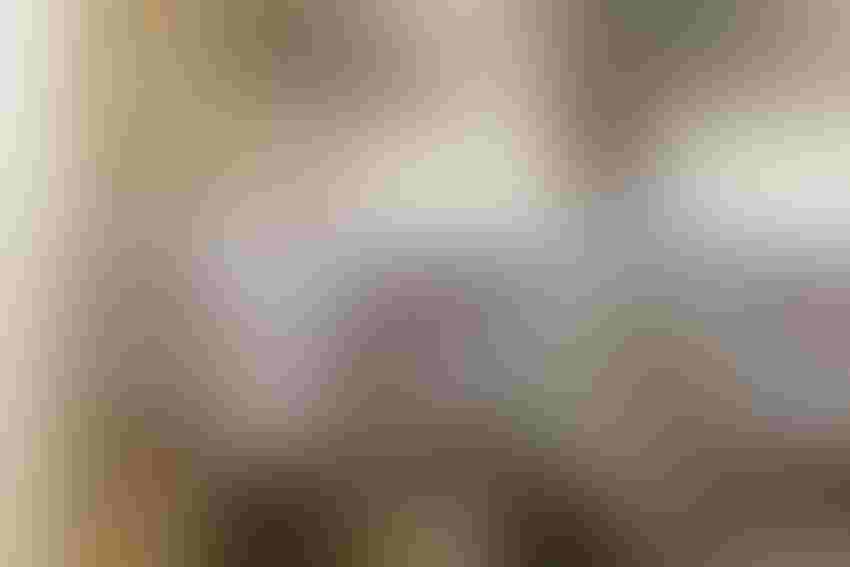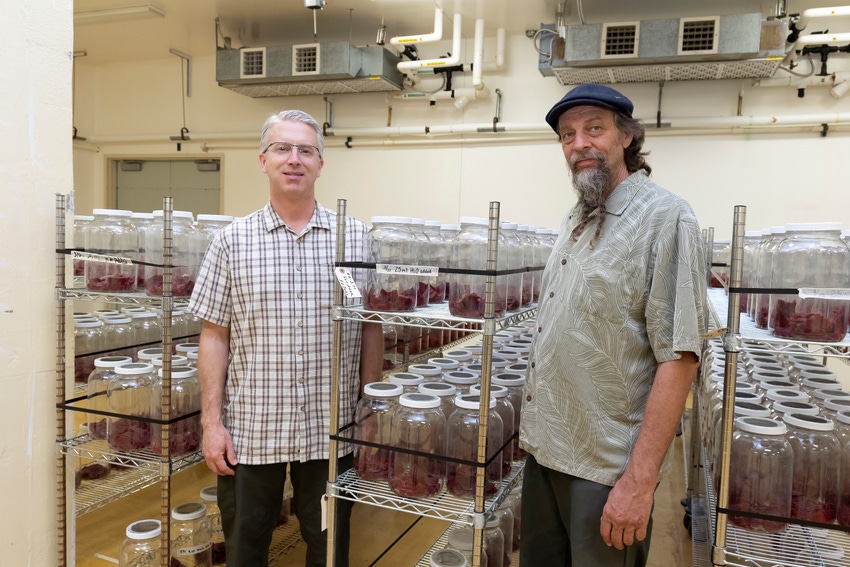 Eoin Davis, left, and Earl Andress, rear navel orangeworm in the repurposed Phoenix facility once used to mass-rear the pink bollworm.
Within the walls of an unmarked brick building in central Phoenix exists a project that has all the makings of a science fiction feature. Jars filled with moths line mobile shelves in large rooms, in another room a worker readies the insects for commercial flight to a neighboring state, while in the kitchen a smelly concoction of dried forage is mixed to feed the creatures.
Last year's eradication of the pink bollworm (PBW) from U.S. cotton meant the Department of Agriculture could have shuttered the facility that once produced over 30 million PBW moths per day. However, through the efforts of at least one California cotton farmer, whose diversified farming operation includes pistachios, the facility remains open, continuing a much-needed effort that took place there for years with the cotton pest.
It started when California cotton farmer Ted Sheely inquired about the navel orangeworm (NOW) moth that a scientist there was studying amid millions of PBW. Sheely was on a tour of the facility at the time.
He recalls asking the scientist if the same thing government scientists were doing with PBW – mass rearing sterile moths for release over cotton fields – could be replicated with the NOW since both are lepidopteran pests.
The short answer, "I don't see why not," sparked a train of thought with the cotton leader that led to a decision to transition the facility from rearing sterile PBW moths to rearing sterile NOW moths after the USDA declared the eradication of the pink bollworm.
Sheely, who currently chairs the California Cotton Pest Control Board and his pistachios are subject to NOW infestation.
Immediately after the tour he began questioning scientists and encouraging industry leaders to consider expanding the facility to include rearing a second moth. Early push-back from some in the tree nut industry suggested his idea wasn't universally accepted.
"Some thought this wouldn't work, but I figured we needed to try it first, rather than look back years from now wishing we'd have tried something," said Sheely, who noted that to permit and build a new facility similar to the one currently being used and with quick access to a major international airport could cost $100 million.
It didn't happen immediately, but Sheely says his tenacity to encourage the pistachio industry to consider such a project eventually garnered millions of dollars in support from the industry.
A $1 million commitment from the Almond Board of California was recently announced. Of this, $950,000 will go to the NOW rearing facility in Phoenix, with the balance earmarked for research by the University of California and U.S. Department of Agriculture, according to Bob Curtis, a consultant to the almond board.
The navel orangeworm (NOW) wreaks havoc and robs profits in tree nuts by feeding directly on the nuts, making them unmarketable. Scientists show a connection between the moth and aflatoxins in tree nuts. Aflatoxins are produced by naturally-occurring Aspergillus molds in the environment. The aflatoxin they produce can be carcinogenic.
Two seasons ago California almond growers were hit hard by the pest, causing reject levels of aflatoxin at their processors to rise. California almond, pistachio and walnut farmers try to control NOW through a combination of sanitation, insecticides and mating disruption.
According to Sheely the efficacy of insecticides is dwindling as insects develop tolerances to current chemistries. Mating disruption technology, when done correctly, seems to work well, he continued.
Converting a facility
Though the USDA maintains the former PBW facility, Roger Isom, president of the California Cotton Ginners and Growers Association, and its sister organization, the Western Agricultural Processors Association, a tree nut-based organization, says eradication is unlikely due to several advantages the cotton industry had going for it.
Isom pointed to plow-down requirements in cotton to create a host-free environment for PBW and advancements in Bt cotton that helped considerably. There are no Bt nut trees and the closest thing to plow-down would be winter sanitation, a recommended practice not uniformly and sufficiently employed by all tree nut growers. While PBW has one host – cotton – NOW has a variety of hosts, making its control more difficult.
Keeping the PBW facility open, just a few miles from Sky Harbor International Airport in Phoenix, has also been a goal for Isom and a growing number of industry leaders.
Michael Kelley, president of the Central California Almond Growers Association, is one of those leaders encouraging the USDA to maintain the Phoenix facility because of what he saw early in his career in California's Imperial Valley.
Kelley's first-hand view of PBW damage decades ago, and the success seen later with the mass rearing facility tells him that technologies like this are effective. Not only do they help control insect populations, the IPM method does it without adding pesticides to the environment.
"The pink bollworm program was a proven one and exceeded everyone's expectation's," Kelley says. "That's why we're encouraged about this."
Industry leaders are looking for about $21 million from federal appropriations to continue the program.
"We need to get to where we're rearing six million moths per day from the facility," Kelley says.
Eion Davis manages the Phoenix facility. He oversees the production of 750,000 sterile NOW moths per day. The moths are irradiated at the facility to render them sterile. They are then packaged for delivery by commercial aircraft to California for release over a limited number of acres as part of a demonstration project and scientific study.
Moths are reared from brood stock created in the laboratory. That stock is rotated to preserve genetic variability in the product, which at the end of the day is most important, according to assistant lab director Earl Andress, an entomologist overseeing insect production.
Andress has worked with the NOW moth for years, working before that with the pink bollworm and with other insects in his career. Mass rearing an insect to be competitive and viable with native insects is important "because we want them to be competitive with wild moths, find a mate, and mate with them," he said.
Critical in that process is the mating between sterile moths and native moths in-field, as this then – in theory – reduces the number of viable eggs produced by a female moth.
Because the project is still relatively new, scientists are learning as they go. They are looking at things like the amount of radiation used to sterilize the moths, the time of day moths are released by aircraft over an orchard, the types of food created for insects in the lab and other protocols are still being perfected, as is some of the equipment used in the lab to mass produce the insect. In many cases, the protocols developed over the years for PBW are not necessarily transferable to production, irradiation, shipment and release of NOW.
Moths are reared from brood stock females. It takes 28-36 days to rear an adult moth from egg to release in the climate-controlled lab.
Releases
Once the moths are reared and become viable adults, they are packaged and flown from Phoenix to Bakersfield on commercial aircraft. Getting them there isn't as simple as packaging them in boxes, says Davis. Precautions are taken to protect the insect from expending energy before being released by aircraft. Those precautions include cooling the insect to reduce its activity and need to feed during the hour-long flight.
Delivery of the moths is handled by the California Department of Food and Agriculture, who then drops the moths from an aircraft over approximately 2,000 acres of pistachios owned by the Wonderful Company.
In California, scientists from the University of California and USDA continue to study the moth at its release points, as well as in experiments at the Kearney Agricultural Research and Extension Center near Fresno.
Houston Wilson, an entomologist with the University of California and one of the lead scientists on the project in California says that, in contrast to the PBW program, the goal of the sterile NOW program is population control rather than total eradication. Were the use of sterile moths to prove effective it would become an additional component that compliments existing control methods such as winter sanitation, mating disruption, pesticides and timely harvest.
NOW releases began last year over California. Researchers have the 2,000-acre demonstration plot of commercial pistachios in Kern County, plus an area of equal size adjacent to it as a control orchard. Wilson says he and USDA scientist Chuck Burks are also studying the moth at the Kearney Agriculture and Extension Center near Fresno, Calif.
According to Wilson, these studies include looking at the performance of irradiated moths to evaluate how much radiation is needed to sterilize them sufficiently without causing other genetic damage that could negatively affect their performance in the field. For instance, scientists need these moths to compete effectively in the mating process with wild moths as well as survive the climatic conditions common to the growing regions in central and northern California.
Funding and public policy
Sheely admits that while the former pink bollworm facility has outlived its usefulness as the PBW was successfully eradicated, the building, its facilities and scientists are still necessary to address invasive pests such as the navel orangeworm. Ongoing efforts to convince federal representatives to maintain and fund the facility continue as industry leaders ask the USDA to increase moth production.
"We're likely going to need millions of moths a day produced from here," Sheely says. "Still, we don't know how many, and that's why we're working with scientists from Cooperative Extension and the USDA to determine what we need and how to make this work."
Subscribe to receive top agriculture news
Be informed daily with these free e-newsletters
You May Also Like
---