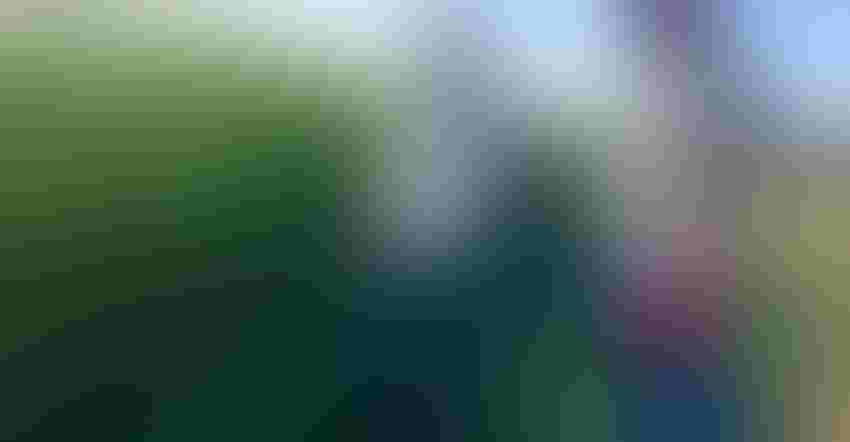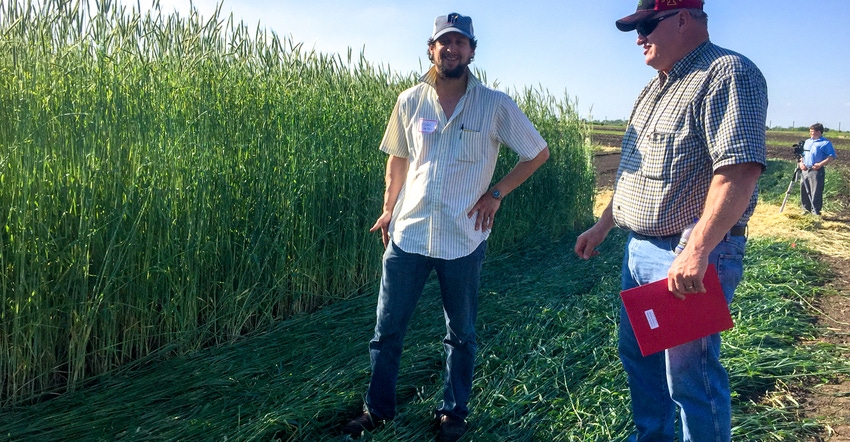 KEEPING IT COVERED: Farmer Jack Boyer of Reinbeck (right) and writer Stefan Gailans, PFI research and field crops director, talk about cereal rye as a mulch and weed suppressor.
By Stefan Gailans
The corn-winter fallow followed by soybean-winter fallow cropping system dominates Iowa's agricultural landscape. The sustainability and resiliency of this production system, however, is often called into question given the negative effects on the environment and society. The winter fallow system causes both soil erosion and nutrient loss into the state's surface waters.
Researchers say incorporating cover crops or small-grain crops (or both) into this two-crop system would have the greatest positive effects on soil and water quality. The Iowa Nutrient Reduction Strategy, initially released in 2012, counts cover crops, like oats and cereal rye, among the most effective in-field practices for reducing soil erosion and nutrient loss.
This conclusion stems from numerous scientific studies conducted around the state that found levels of nitrate in drainage water (the water that eventually makes its way from farm fields to Iowa's rivers, streams and lakes) were significantly lower during spring and fall when a living cover crop was present compared to bare soil (winter fallow).
The reason? Actively growing plants, such as cover crops, intercept nitrogen that's been left in the soil, locking it up; and they hold soil in place that might otherwise be lost to erosion.
Not surprisingly, Practical Farmers of Iowa members are chief among the "early adopters" of cover crops in Iowa. They're also paving the way for the most successful uses of cover crops. According to a 2017 survey, 63% of PFI's 3,000-plus members report using cover crops on their farms.
Cereal rye before soybeans
Planting cereal rye ahead of a soybean crop offers the best chance for cover crop success. From the on-farm research he's conducted, Jack Boyer says, "I get the impression that with soybeans, you have considerable flexibility with termination date for the cover crop."
Boyer and wife Marion are lifetime members of PFI and farm near Reinbeck in Tama County.
Like many others, Boyer was initially under the impression that a cover crop should be terminated 10 to 14 days prior to planting the cash crop. In all fairness, this is probably a good rule-of-thumb for first-time cover crop users. But in 2015, he got curious about narrowing the time between terminating the cereal rye and seeding his soybeans. That year, he found yields were similar whether he terminated the cereal rye nine days prior to seeding soybeans or the day after. Moreover, the soybeans with the cereal rye yielded just as well as the soybeans with no cover crop, averaging 70 bushels per acre across the field.
While this was certainly a welcome result, Boyer says, "the most interesting part of the trial was the improved control of waterhemp in the cover crop areas versus the no-cover areas."
Where he waited until the day after seeding soybeans (May 19) to terminate the cereal rye, Boyer had upward of 8,000 pounds of dry matter per acre in those strips. When it came to treat that field for weeds in July, he decided to not apply herbicide to the strips with all that dry matter present. The resulting mulch persisted well into summer and autumn, keeping those areas mostly free of weeds.
Boyer figures he saved $40 per acre in herbicide costs thanks to the cereal rye cover crop. Having spent between $25 and $30 per acre to seed the cover crops the previous fall, he came out ahead by $10 to $15 per acre in 2015.
Waiting to terminate cover pays
This is the "cash in cover crops," so to speak: swapping chemical weed control (herbicides) for biological, physical weed control (cover crop). In the years since his initial trial in 2015, Boyer has been able to either reduce or eliminate postemergence herbicide applications in his soybeans by widely adopting this practice: waiting until soybean planting time to terminate the cover crop. Some refer to this practice as "letting the cover crop run" in the spring.
Boyer's findings corroborate prior university research conducted by Illinois weed scientist Adam Davis in central Illinois, which showed that the residual dry matter from a cereal rye cover crop can control weeds in soybeans, as well as herbicides, if you can achieve over 6,000 pounds of cover crop dry matter per acre.
Master cover-cropper Dave Brandt shared with a busload of PFI members, who visited him last summer, that he routinely uses this technique to control weeds in soybeans on his farm in central Ohio. And after nine years of study, farmer-researchers across Iowa who've been collaborating with Iowa Learning Farms and PFI continue to see success with a cereal rye cover crop ahead of soybeans.
Preparing for planting
Proper planter or drill settings when seeding the cash crop are key to achieving success with cover crops. Boyer prefers seeding his soybeans using a drill that has 10-inch row-spacings and is equipped with spiked cast-closing wheels. He typically drills soybeans into a living cover crop and terminates within five days of seeding. The harrow on the back of the drill also helps knock down the cereal rye plants, creating a mulch mat that lies on the ground. Boyer says when seeding into green rye, there are fewer problems with straw wrapping on the drill or planter components.
Getting the soybean seed into the soil and covering up the slot is crucial to success. "You must account for the cover crop residue when setting drill or planter depth for seed placement," Boyer says.
A cereal rye cover crop ahead of soybeans, if widely integrated into crop management systems, would significantly improve soil health and water quality, and this practice is a good fit for the predominant corn-soybean cropping system. Not only does it offer potential for farmers to reap short-term economic benefits, it could eliminate one of the major winter-fallow periods in Iowa. PFI members know this and are spreading the word.
Gailans is research and field crops director for PFI located in Ames.
Subscribe to receive top agriculture news
Be informed daily with these free e-newsletters
You May Also Like
---