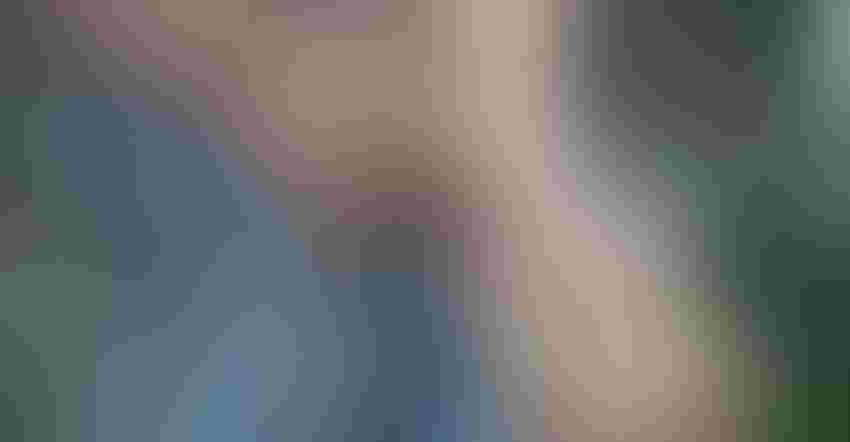 SUCCOTASH: Ron Rosmann shows his "succotash" cover crop mix. It's oats, wheat, barley and field peas that he grew and harvested together and will grind for hog and cattle feed.
By Nick Ohde
Time was when oats were included in the diet of nearly every single farm animal raised in the state of Iowa (aside from maybe dogs and cats). Cattle, dairy cows, horses, chickens, pigs and sheep all ate oats, and other small grains, at various stages of their lives. That time has now passed, of course, on most farms. But for many farmers, small grains still make up an important part of the livestock feed ration. Returning small-grain feed production to the farm not only localizes feed ration sourcing, but also offers the benefit of a long summer season to grow rich, diverse cover crops, which can be grazed or stockpiled for winter feeding.
Oats are probably still the most common small grain to be fed to livestock on Iowa farms. Practical Farmers of Iowa member Ron Rosmann of Harlan includes oats in his hog and cattle rations. One strategy that Rosmann and other farmers have adopted over the past few years has been to grow "succotash." Succotash is a mix of several small grains, and sometimes field peas are included to increase the protein content. Often this mix is spring wheat, spring barley, oats and field peas.
Feeding small grains
Theoretically, if you had the right small grains and enough peas, you wouldn't have to use any soybean meal. "But what we do is a compromise," says Rosmann. He plants a mix that includes about 90 pounds of an oat-wheat-barley mix and about 35 pounds of field peas per acre; he harvests and grinds it all together, and mixes it into the hog ration.
"When we send our rations to be tested, we've got it figured out that generally we have enough field peas in there that we can reduce our soybean meal by 50% in a grow-finish ration," he says. Regardless of the ration, sending a sample in to a lab to be tested is important, both for determining nutrient content of the grain and to make sure there aren't any toxins that could cause health problems for livestock. One such lab many Midwest farmers use is Dairyland Laboratories in Wisconsin.
"We started growing succotash because we wanted a higher-quality feed, instead of just straight oats — a higher-protein feed, something that would work better in our hog ration," says Dan Wilson of Paullina. "We like it because of the multispecies aspect," says his son, Torray, who leads the farm's cattle operation. "Different types of roots, different growth habits, different years favor one over the other a little bit."
One piece of equipment farmers growing their own feed can't live without is a grinder-mixer. The grinder-mixer has been the way many farmers have ground and mixed rations since the 1960s, when this equipment first hit the market, but they're becoming less common.
"They're still out there," says Rosmann, but they might not be in the best shape. "You might spend $500 on one, but you might spend $1,500 getting it ready. That's still better than buying one new, which may cost $20,000. At least look for something used, to get the cost down."
For information on formulating alternative feed rations, view a video of a presentation by Jeff Mattocks at the 2017 PFI annual conference. Mattocks is a feed ingredient specialist at Fertrell Co., which focuses on natural and organic fertilizers, minerals and premixes. He gave detailed explanations of each of the small grains (as well as other alternative feed sources) and how they could replace corn or soybeans in livestock diets. For information on feeding small grains to hogs, read Iowa State University's Extension Publication PM 1994 "Feeding Small Grains to Swine."
For farmers who grow small grains, harvest is just the beginning. After harvesting the crop in July, the possibilities for cover crops to plant on that ground are endless.
"The world is your oyster," says Jon Bakehouse, who farms near Hastings in southwest Iowa. "Because you can seed cover crops as early as July 1, there's plenty of time for those plants to soak up the long, hot days."
Cover crops such as radishes and turnips — which in most years wouldn't provide much benefit planted in late fall between corn and soybeans — have time to develop large tubers and bust up soil compaction layers. There's also time for legumes to fix plenty of nitrogen and forages to put on plenty of biomass. This gives livestock farmers the option to rest perennial pastures in order to graze them later in the fall or stockpile for winter, reducing hay costs.
Grazing summer-seeded cover crops
Paul Ackley of Bedford relies on a summer-seeded cover crop mix to cut his hay cost and feed his cows economically through winter. "This fills the gap in winter when we would be feeding hay. The cattle do well on it," he says. "Their health is good, they're happy, they're finding their own meal. Using polywire electric fence, we rotationally graze enough to last them for three or four days, then move it for them every third or fourth day."
He follows the cover crop mix with corn in his rotation to take advantage of the manure from the cows, and also includes nitrogen-fixing plants in the mix.
Root diversity to improve soil is a big consideration for Bakehouse when considering species for his cover crop mix. "Get something on there that's growing aggressively, and at different rooting depths," he advises. "With our corn and soybeans, they're very shallow-rooted crops, so if we can get something that has a taproot drilling down, that's a benefit."
He says all those different types of roots create more channels for water to infiltrate, helping cut down on the amount that runs off the surface. He also wants to have warm-season and cool-season plants to provide different types of rooting patterns under different weather conditions.
Tim Sieren of Keota agrees. "Each plant has its own conditions," he says. "One plant will take advantage of warm weather; another will do better in the cool season."
Last year after harvesting his rye crop, he planted a mix of grasses, legumes and brassicas. One of the legumes he planted, a cowpea, didn't respond well to the wet weather he had in August. "It's kind of an insurance policy," says Sieren. "If you'd have put all cowpeas in here, you'd have bare ground." But because he planted a mix of rye, radishes and rapeseed in addition to cowpeas, he had a good cover. One of them will take advantage of the conditions.
It also helps soil microbes to have different species growing together. "Some microbes like some plants better than others," he notes.
For cattle farmers, growing small grains for seed is a no-brainer. The grain can be grown cheaply and used for either feed or seed, giving more flexibility with both livestock diets and cover crop seeding. In addition, because you can plant an annual grazing mix midsummer after small grains harvest, you can save money on hay costs and rest pastures, ultimately improving the value and productivity of all your ground.
For information on small grains, check out practicalfarmers.org/small-grains, and to see videos from the Rotationally Raised series on feeding small grains and grazing summer-seeded cover crop mixes, visit Practical Farmers of Iowa at youtube.com/pfivideos.
Ohde writes for PFI in Ames.
Subscribe to receive top agriculture news
Be informed daily with these free e-newsletters
You May Also Like
---