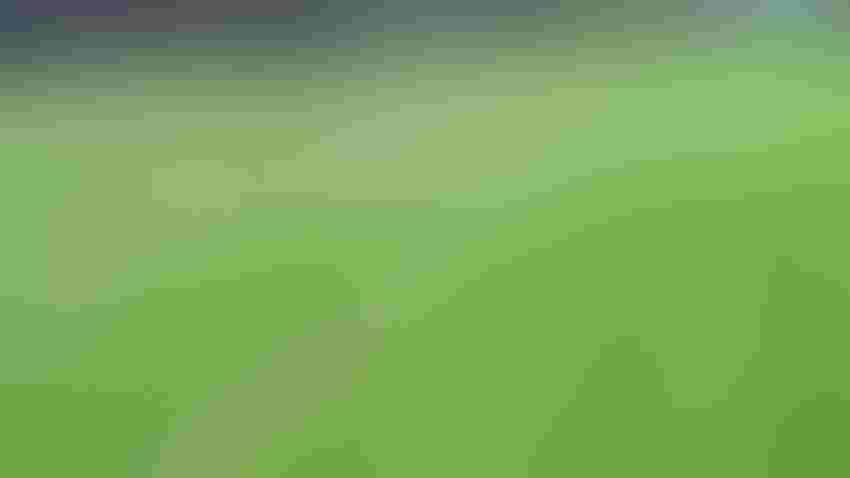 BUY YOUR COVERS: Rye grows in a harvested cornfield on a farm in Maryland. Tight carryover supplies and increased demand will likely lead to higher prices for cool-season cover crop seed.
Edwin Remsberg
Most of the cool-season cover crop seed that will be planted this fall is still growing on seed farms throughout the country.
But droughty conditions and less overall acres will likely mean tighter crops and higher prices for rye, triticale and vetch.
"Last year was a poor production year, and drought hurt last year, too. We're looking at low carryover numbers for most of these crops I mentioned," says Keith Berns, co-owner of Green Cover seed in Nebraska, which contracts 25,000 to 30,000 acres of cover crop seed each year on farms in a dozen states. "Some guys didn't even plant. We are personally planning on an average to below-average crop at best."
Berns predicts retail prices for cereal rye and other cover crops will increase, on average, 10% to 12% compared to last year.
"This really will depend on volume and buying. And retailers will set prices based on margins they have to make," he says.
Rye is his company's most popular cover crop variety because of its wide planting window, ability to green up early in spring and its relatively easy placement in a corn-soybean rotation.
Oats, peas, radishes and vetch will also jump in price, but Berns predicts by smaller amounts — anywhere from 5% to 8%.
Chris McCracken, owner of Pine Creek Seed Farm in Jersey Shore, Pa., says a wetter-than-normal spring in Oregon's Willamette Valley, where most cover crop seed in the U.S. is grown, will also lead to less cover crop seed availability.
Order seed now
If you plan to sow a cool-season cover crop this fall, do not wait to order seed.
"You need to treat your cover crops like you treat your cash crops. Don't wait, plan ahead. Start looking now," Berns says. "I know for us, we will be running some summer specials, some summer deals. So, in the summer is a great time … to do it. Earlier is always better."
McCracken agrees. But he stressed the importance of buying from someone trustworthy. "Do it now. Find the supplier and allow the supplier to know your needs and get seed guaranteed, whether paid up front or whatever," he says, adding that many suppliers are reluctant to carry extra inventory.
"Now is when you should be thinking about your cover crop needs in the fall."
Growers needed
Green Cover sells more cereal rye by volume than any other cover crop variety, Berns says. Much of that seed comes from Oregon's Willamette Valley or from South Dakota.
But a potential long-term problem is brewing: getting more growers to grow cover crop seed.
In South Dakota, where cover crop seed generally grows well, Berns says growers are switching to corn and soybeans, which are covered by crop insurance. South Dakota growers were expected to plant 3% more corn and 4% more soybean acres this season, according to USDA. The state grows 5.9 million acres of corn and 5.3 million acres of soybeans.
"The decision to plant rye or corn doesn't always come down to economics on corn or beans," Berns says. "It comes down to insurance. They [growers] just can't afford to take the risk."
As the government incentivizes more cover crops, Berns worries there might not be enough domestic seed supply to keep up with future demand, which he predicts will jump 20% to 30% over the next couple of years. This could lead to even bigger price hikes in the future.
McCracken says the Willamette Valley is a great place to grow cover crop seed because disease and insect pressures are low in comparison to other places, such as the Northeast.
"They have a good, dry time over the summer months when they have their harvest and things," he says. "We typically do not have that, so it's a lot more challenging here."
He says he is looking at importing more seed from places such as New Zealand and parts of Europe to fill the gaps. More than 40% of the seed in his 100,000-square-foot warehouse comes from overseas.
He says the company has become a hub for getting overseas seed shipments for the industry because of its short distance to East Coast ports. The company repackages seed and sends it across the country for sale. It also works with 85 seed dealerships within a four-hour radius of Jersey Shore.
With more imported seed, McCracken says that, ultimately, prices will stabilize. But there might be some price hikes until more imports come in.
"Ultimately, I think it will at least stabilize the pricing, and possibly improve the pricing in the future," he says.
Subscribe to receive top agriculture news
Be informed daily with these free e-newsletters
You May Also Like
---