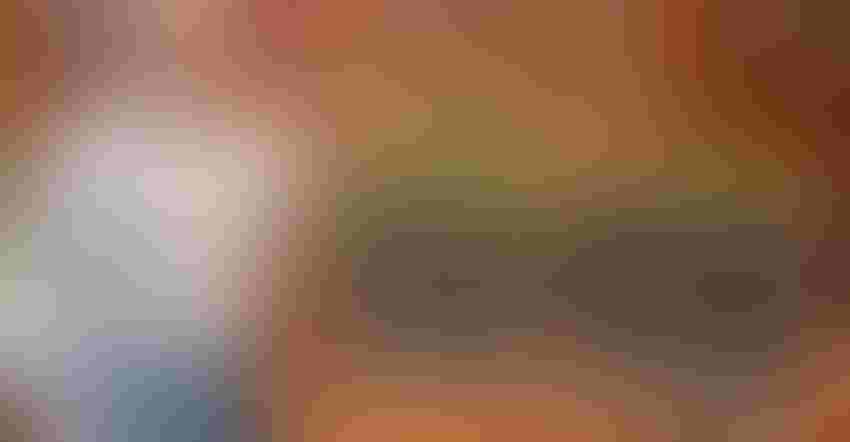 SEE IT: With a portable cover crop box, Tom Cotter can show others just how deep cover crop roots grow. A plant 4 inches tall easily shows 9 inches of root growth.
Nearly two decades ago, Michael Cotter convinced his son, Tom, that they should try planting dwarf Essex rapeseed as a weed suppressant in a harvested pea field. Tom agreed, reluctantly, and sowed 20 acres of the seed in a 70-acre field.
The following year, they planted corn in that field. Michael noted how well the crop looked there, compared to other fields. The only difference there was the previous season's cover crop. For the next decade, they experimented now and then with winter rye, and planting whole fields to a cover crop.
It wasn't until five years ago when the Cotters changed their tillage practices that improvements were more consistent and noticeable.
Skyrocketing soil health 
"We started putting no-till and strip-till together with cover crops, and then we saw [soil health] benefits skyrocket," says Tom, a fourth-generation farmer. "My cover crops have helped our tillage practices work better."
The Cotters plant conventional corn using strip tillage. They no-till their Roundup Ready soybeans. They also raise sweet corn, peas and hay, and operate a 45-head beef cow-calf operation. They have done tile drainage themselves on their cropped acres, using a tile plow.
Tom easily offers a list of cover crop benefits: weed suppression, better soil health and structure, better water infiltration and retention, improved root and earthworm channels, improved nutrient-holding capacity and reduced chemical inputs.
"Cover crop roots do the tillage deeper and have more uniform coverage than mechanical tillage," Tom says. "They also improve drainage with and without tile. It's hard to lose water or soil to erosion when ground is covered."
5 seeding methods for cover crops
The Cotters started with sowing single-species blends and have worked up to 17-variety blends. Depending on the site conditions, they choose one of five cover crop seeding methods: a lightweight Vicon pendulum spreader that has a small 1,000-pound seed hopper; a large floater truck-fertilizer spreader that allows for faster planting; an interseeder with a Gandy air box that allows plants to get started early, before corn gets tall; a rotary hoe on bean stubble for incorporation after spreaders; and a disk seeder with a Gandy air box. Tom uses the pendulum spreader to seed oats and spring peas into winter rye that will be chopped as ryelage. The floater truck can hold a large quantity of seed, so that helps speed up planting. The interseeder can cover more than 200 acres per day, interseeding into sweet corn. The rotary hoe helps improve seed-to-soil-to-seed contact in corn stubble after making round bales. And the Gandy air box tubes blow seed after disk gangs and before harrows.
The number of pounds of cover crop seed sown ranges from 12 pounds to 108 pounds of seed per acre. When planting cover crops for grazing, Tom considers the number of plants per square foot.
"We shoot for 20 to 40 plants per square foot when grazing," he says. "That's double the rate."
Big savings
He views cover crop gazing as "the icing on the cake."
"Grazing 45 cow-calf pairs on cover crops saves me $105.75 per day, or $6,345 to $15,862 per year [in feed costs], depending on weather," Tom says.
Still after close to two decades of cover crop experience, Tom says he continues to learn. He appreciates being able to network now with others interested in soil health, and is one of 10 members of the Soil Health Team based in Mower and Fillmore counties.
"I used to feel alone with soil health stuff, but not now," he says. "I learn from others, and they learn from me."
Subscribe to receive top agriculture news
Be informed daily with these free e-newsletters
You May Also Like
---