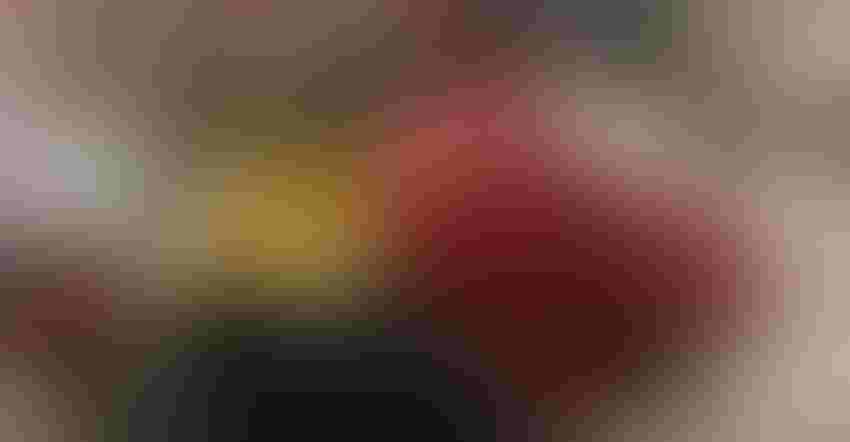 TIMELY SEEDING: The seeder on the back of this combine allows the producer to harvest and seed in one pass.
Fall is already waiting in the wings. Clint Harrison says that means harvest is close and cover crops are waiting to be seeded. Harrison is a district conservationist with the Natural Resources Conservation Service.
Today's seeding options are numerous, and for cover crop seeding, the options are important, Harrison says. When Mother Nature isn't cooperating, you have other ways to get cover crops planted.
Seeding options
Here are six options for seeding cover crops, according to Harrison.
1. Drilling. Drilling will ensure the seed-to-soil contact that promotes faster germination with less seed needed, making it more cost-effective. However, weather conditions must be favorable. The seeding will be later because it takes place after harvest.
2. Precision planting with 15-inch rows. You get the benefits of drilling, plus you can place the cover crop close to the planned commodity row. This will allow for better soil tilth and quicker nutrient uptake. Weather conditions will still need to be favorable, and the planting date will be later again vs. aerial seeding. This is not the best option if erosion is a concern, Harrison says.
3. High-clearance applicator. The main benefit of applying with a high-clearance seeder is seeding earlier, Harrison says. The application occurs while the crop is still standing. Seed loss is minimal, but seed-to-soil contact isn't as great as using a drill or planter, or incorporating with a vertical-tillage tool. Crop damage to the current crop is a concern, Harrison adds.
4. Aerial seeding. Aerial seeding is great with a wet, late harvest. You may sacrifice some seed loss for earlier establishment, but there's no soil disturbance. You can also allow for more cover crop variety due to earlier seeding dates. Aerial seeding does come with a higher price tag — for application and for using a higher seeding rate. Another downfall can be more variable establishment. If moisture is not available, less consistent seed-to-soil contact can lead to less-than-desirable cover crop success.
5. Vertical tillage and seeding at same time. This option is a quick and inexpensive way to get cover crops in the ground. The tillage tool provides good seed-to-soil contact, the ability to cover lots of ground fast and relatively easy operation. The major downfall is the amount disturbance many of these tools create. You're also seeding postharvest.
6. Seed while you combine. What better way to seed cover crops than during harvest? Harrison asks. Seeding and harvesting is done in one pass. Seed loss is minimal, and timing is normally good. However, refilling the seeder frequently may slow down harvest. This isn't always something a producer wants to do, Harrison observes. Finding the right seeder for your combine may be a challenge, as well.
The bottom line is that many choices exist. Each year brings its own challenges. Knowing all of the cover crop seeding methods may make a tough decision a little easier. For best results, always use appropriate seeding depths for the species being planted. Shallower is generally considered better than too deep. Plant into good soil moisture when possible, Harrison concludes.
If you have questions about what would work best for your operation, contact your local NRCS district conservationist. He or she is available to help with seeding rates, dates and other useful information.
Subscribe to receive top agriculture news
Be informed daily with these free e-newsletters
You May Also Like
---