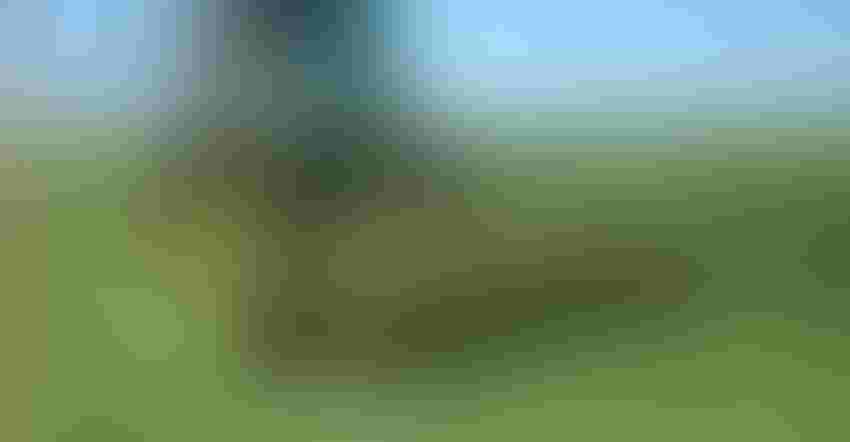 CUSTOMIZED TO ROLL: Groff installed parallel linkage on each roller for extra flexibility plus bearing protection to prevent wrapping in this stand of hairy vetch and triticale.
Steve Groff
By Steve Groff
Roller-crimping is a topic that has been tossed around the cover crop community for two decades. Organic producers initially spearheaded this interest since it lends to the possibility of a no-till organic practice that captures the best aspects both worlds have to offer.
In the early 1990s, South Americans successfully used the method to lay down tall cover crops. In some cases, they reduced or even eliminated herbicides. After consulting with Franke Dijkstra of southern Brazil, I bought a Buffalo rolling stalk chopper designed to chop cornstalks and warm the soil before no-tilling cash crops in the spring.
After customizing it to roll cover crops, the Rodale Institute then took the concept to a national level. Eventually, I&J Manufacturing designed and produced dozens of cover crop roller-crimpers now used around the world.
Today, other manufacturers sell varying types of roller-crimpers. One significant development was when Pennsylvania farmer-inventor Charles Martin created a roller design directly fitting on corn planters that's now marketed by Dawn Biologic. (See Game-changing Cover Crop Tool Arrives.)
Rule No. 1: Understand the value
Simply laying the cover crop down for our cash crops to not be shaded in the early growth stage is important. Weed suppression may reduce herbicide use, and significant ground cover will enhance later-season moisture retention. By allowing the cover crop to maximize its potential, you may experience nitrogen savings, especially if using the legume hairy vetch.
Rule No. 2: Establish a rollable cover crop
Cereal rye, triticale and hairy vetch are best suited to the rolling regime, either as a mix or individual species. Seeding rates need to be adjusted to provide adequate biomass for spring weed control, but not too much so that the cover crop is susceptible to lodging.
This aspect is even more critical if the rollers are attached to a planter. You plant your cash crop simultaneously as you're rolling. Lower cover crop seeding rates are advised if you're inexperienced or if cover crop soil fertility is high.
Lodging must be avoided since it's very difficult to plant across the stems of a mature cover crop. Adding hairy vetch increases that risk. Its vine-like stems cling onto the sturdier cereal rye or triticale, causing the mix to go down more easily. If straight hairy vetch is used, lodging is a nonissue. The succulent stems are easily cut by double-disk openers or no-till coulters.
Get more INSIGHT: Download Cover Crops: Best Management Practices now!
Rule No. 3: Determine your optimum termination date
If you're in an organic situation, control of timing is crucial. Since the roller-crimper is used to terminate the cover crop, it needs to be done at the most susceptible maturity stage.
For cereal rye and triticale, that time is at full pollination. For hairy vetch, it's mid- to late-bloom. Those using herbicides can terminate at an earlier date, depending on when you intend to plant your cash crop. Your cover crop should be at least 30 inches high to benefit from this concept.
I've learned the importance of intentionally observing how fast the cover crop progresses through spring. If it's susceptible to lodging and high winds with rain are forecast, I'll roll the cover crop before the storm. Again, it's paramount to plant the same direction your cover crop stems are laid down. Depending on expected planting date, herbicide can be applied one or two days before rolling — or when deemed necessary.
Rule No. 4: Understand expectations
The cover crop roller-crimper has been a valuable tool during my 22 years of experience. In my network of cover croppers, there seems to be agreement that without herbicides one year in five is fantastic, one year in five is a failure, and three years in five are decent.
But that year of failure can be mitigated with careful attention to a consistent establishment of the cover crop and correct termination timing relative to maturity.
The coach's closer
Roller-crimpers allow organic producers an opportunity to not till soil and experience a cover crop's full benefits. For others, a little bit of herbicide goes a long way in maximizing this concept over a wider spring planting window.
Groff, who farms on the Chesapeake Bay watershed, is a cover crop pioneer and innovator. Check out his website, CoverCropCoaching. 
Subscribe to receive top agriculture news
Be informed daily with these free e-newsletters
You May Also Like
---