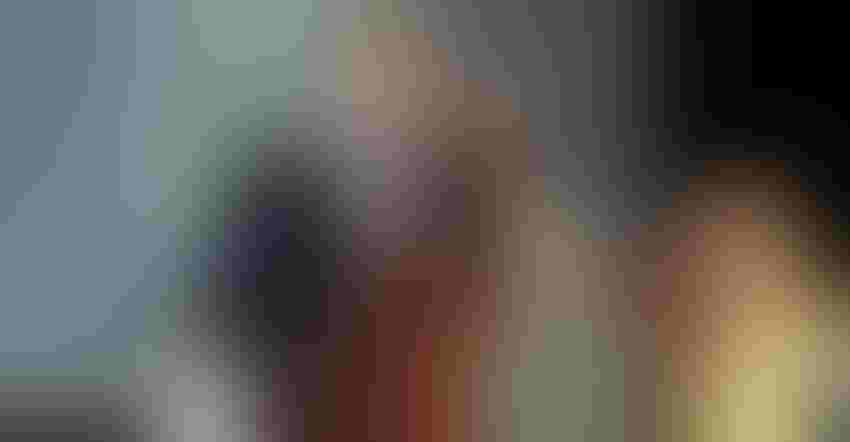 David Abney, president and CEO of United Parcel Service received a warm greeting from those attending the 84th Annual Meeting of the Delta Council.
Brad Robb
David Abney, the keynote speaker at the 84th Annual Meeting of the Delta Council, was born in Cleveland, Miss., earned his BBA at Delta State University, and returned to his hometown to deliver an insightful address replete with global perspectives and how those perspectives may have applicability between United Parcel Service (UPS), the multi-million-dollar company he guides, and the Mississippi Delta.
As the CEO of UPS, Abney got his start loading trailers at a small UPS sorting facility in Greenville, Miss. Built with a strong culture of promoting from within and usually leading to an impermanent residence, UPS transferred Abney and his family away from Mississippi — and then away from the South. "I was told if I wanted to advance into management, it would be necessary for me to move," says Abney. "I thought, that's fine. I'll move anywhere in Mississippi — but they weren't just talking about Mississippi."
Abney realized being taken out of his comfort zone prepared him for many other responsibilities, but little did he know that one day he would be leading the world's largest global transportation network with more than 500 aircraft, a ground fleet of more than 119,000 package cars and over-the-road tractor trailers, and 480,000 employees in over 200 countries.
Mississippi Gov. Phil Bryant introduced the UPS leader, noting the Delta was a major influence that shaped Abney's life. "David overcame the low expectations that often occurred in the Delta," says Bryant. "He worked the night shift and attended classes in the day. The values and strong work ethic he developed during those early years helped build his character which has played an integral part of his becoming one of our nation's most respected business leaders."
Education, drive, global world
A competitive spirit became ingrained in Abney growing up in the Delta because things did not always come easy. "I became competitive at an early age, and that spirit remains with me today," says Abney. "Still when I pull into a service station at the same time as another driver, I'm convinced I can fill my vehicle faster than he can."
Abney recognized the Merit Scholarship winners who are always awarded after the Delta Council's Business Session. "Education is not just important in the Delta, it's vital for keeping this region successful," says Abney. "When I look at the Merit Scholarship winners here today, the diversity of those recipients confirms the Delta has come a long way."
The UPS CEO drew attention to Gov. Bryant's successful leadership in making the Campaign for Grade-Level Reading a priority for his administration's educational reform efforts. "If our children are not reading by the third grade, their lives can pretty much be over before it really gets started."
After completing his undergraduate studies at Delta State University, Abney drove a UPS truck for one year. "I had a few friends who laughed at me and asked if I got my college degree to drive a truck," says Abney. "They're not laughing at me too often these days."
During his address, Abney presented three perspectives that illustrate his grasp of the global business world. Touching on global trade, the on-going trade wars with China, and the lingering possibilities of tariffs being levied on Mexico, Abney looked past the current negotiations to more long-range ramifications.
"We have to remember that 95 percent of the world's consumers live outside the United States. If we are going to survive in this digital world, we must maintain relationships with these other world markets," says Abney. "The one aspect of these negotiations that really concerns me is the possibility of business supply chains switching from one country to another. Once those changes are made, there's no guarantee that a free-trade agreement, once made, will cause all of those supply chains to switch back."
Technological innovations
Abney believes technological innovations will drive exponential change in what he coined an "incremental" world since the beginning of humankind. Reiterating an appropriate quote from futurist Ray Kurzweil, "…the 21st century would not show 100 years of progress, it will show 20,000 years of progress at today's rate."
"With advancing analytics, quantum computers, and machine learning, we can take big data from the 20 million packages we deliver each day, make accurate predictions and prescriptive analytics that will allow us to correct a problem before it even starts," says Abney. "These opportunities will be provided to small and mid-size businesses — many of which make up the Delta."
UPS carries 6 percent of the United States' gross domestic products, of which 3 percent come from small to mid-size businesses. "That's why we are concerned about these smaller business operations," says Abney. "One of the advantages of a digital economy is geographic location doesn't matter as much. What that means for the Delta is you can compete globally but live locally — and that is a huge difference."
Abney's final perspective was centered around the importance of infrastructure connectivity, specifically the multi-mobile forms of transportation — whether it be air, rail, ground, sea, or river barges.
"This is just one holistic view of how we move goods through this country and the world," says Abney. "I was very encouraged when your Delta Council president, Woods Eastland, made a comment about the Delta Council's support of an increase in the motor fuel tax. With 125,000 trucks on the road each day, you may think the last thing we would want is an increase in motor fuel taxes, but that is just not the case."
User pay, user benefit
Meeting often with senators and the current administration in Washington, D.C., Abney embraces the idea of a motor fuel tax increase — calling it a "user pay, user benefit."
"For every five minutes our drivers get held up due to traffic congestion, it costs UPS $144 billion a year," says Abney. "We need a sustainable funding mechanism to keep our bridges, roads, and airports up-to-date."
Eastland also commended the progress made by the Mississippi Department of Transportation under Gov. Bryant. "I spend a portion of my time working on the physical part of the connectivity of our infrastructure," says Abney. "The 21st century will be just as much about digital infrastructure. We have to think in those terms, and the leaders in Mississippi are doing just that."
Abney believes we are living in a unique time period because some of the biggest opportunities may also be some of the biggest challenges. "Technology can provide so much, but it can also threaten our way of life in some ways. We have to embrace change and learn how to take advantage of it," says Abney. "If we all focus on and embrace the future, I believe we could see 20,000 years of progress in the 21st century.
Subscribe to receive top agriculture news
Be informed daily with these free e-newsletters
You May Also Like
---