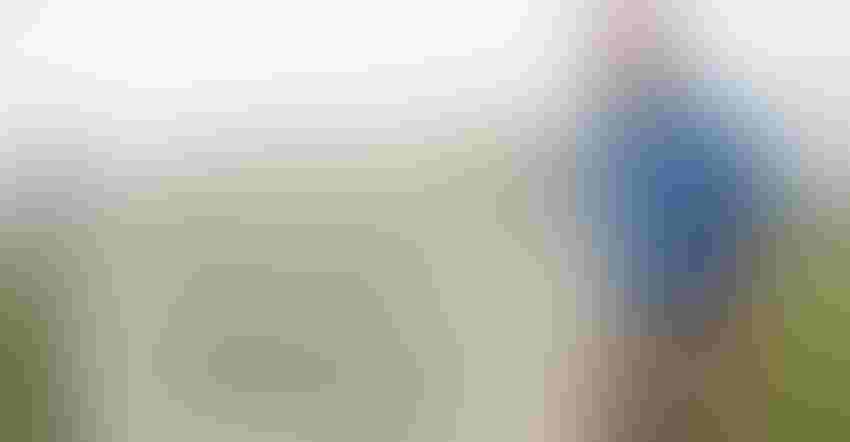 Dr. Drew Gholson is one of the newest faculty members working at the Mississippi River Valley Alluvial Aquifer Water Center. His responsibilities as Extension irrigation specialist will be, in part, to educate growers across the Delta region about the water efficiency technologies that will lower both irrigation costs and water use.
Brad Robb
A team of agricultural professionals at the recently-created Mississippi River Valley Alluvial Aquifer Water Center are working to establish long-term research goals and programs that will reverse the current water-use trend that is threatening the Mississippi Delta's supply of ground water.
Dr. Drew M. Gholson joined the team this past April as the Extension irrigation specialist. He will be coordinating those Extension efforts and working with farmers across the Delta to implement research-backed programs. "This is not just an exciting opportunity for our staff, but it's critical for the future of agriculture and all farming operations across our region," said Gholson during a recent interview in his office at what most people are referring to as the Water Center located on the West Farm, on the grounds of Mississippi Agricultural and Forestry Experiment Station (MAFES) in Stoneville, Miss. — a facility formerly owned by and donated to MAFES by Monsanto.
This team of assembled researchers will strengthen and carry on the efforts initiated by Dr. Jason Krutz who was recently chosen to lead the Mississippi Water Resource Research Institute in Starkville, Miss. "This is a joint effort consisting of USDA/ARS scientists, hydrologists, agronomists, and engineers, and our team from Mississippi State University," says Gholson. "I met Jeff Johnson, who heads up the Delta Research and Extension Center, over two years ago, we stayed in touch, and when the Water Center started materializing, our discussions led to my going through the application process last fall and being hired."
Gholson has been working with county agents across Mississippi to establish relationships with farmers. One of his six-month priorities will be to increase grower adoption of the tools and practices that must be in place to make furrow irrigation more efficient.
"I want to illustrate to growers the amount of money and water they can save if they implement these tools and techniques," says Gholson. "From soil moisture probes, surge values and the use of computerized hole selection (CHS), the difference they can realize on their operations is dramatic."
Education, Automation, and Experience
Because so many growers today lean heavily on electronic communication, Gholson and the Water Center team will work collectively to build a user-friendly web site to house and quickly disseminate their latest research conclusions. "We'll need this tool to efficiently deliver our information and establish that electronic connection to all farmers," says Gholson.
Through relationships he is building with producers, Gholson hopes they will allow him to use water-saving tools like soil moisture sensors, surge values, and computerized hole selection (CHS) to more efficiently disperse water across row crop ground.
"I hope to take these tools and, with growers' consent, set them up on a portion of their fields in proximity to fields where these tools are not in use," says Gholson. "At the end of the season, I'll gather data and compare data taken from both sections to show growers not only the water that was saved thanks to these tools, but the money that was saved from using less water per-acre."
Automation is a driving force in agriculture and Gholson will illustrate to producers the importance of tying these water-use tools together. "By taking the information from the soil moisture sensors and then triggering an irrigation event electronically from their iPhones, iPad, or a laptop, it will streamline the unified process," says Gholson.
Raised in Iowa Park, Texas, on a cow/calf operation that also grew wheat for grazing, Gholson earned his undergraduate degree, master's degree, and Ph.D., all from Texas A&M University. He guided programs under the Texas Well Owner Network Program for seven years.
"I've seen how contentious water and water rights-related issues can become," says Gholson. "I worked in a region of Texas that had a prolific aquifer but a low population. That aquifer became a target for developers who had visions of piping it out to larger cities. It was a different issue than the one facing the Delta but the experience I gained working in that and other capacities in Texas will be applicable to our ongoing work at the Water Center."
Subscribe to receive top agriculture news
Be informed daily with these free e-newsletters
You May Also Like
---