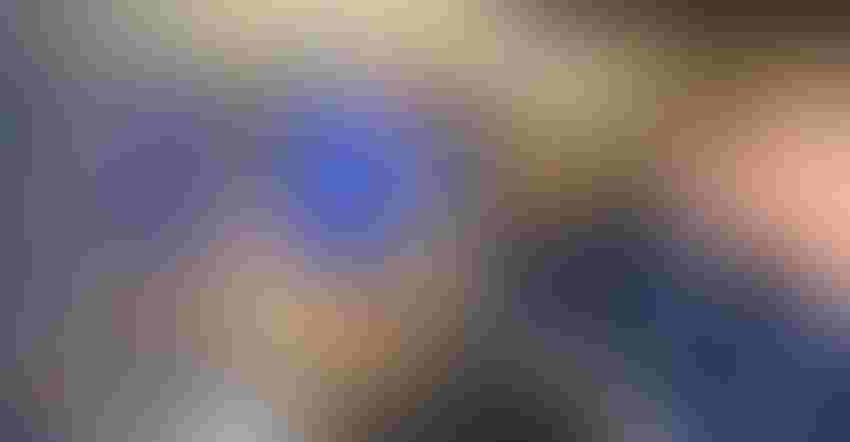 OLD-FASHIONED WAY: Ben Sheldon, an engineer with CNH (far left), watches as students see how well they can control field operations manually in this New Holland simulator.
FFA members from all over the country flocked to the New Holland tractor cab simulator. It kept members intrigued inside the National FFA Expo during the National FFA Convention. When I first noticed the knot of kids around the simulator, I figured it must be a demonstration on autosteer or some other new technology.
As it turns out, the exhibit was making a point about autosteer, but not the point I envisioned. As I watched, the screen showed the student behind the steering wheel where he was in the field, and whether he was being accurate or not.
"Have you tried it in autosteer to see how you compare to the machine?" I asked.
"No, we don't know how to put it in autosteer," one of them responded.
"Just a minute," I said. One host at the display was Ben Sheldon, who works with CNH as an engineer. Sheldon is a former FFA member from Martinsville, Ind., and a Purdue University ag graduate.
I explained that the students didn't know how to run the simulator in autosteer. As it turns out, it's not equipped to do autosteer. "The whole point is for them to see how they can do steering manually, and see if they miss spots or don't do as good as they think," Sheldon said.
Thought-provoking
Why have teenagers use a simulator with old-fashioned manual steering? Then it dawned on me. It's highly likely some have never driven a large tractor without autosteering. The technology has been around long enough and adopted at such a high level that if you're 18 and live on a large farm, driving with autosteer may be second nature. The point of the display was to let them steer on their own and find out it's harder than it looks. It helped them appreciate autosteer technology.
That set me to thinking. What other technologies do today's teenage ag students take for granted? A 17-year-old today was born in 2000.
Do they know how to calculate crop yields in their head based on how much of the field is left to run? Heck, no, a yield monitor tracks yields. By the time these kids reached the combine, yield monitors were several generations down the road.
Do they know how to use an encyclopedia? They probably don't even know what one is! That's what the internet is for — instant information.
Could they even begin to imagine the irrational fear that went along with Y2K as the new century approached? It's even hard for me to imaging now why we were on pins and needles then.
Ask them about a livestock float, a rope wick for applying Roundup or a planter with seed plates. Expect blank looks. From their perspective, what was once modern technology is from the dinosaur age.
I used the experience as a reminder for relating to the youngest generation. They don't know a world without technology. Unless you can speak their language, it will be tough to communicate.
Don't get me wrong. They could still learn plenty from those of us who did things the hard way. But they won't learn it unless they appreciate it. Maybe New Holland knew what it was doing after all, giving them a simulator with manual steering instead of one with autosteer.
Subscribe to receive top agriculture news
Be informed daily with these free e-newsletters
You May Also Like
---