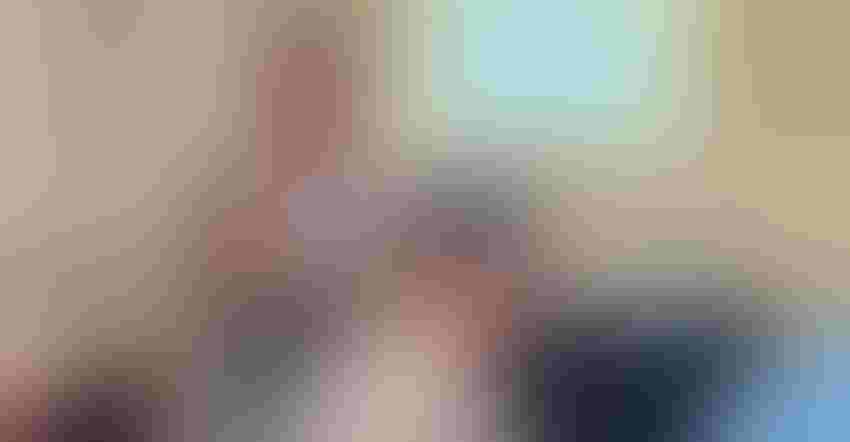 Rolling Plains Cotton Growers President and cotton producer Sutton Page addresses the crowd at the annual fall board meeting.
Shelley E. Huguley
"What the crop did look like and what it is going to be are two completely different things," said Rolling Plains Cotton Growers (RPCG) President and producer Sutton Page. "Had we had a 2-inch rain the first of August, it would be a completely different situation." 
This was a common theme as producers introduced themselves and gave a brief crop update at RPCG's annual fall board meeting in Abilene at Joe Allen's Pit Bar-B-Que.  
"We're looking at half to three quarters (bales), maybe in spots a bale of cotton to the ground acre but it's not as good as what it was going to be," Sutton said. "But it's better than it was last year, I'll just say that." 
See, Rolling Plains cotton: 'One rain away'
"The crop has looked pretty good but I'm kind of nervous," says Roscoe producer Mark Wright. "The irrigated crop looks good because it set bolls early. It looks good now. We'll see what happens." 
Roby producer Richard Gaona, who gins at Longworth Co-op Gin said they are expecting to gin about 25,000 bales. "The dryland crop is everywhere. It could be 250 and then there might be some that will pull a bale. We're expecting it to make maybe 350 to 450 pounds straight across, which is pretty good for our area. Very little will not be harvested. There's very little that didn't make it. Irrigated – there's very little in our area but it's looking pretty good. We're looking at 2.5, maybe 3 bales." 
Harvest was already underway on Bryan Hinton's farm near Snyder. "It's probably making three quarters to 300. We haven't ginned it yet, so just guessing. We got a rain August 2. I actually fell down on my knees and prayed because I haven't seen that in a long, long time, but it was just in spots, so those spots are going to be tremendous. Then the rest of it, like we're stripping now, hasn't had a rain since July 2, so you've got two tales from two completely different ends of the spectrum there. 
"My irrigated is not very good this year and I don't know why. I don't know if it just got so much rain early that it leached out so many nutrients or what. I don't really have an answer," he said. "But the price is great and I'm enthusiastic and excited." 
"We lost around 7,500 bales to the hail (in August)," said gin manager Larry Black, Central Rolling Plains Gin, Roscoe. "It was in some of the better cotton, but we still have some irrigated that looks really good and we've got some dryland that looks excellent. We also have some that doesn't look so hot. We seemed to have missed the bottom crop. I still think we'll gin anywhere from 80,000 to 85,000 bales." 
Kevin Corzine farms primarily in Haskell and Stonewall counties, where he's 100% dryland. "So, kind of the same ballpark as what Sutton was saying, probably half-a-bale to three quarters -- some will be a little worse, some a little better. We had one guy that planted in late-April, early May, which we normally don't start until June 1, so he's got all open cotton and has started stripping. I'll be interested to see how that's going to work out and if that something I might want to look at." 
"The southern part of the county got the August rain. We didn't get it in the northern part of the county," said Woody Anderson, Mitchell County producer. "Our crop is average or better than average. The irrigated is not as good as it was the last two years. We just had too much rain. We had 13 inches in a 10-day period which took a lot of our fertilizer out." 
Subscribe to receive top agriculture news
Be informed daily with these free e-newsletters
You May Also Like
---